Building personalized ecommerce search experiences with Elastic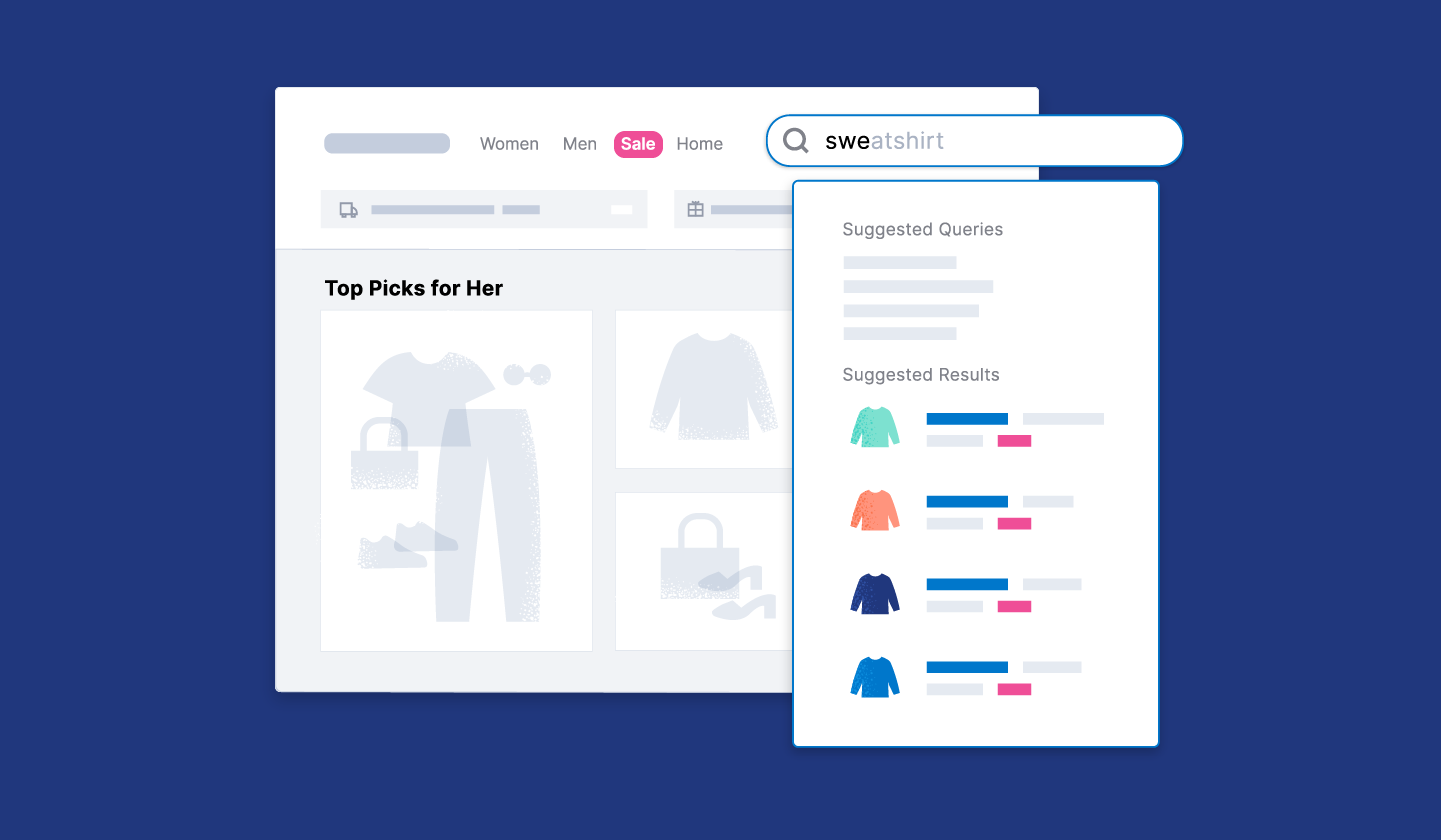 For online storefronts, there's a fine line between a converted sale and a lost opportunity. The slightest overlooked detail on an ecommerce site can lead to customers quickly clicking elsewhere.  
The key to retaining site visitors and driving clicks that lead to sales lies in the technology behind the customer experience — specifically, search. Offering highly personalized search experiences powered by Elastic Enterprise Search is proven to boost engagement, drive conversion, and increase sales.
[Related article: Driving quantified success with Elastic Enterprise Search]
What retailers are facing: The ecommerce landscape
Today's ecommerce outlook is uncertain. With prices creeping upward, online shoppers are more discriminating than ever. Studies show that finding the products customers want is still paramount, and highly personalized experiences play a big part in influencing shoppers to click add to cart. Customers appreciate the convenience of curated suggestions, top-rated recommendations, and highlighted sale items. A whopping 68% of shoppers have made a purchase they didn't initially intend to based on an online retailer's curated product recommendations.
Indeterminate economic conditions and the possibility of fluctuating seasonal demand make scalable technology critical for ecommerce vendors. Having the flexibility to scale up or down to meet the needs of the market, without being locked into rigid contracts, helps to keep tech stacks (and businesses) nimble and cost-effective.
Find out more about what's on shoppers' minds in the survey conducted by Wakefield Research. The survey polled 1,000 consumers on their online buying behavior, how they use search, and what drives them to buy.
Why search matters
Search offers the potential to be the most vital cog in a well-oiled ecommerce machine. When search experiences work smoothly in concert with the rest of an ecommerce site, customers find what they need. And personalized suggestions create even more opportunities to augment those sales with additional useful items customers may want.
Real-time search analytics and machine learning offer even more opportunity for fine-tuning the buyer journey. Purchase and search behavior can provide real insight into the minds of shoppers — what they're finding, what they're not, which searches and queries are converting, and much more. Merchandisers can turn these insights into action by improving product offerings and optimizing sales.
What Elastic offers
Elastic has been known for over a decade as a comprehensive search and analysis tool with free and open roots. Elastic Enterprise Search puts search-power at the heart of the fastest, most reliable, and most scalable ecommerce experiences.
Elastic offers proven, market-tested technology that gives development teams the flexibility and control to build search to exacting specifications for any ecommerce business. It offers an exceptional core discovery engine and developer tools for building custom interfaces, ingesting and syncing data, tuning relevance, and analyzing layers of customer search data. Designed for massive scale, fast performance, and reliable uptime, it's built to handle seasonal shopping spikes to everyday traffic, and everything in between. 
Our predictable resource-based pricing — based on only the amount of resources consumed — offers freedom from unbending pricing structures that don't allow today's retailers to adapt to marketplace conditions. Elastic also has the most flexible deployment options on the market: Elastic Cloud on all the major cloud providers and in over 50 regions, multi-cloud, on-premises, or a hybrid environment.
Who uses Elastic: Customer stories
Leading ecommerce vendors build product search and discovery and ecommerce search applications on Elastic — including brands such as The Home Depot, eBay, Adobe, Ticketmaster, and many others. They enjoy the combination of leading-edge tech, built atop the powerful speed, scale, and pretuned relevance of Elasticsearch. APIs, client libraries, ingestion flexibility, and machine learning capabilities paired with prebuilt tools — Search UI, web crawler, search analytics dashboards, relevance tuning, and more — give developers a powerful set of search tools that streamline the development, implementation, optimization, and ongoing management process.
Learn more
Find out more about building premium ecommerce solutions, trends that are shaping the ecommerce landscape, and what our customers have to say: