PRESS RELEASE
Elastic Enterprise Search 7.5 brings four new enterprise platforms to the unified search experience.
2 December 2019
---
MOUNTAIN VIEW, Calif. and AMSTERDAM, The Netherlands - 2 December 2019 -
Elastic N.V. (NYSE: ESTC) ("Elastic"), the company behind Elasticsearch and the Elastic Stack, is excited to announce the release of Elastic Enterprise Search 7.5.
Wait — wasn't Elastic Enterprise Search Beta 3 released just last month with a number of powerful features like document-level permission support and automatic content extraction for major file types? Yes, yes indeed. But although Elastic Enterprise Search remains beta software, new versions will now be available alongside the main Elastic Stack releases. You can expect the same great feature announcements, now in sync with the whole Elastic solution portfolio. That's maximum alignment for minimal effort on your end. So — what's new with 7.5?
Enterprises, rejoice!
Elastic Enterprise Search 7.5 focuses on connectivity for the enterprise. This new iteration brings not one, not two, not three, but four new enterprise platforms to the unified search experience.
First in line is Microsoft SharePoint Online, the widely adopted collaborative content management system used to store and disseminate internal knowledge for thousands of organizations around the globe. Elastic Enterprise Search 7.5 synchronizes sites, documents, files, and other content types across your organization with a simple click. Teams that rely on SharePoint Online also tend to use Microsoft's productivity suite, which is why this release also includes first-party connectors for Microsoft OneDrive and Microsoft Office 365. The same way organizations can index files stored on Google Drive and Google G Suite documents, groups with a large Microsoft product footprint now benefit from a simpler connection flow and powerful content unification and discovery platform.
Elastic Enterprise Search 7.5 also provides out-of-the-box support for ServiceNow, the IT and Business Operations service management platform. In just a few seconds, you can now get to incidents and knowledge articles more swiftly, alongside Salesforce accounts and Zendesk interactions, all from a single source of truth.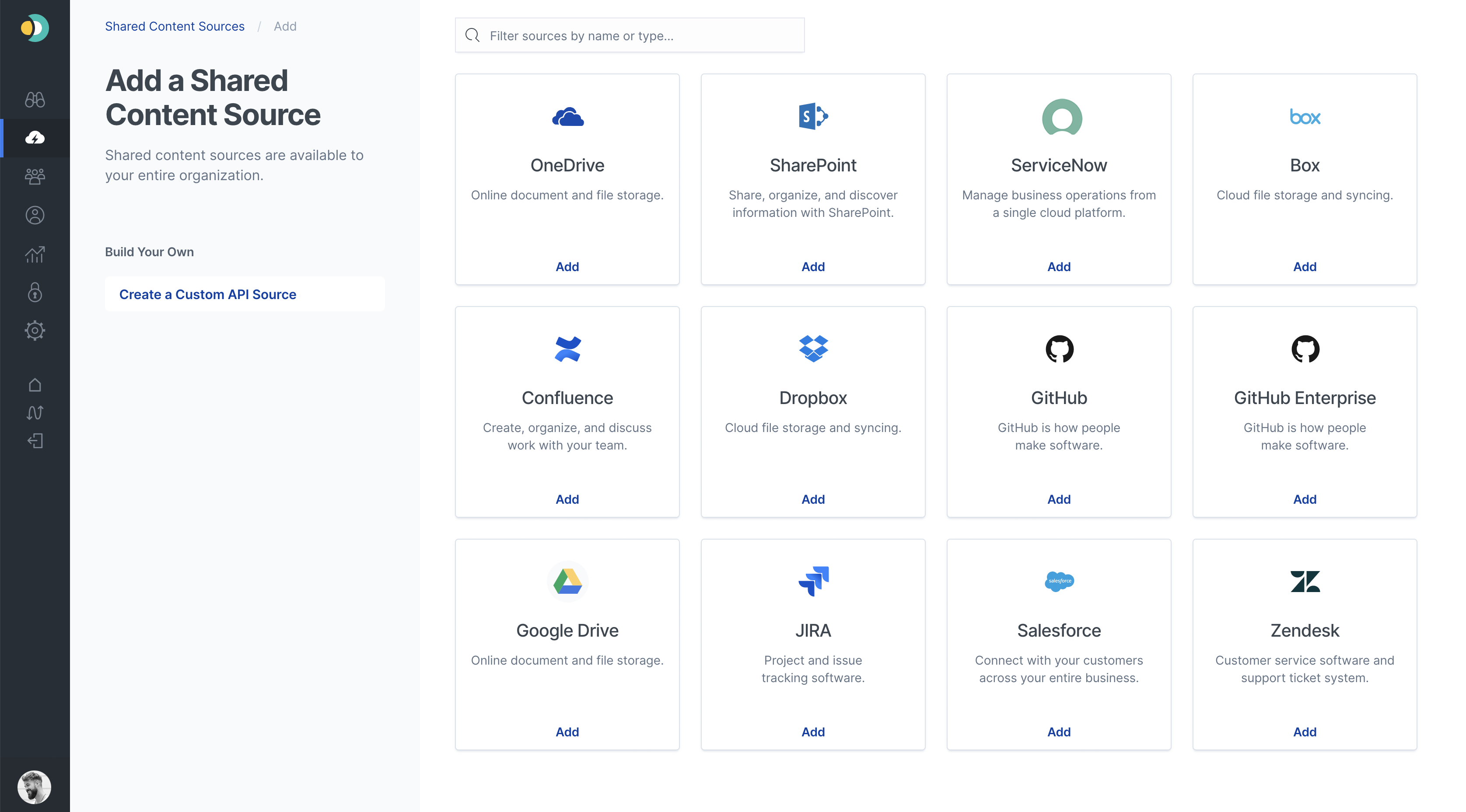 Index, search, and find at the speed of business
So far, so good. With more sources and more members of your team getting access to knowledge in simpler and more engaging ways, we spent additional time thinking about how to best serve such relevance at scale as quickly and precisely as possible. Elastic Enterprise Search 7.5 now returns relevant results in half the time Beta 3 did, allowing you to index documents up to 700% faster than the previous version. That's yet another display of our commitment to the trifecta of great search: speed, scale, and relevance.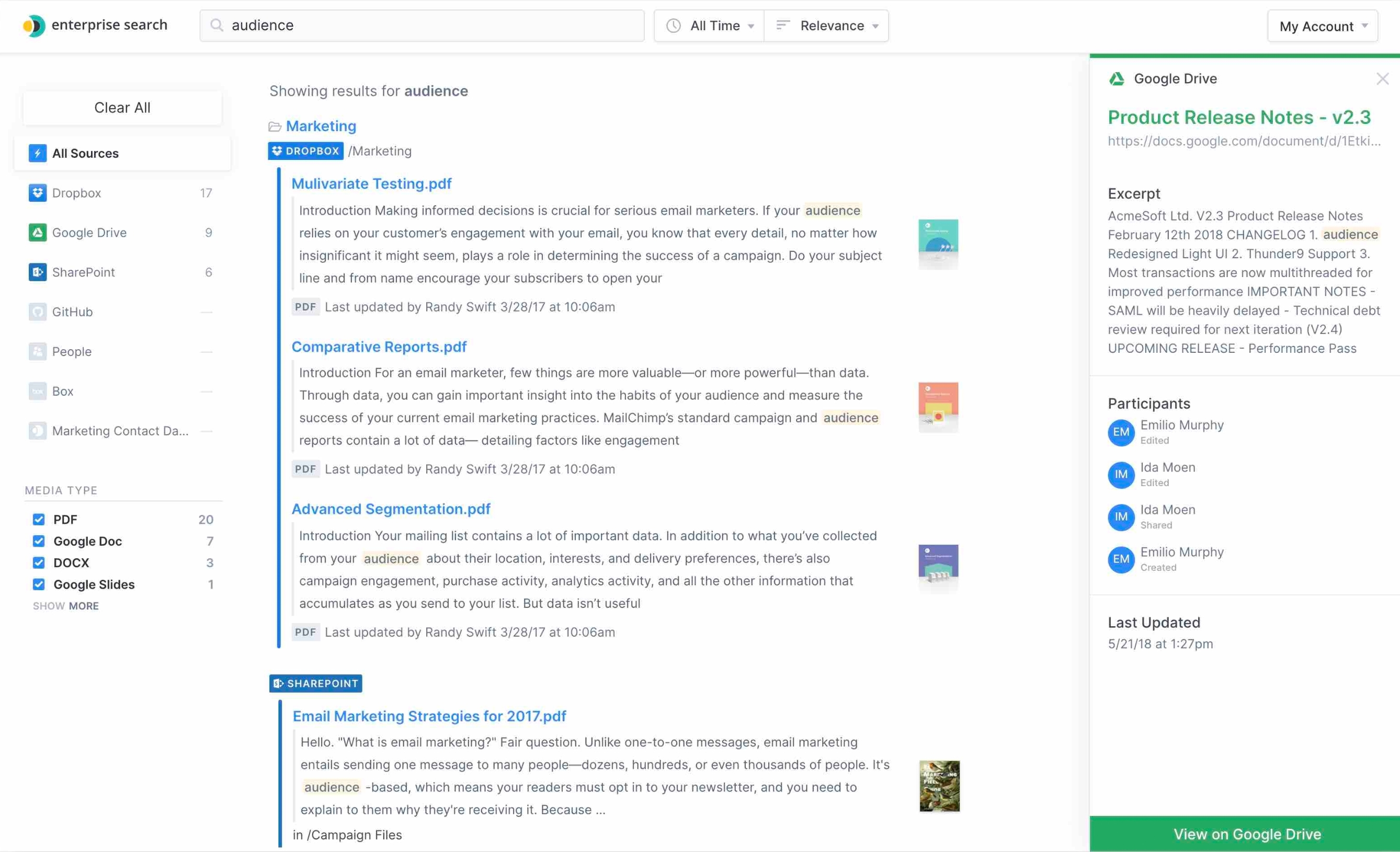 Download, deploy, and search
Elastic Enterprise Search can be deployed in no time. Head to the Elastic Enterprise Search download page to grab the latest binary and follow the installation instructions for a smooth experience. In just a few minutes, you'll be syncing and searching.
We'd love your beta feedback
We'll need your help to make Elastic Enterprise Search the best product it can be. If you run into any bugs, or have any comments or questions, please reach us at: enterprise-search-beta-feedback@elastic.co.
Elastic is a search company. As the creators of the Elastic Stack (Elasticsearch, Kibana, Beats, and Logstash), Elastic builds self-managed and SaaS offerings that make data usable in real time and at scale for use cases like application search, site search, enterprise search, logging, APM, metrics, security, business analytics, and many more.
Elastic and associated marks are trademarks or registered trademarks of Elastic N.V. and its subsidiaries. All other company and product names may be trademarks of their respective owners.