Albert Heijn Technology (AH Tech) uses Elastic Observability to monitor its entire application landscape and resolve issues proactively for more than 2,000 stores and thousands of points of sale.
AH Tech improves the customer experience by using Elastic to monitor individual items in its supply chain and keep shelves constantly replenished.
Increased workplace efficiency
AH Tech increased availability of its Workforce Management application from 82% to 99% and can better manage employee tasks and reward performance.
Streamlining processes and boosting revenues at one of Europe's most well-known retail brands
Ahold Delhaize is one of the world's largest food retail groups. In addition to being a leading supermarket business, it offers an extensive e-commerce service and has earned a reputation for responsible, sustainable retailing. Like any major retailer, Ahold Delhaize must manage its supply chain with extreme precision for the different brands they own, from over 1100 Albert Heijn supermarkets in the Netherlands and Belgium, as well as the over 500 Etos drugstore locations and over 600 Gall & Gall liquor stores in those countries.
The AH Tech team provides the technology for Albert Heijn, Etos and Gall & Gall.
"We generate a huge and disparate amount of data from our IT infrastructure in the data centers and store infrastructure, including 13,000 points of sale. We must also monitor the data gathered by the Albert Heijn supply chain distribution centers. From a business process perspective, everything is connected," says Richard Wit, AH Tech product owner.
Increasing business efficiency, minimizing downtime
Previously, AH Tech relied almost entirely on the organization's ticketing tool to process technology service requests, track resolutions, and address issues pointed out by customers. This meant the team operated mostly reactively, waiting for a problem to arise before it could be addressed. AH Tech wanted to make the process more streamlined and proactive to limit the impact on the business and resolve issues faster—and automatically where possible.
Having thoroughly researched the market for an observability solution that met our goals, Elastic was the natural choice for AH Tech. The Elastic team demonstrated that they could deliver a credible, scalable solution to monitor all of our stores, offices, and supply chain.
– Richard Wit – AH Tech product owner, Joris Schuit - AH Tech DevOps Engineer and Babu Venkata - TCS AH Portfolio lead, AH TECH team
With the support of technology partner Tata Consultancy Services, AH Tech implemented Elastic at the heart of a new observability platform, which provides end-to-end monitoring for the enterprise. AH Tech now has a platform flexible enough to be extended to any telemetry operation with the ability to visualize all data via dashboards in Elastic Observability. The platform is being used by a wide range of users from the support team to the product and business ones.
AH Tech moved to a proactive monitoring approach with Elastic and has seen a 40% reduction in end-user IT incidents, even at a time of rapid expansion with new store openings. This helps enable the company to operate more efficiently, better service customers, and increase revenues. For example, the reduction in IT issues translates to a much smaller risk that products will be unavailable and store shelves will be empty. As a result, AH Tech has seen a sales increase of 10% per store per day.
Additionally, the new observability platform played a critical role in the continuity of the business after a warehouse fire in 2020. Wit says, "We were able to understand the situation quickly and reorganize supply chain workloads to avoid impacting the availability of items in our stores."
The availability of the organization's Workforce Management application has also increased from 82% to 99%. The improved availability means AH Tech can better manage employee schedules and tasks, and recognize and reward performance.
In all, the observability improvements generated from implementing Elastic have prevented lots of customer impact since going live.
Supercharging the supply chain
Similar improvements have been achieved across the supply chain. Using Elastic, AH Tech can now track individual items throughout the retail order fulfillment journey. This includes where an item is stored, when it needs to be sent to a supermarket, its stock, and when it was sold. This knowledge is valuable for refining processes throughout supply chain operations.
Additionally, AH stores offer innovative electronic shelf label technology that displays the prices of items in realtime. There are 20 million such labels across the business. Data from these labels is now closely monitored to ensure that they are working and displaying correct prices at all times.
Elastic Observability is scalable and flexible enough to provide comprehensive insight into all of our data. We now have everything we need to have an 'end-to-end view' of our technology infrastructure and supply chain.
– Richard Wit – AH Tech product owner, Joris Schuit - AH Tech DevOps Engineer and Babu Venkata - TCS AH Portfolio lead, AH TECH team
AH Tech can also now detect issues proactively and fix them before they impact employees and customers. In some cases, this extends to a 'self-healing' process where the matter is resolved automatically with minimal to no human intervention. As a result, AH Tech now has an approach that's 40% reactive and 60% proactive.
On the one hand we can ensure that customers are always able to find the items they need. On the other, we guarantee that our technical systems, such as point of sale devices, are always up and running when customers go to purchase these goods. It's great for the customer experience and it's great for the business.
– Richard Wit – AH Tech product owner, Joris Schuit - AH Tech DevOps Engineer and Babu Venkata - TCS AH Portfolio lead, AH TECH team
Easy-to-create dashboards for custom insights
Another advantage of Elastic Observability at AH Tech is the speed with which users can set up dashboards. "We can build a new dashboard in a matter of days or less when it used to take three months. This includes setting up the notifications and building integrations with our IT service management platform," comments Wit. To date, the team has created more than 400 dashboards used by more than 600 employees. These dashboards display a data ingest of 50GB a day which are consolidated into a 22TB data lake.
The dashboards are used by 24x7 Command Center team and AH Tech Product teams to proactively track (potential) issues in the application landscapes and the retail business processes.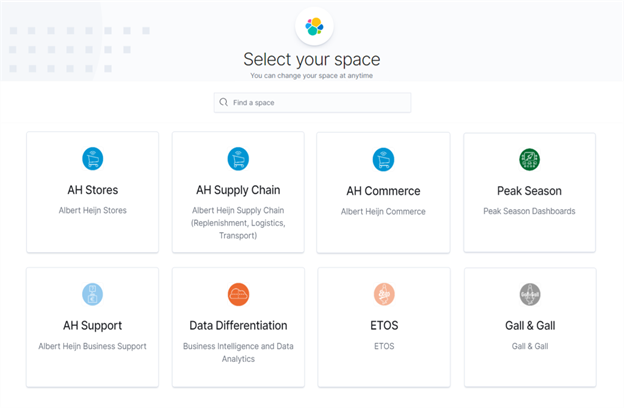 Delivering monitoring-as-a-service
Elastic provides AH Tech with a unified, full-stack observability platform that allows users to integrate all telemetry data and get end-to-end visibility of this information. This also enables different teams to collaborate more effectively as they are all using information from a single source. With these capabilities, AH Tech can offer monitoring-as-a-service to other parts of the business. "Today we have a centralized team providing the platform and dashboards, but we are also discovering ways to deliver these as building blocks so that teams can assemble their own observability solutions based on specific requirements," adds Wit.
AH Tech is also looking to add more Elastic integrations and plans to integrate the platform with Microsoft Azure ® . "We are moving all our central applications away from a traditional data center towards the cloud. Elastic's cloud-native technology supports this approach, so we are shifting our Elastic platform to Azure as we step away from our on-premises model," Wit concludes.
Elastic is helping AH Tech build greater confidence and trust across the entire enterprise and retail chain. By sharing data in transparent ways, different areas of the organization can now collaborate more effectively than before when it was difficult to monitor local infrastructure and software on such a large scale.
Elastic is the perfect fit for us because we can use it in every location. We can now gather a huge amount of data, process it, and extract vital information that ensures the smooth running of the business.
– Richard Wit – AH Tech product owner, Joris Schuit - AH Tech DevOps Engineer and Babu Venkata - TCS AH Portfolio lead., AH TECH team