Our journey with Elastic began with a search for a single monitoring platform service for all kinds of applications and infrastructure across geographies and in the cloud. Like many other organizations who use Elastic, our story does not end there. 
Instead, it has evolved to support new use cases and to secure us a managed security service provider partnership (MSSP) with Elastic so that we can help our own customers experience the same digital transformation success we've realized along the way.
About inq.
inq. operates in six different countries as a Pan-African cloud-based digital service provider. We manage a wide variety of network infrastructure, ranging from a pure wireless network to thousands of kilometers of fiber for customers in banking, oil and gas industries, mining, health, real estate, IT, public sector, logistics, and more. 
Centralizing multicountry distributed network monitoring with Elastic
Our challenge in covering a large geographic region is centrally managing and monitoring a tremendous amount of infrastructure. This was a daunting task, as each of our operations has multiple monitoring tools for measuring each of the different network touchpoints. 
The wide variety of monitoring tools (customer endpoint monitoring, security monitoring, link status monitoring, network monitoring for core and MPLS, fiber monitoring, and more) provide a great deal of insight into each area. Yet we lacked an interconnectivity of information because all of the different data was in isolated databases, making it difficult for us to aggregate and correlate. 
One of the key aspects of managing all these operating companies (Opcos) centrally is access and providing value to our shareholders. As an example, a customer issue in one of our operations was escalated to me, but I was unable to get access to the data as I had to log in to multiple tools even to identify the issue. 
To help solve these challenges, we were not looking for another monitoring tool, but rather a large-scale geographically distributed platform that could be customized to suit various touchpoints on the network. Since we are also in the process of investing in new cloud and digital solutions which some existing monitoring tools cannot support, we needed a single monitoring platform service for all kinds of applications and infrastructures. 
This is where Elastic comes into the picture. Elastic has never been fundamentally known as a telecom network monitoring tool; typically Elastic has been more used for application visibility and log aggregation. But the architecture of Elastic is built for scale and customization. Our objective was to see if we could actually use Elastic as a single monitoring platform across all operating companies for all kinds of services.
Our architecture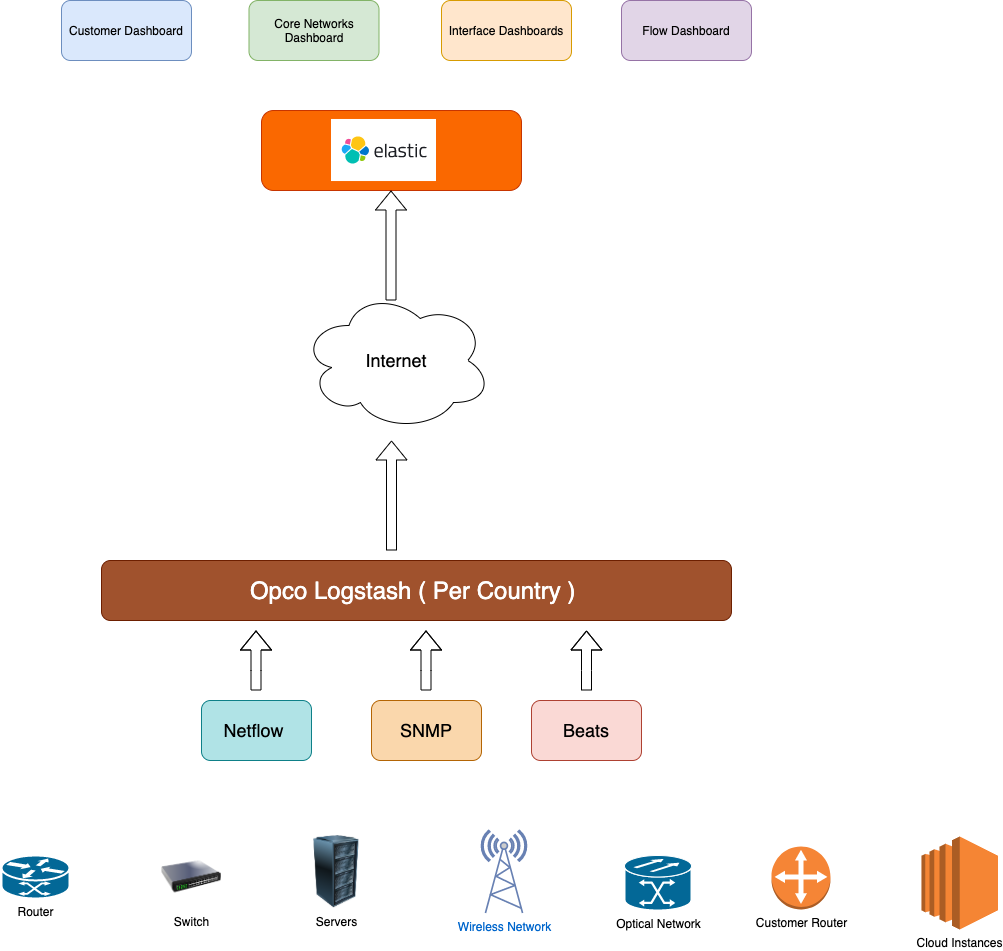 We have deployed our distributed Logstash in all Opcos and this acts as an aggregation of data sources which then sends the information back to our Elastic Cloud instance for processing. 
Each of the Opcos has their own spaces with role-based access and customized Kibana dashboards to suit their requirements. 
In addition we have deployed a single-sign-on integration with our inq. control platform to enable customers to view their network utilization. 
This provides immense visibility into the customer's network and notifies them the moment we detect something is wrong.
Currently we are monitoring all internal infrastructure, all routers/switch interfaces, wireless base stations, customer links, and customer utilization analytics.
All the custom dashboards which we have in inq. are built from scratch to suit our network and to give us the ability to expand to our other products such as Edge-AI, SDN/NFV, and Cloud IaaS. 
Example dashboards we've deployed: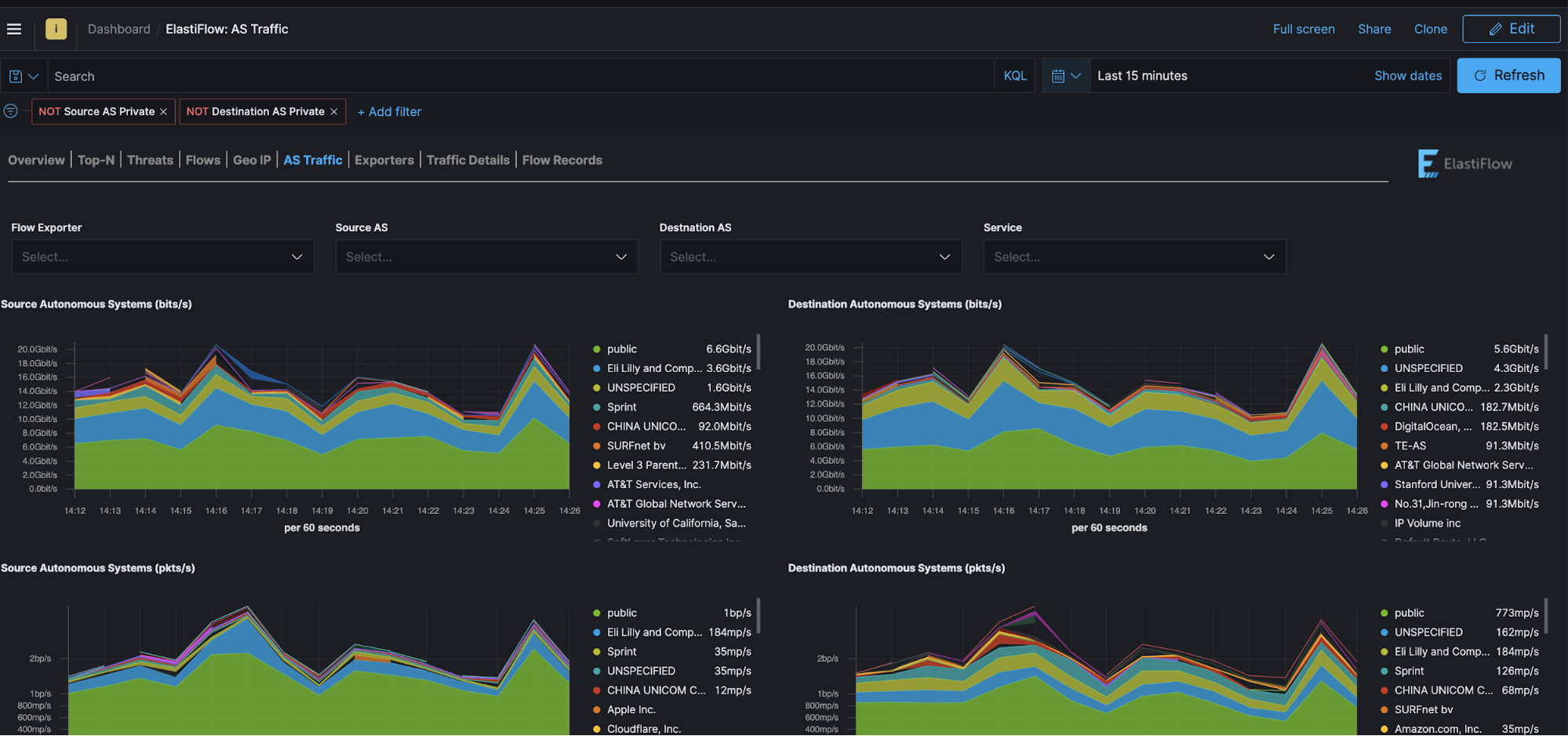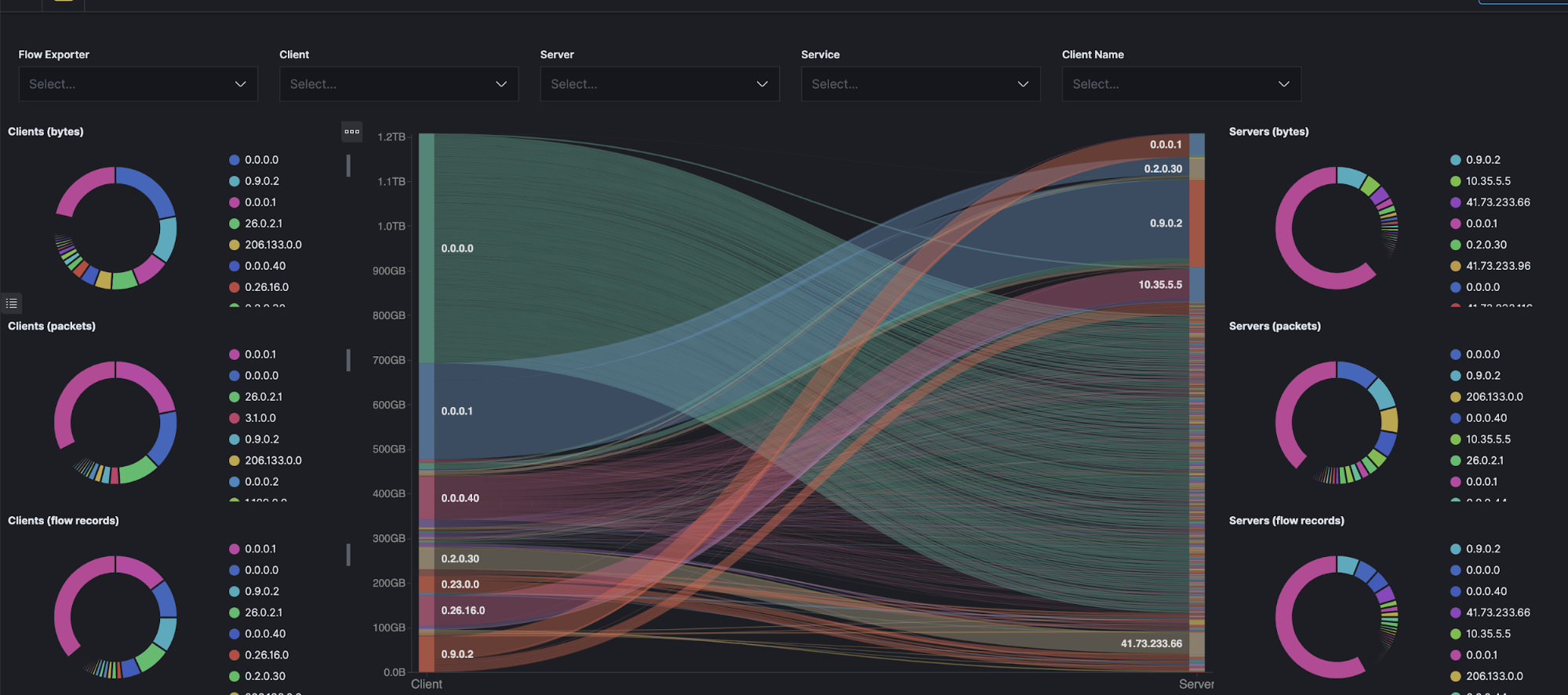 Next Steps: SIEM, revenue capture, and customer success  

In addition to the central network visibility, we quickly saw that adding Elastic Security for SIEM was a no brainer. This has given us the ability to perform machine learning and predictive analytics, so we can now be more intelligent in identifying customer issues beforehand and use this intelligence to predict other aspects of the business. 
The next steps for us include rolling out SIEM internally for our employees and also utilizing our data to start running machine learning predictive analytics. 
Since we now have all of our network links in our Elastic Infrastructure, this data can now be integrated with our Finance and Operations Platform to ensure we accurately track our billing. This helps us capture revenue by identifying links that have not been billed but are still running traffic.
Finally, we've seen the business benefits and success of Elastic first-hand. We've also invested heavily into creating custom dashboards and multitenant capabilities. Our next focus is to expand this service to our customers and partners to help them achieve the same level of visibility that we are enjoying and taking advantage of today. 
We are proud to be the first Elastic MSSP partner in Sub-Saharan Africa. We believe Elastic is an amazing platform that can help enterprises and service providers fast track their digital transformation. 
Learn more about inq. and the Elastic MSP program.