Where are you on your data maturity journey?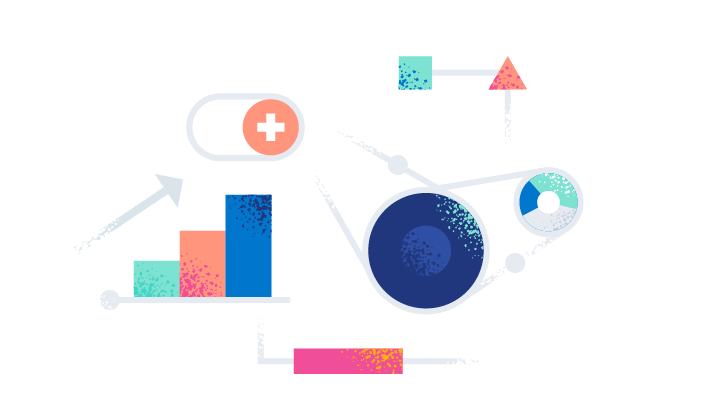 Data is one of the most valuable assets your business owns. Not only does it hold the patterns, indicators, and insights that your organization needs to grow, it's an infinitely renewable resource. You can use the same data repeatedly for varying purposes and applications, with almost zero marginal cost for each additional time it's used. 
There's no shortage of articles, resources, and podcasts out there on how to transform your organization into a data-driven machine. But what's the actual end goal? The goal is to become a data-driven organization that aggregates data to uncover meaningful insights for decision-making. 
A data-driven leader can take it one step further by using data and analytics to discover new value-creation opportunities. Whether it's a new product feature or a better customer experience journey, organizations that derive value from data and analytics can deliver new sources of customer, product, and service value. This additional step allows you to further your digital transformation, enhancing competitiveness and boosting growth.
The value of data-driven organizations
Rather than focusing on merely acquiring and maintaining a wealth of data, organizations should tap into that data as the renewable wealth of a resource it is — one that can be capitalized on again and again to gain insights on your customers, your products, and your operations. 
Forrester states that "organizations extracting value from data continuously in real time are eight times more likely to grow revenue by 20% by uncovering new revenue streams, creating data-driven experiences, and commercializing their data." As a leader, you need to search and find analytic insights in data to propel your organization to create new sources of value and uncover potential revenue opportunities. So, how do you get started on your quest to get that value-driven mindset?
The levels of data maturity
First, you need to figure out exactly where you are on your data maturity journey. (We have a chatbot on this page to help you do just that and a framework below.) Data maturity refers to an organization's proficiency in using data to inform, guide, and automate its decision-making process. You can evaluate your data maturity through a framework that assesses your capabilities and progress in implementing data-driven practices (or a handy chatbot). By understanding where you are today, you can define a strategy to uncover ways to best use your data and technology to accelerate business value. 
Each data maturity framework you find out in the world is a little bit different. We feel ours is simple enough to give you an intro to data maturity and enough context to help you figure out where you stand and how you can advance.
Level 1: Consume and capture.

Bring all of your

data together, refine metadata, and build a data taxonomy to ensure teams can find and access relevant data to create retrospective reports of the business.

Level 2:

Analyze to get actionable insights.

Once you have reports for various parts of the business, your organization can start analyzing the data to

uncover meaningful and actionable insights

through data science and analytics. This allows your teams to use data to inform their decision-making in real time. 

Level 3:

Explore and

automate.

Next up is exploring ways to automate tasks. By applying machine learning capabilities on top of actionable insights, teams can start automating key business processes to optimize operational performance.

Level 4:

Collaborate and transform.

Data-driven organizations take it further by creating a collaborative value creation culture. Using data and analytics to discover new business opportunities and prioritize business use cases across functions, leaders can effectively deliver outcomes and grow the business to disrupt industries and markets. With artificial intelligence, leaders can transform and augment employee execution capabilities, further developing the mission and enhancing competitiveness.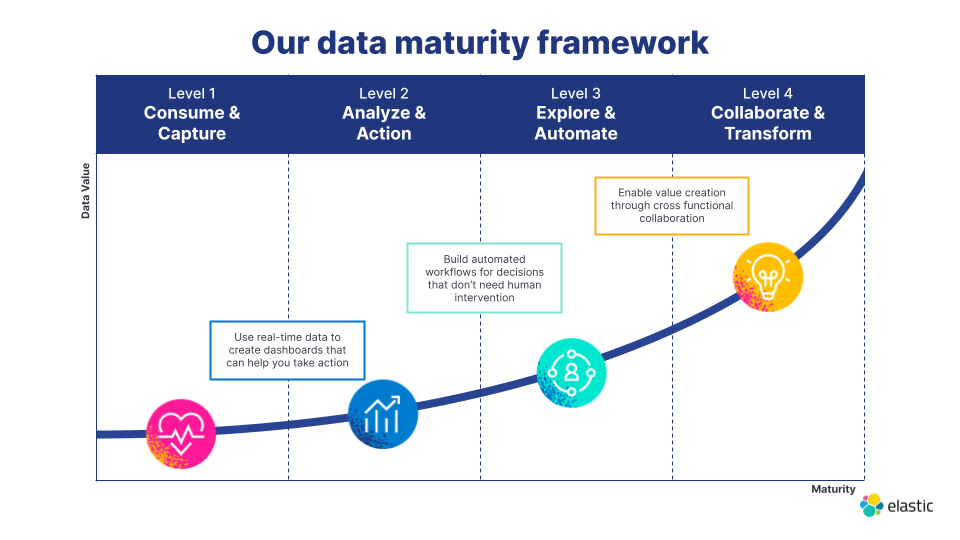 How to accelerate your data maturity journey
No matter where you are in your journey, one of the critical areas your organization has to invest in is its tools. Extracting value from your data requires solutions that enable you to search data from various sources and types. These sources can include applications, databases, websites, and hybrid cloud environments and can come in all shapes and sizes (structured, semi-structured, and unstructured). 
Search-powered technologies can help you achieve your business goals by delivering data and insights to stakeholders when needed. A recent global study by Forrester Consulting, commissioned by Elastic, found that 84% of organizations believe that the success of digital transformation relies on search-powered technology.
Discover how you can put your data to work in real time to improve digital customer experiences, increase operational resilience, and reduce cyber risk. And discover exactly how you can advance through your data maturity journey.