Welcome to This Week in Elasticsearch. In this roundup, we try to inform you about the latest and greatest changes in Elasticsearch. We cover what happened in the GitHub repositories, as well as many Elasticsearch events happening worldwide, and give you a small peek into the future of the project.
Elasticsearch core
Igor Motov presents at last week's Elasticsearch Korea Study Session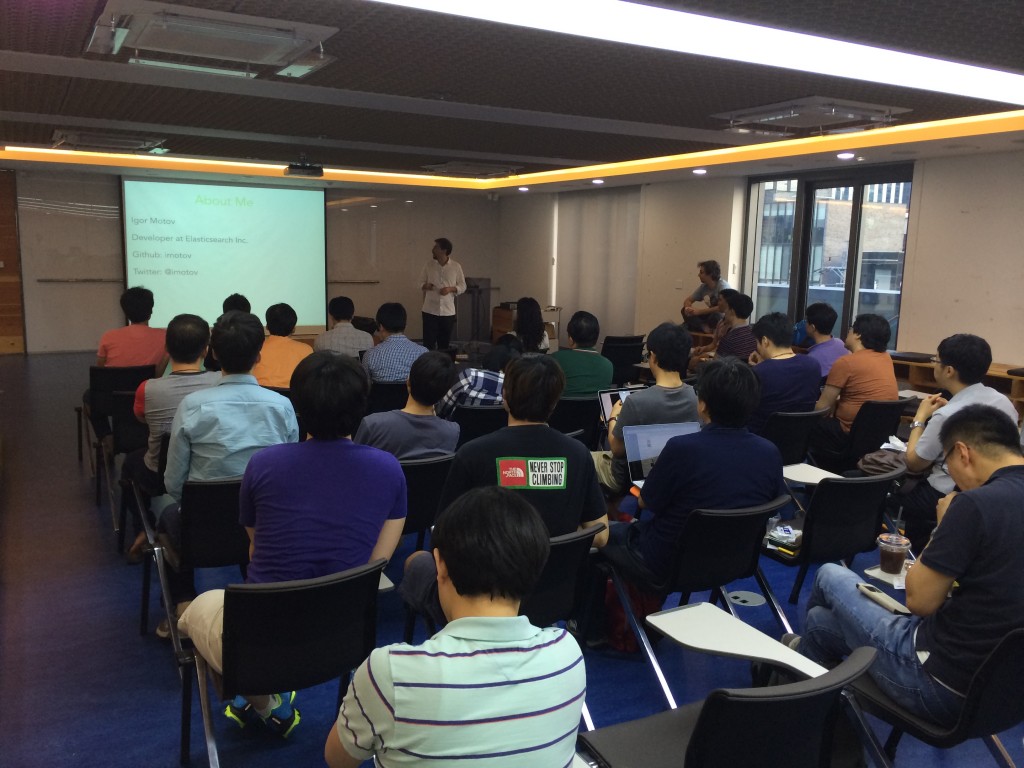 Photo credit: JongMin Kim
Elasticsearch Ecosystem
Here's some more information about what is happening in the ecosystem we are maintaining around the ELK stack - that's Elasticsearch plus Logstash and Kibana - including plugin and driver releases.
amazing turnout to the elasticsearch at Tokyo #elasticsearchjp pic.twitter.com/Aa88eVf5dF
— Shay Banon (@kimchy) July 14, 2014
Slides & Videos
LivingSocial shares their use case
Alexander Mols' slides from the recent Dutch PHP Conference
Learn how Yieldbot uses Kafka together with new Elasticsearch features like doc values
David Pilato at Devoxx UK 2014
Where to find Us
We'd love to feature all the great Elasticsearch, Logstash, and Kibana presentations and meetups happening worldwide in this section. If you're speaking or hosting a meetup, let our Community Manager, Leslie Hawthorn, know!
Germany
Israel
The Second Elasticsearch Tel Aviv Meetup will convene on July 28th, focusing on real world use cases. The agenda is now finalized and you can hear from three different companies on how they use Elasticsearch. You can register now.
The OpsTalk Meetup Group will host a workshop in Tel Aviv on August 4th from 6-9 PM. The organizers are looking to teach you all about the wonders of log analysis using the ELK stack. Register now to save your place.
Italy
The very first Elasticsearch Italy Meetup has been scheduled for TONIGHT July 16th! Please join us to hear from Luca Cavanna on What's New in Elasticsearch. You'll also be treated to a case study talk on how Lutech uses Elasticsearch in its Threat Management System for Breach Detection, Intelligence & Response. Doors open at 6:00 PM, and registration is now open.
Japan
首都大で7/17午後 @johtani さんと @PENGUINANA_ さんにelasticsearch入門とクックパッドにおけるサービス開発についてトークしていただきます。参加費無料、申し込み不要ですので、お気軽にどうぞ! pic.twitter.com/LJVtmjoLFf
— Mamoru Komachi (@mamoruk) July 10, 2014
New Zealand
The Auckland JVM Users Group will rebooting their meetup series, with their newest offering focused on Elasticsearch. You can join them on Tuesday, July 22nd at 6:00 PM, and registration is open.
Poland
The Warsaw Java Users Group is holding a Microservices Hackathon on August 9th from 10 AM to 10 PM. You can spend those twelve hours hacking on the ELK stack and a variety of other tools. Register now to attend.
United Kingdom
The London VoiP User Group will get together on July 22nd at 6:30 PM. These folks are in search of a venue, so if you're excited to hear about Eye-candy from CDRs with the ELK stack, register now and help these good folks find a place to meetup.
United States
Join the fun tonight:The TechLife Cincinnati Meetup Group will get together on July 16th at 6 PM to talk the ELK stack and other open source monitoring tools. The hosts are welcoming the Cincinnati Blacks in Technology group to present during this meetup.
The annual O'Reilly Open Source Conference is back again in Portland, Oregon! The Elasticsearch team will be out in force, with two talks, an ELK BoF and a lovely table in the exhibit hall where we can answer all of your questions. Look out for more details in next Monday's edition of Where in the World is Elasticsearch. We hope to see many of our friends there! OSCON runs from July 20-24th at the Oregon Convention Center.
Living in Portland but not planning to attend OSCON? No worries! We have an Elasticsearch Meetup co-located with our ELK BoF on Wednesday, July 23rd. Register now to join us for the festivities, including real-world use case story from Build Energy!
Where to Find You
Our Community Manager, Leslie Hawthorn, is hard at work to help folks create more Elasticsearch meetup groups and to help meetup organizers find more speakers. If you are interested in either effort, take a moment to let her know.
Oh yeah, we're also  hiring. If you'd like us to find you for employment purposes, just drop us a note.  We care more about your skill set and passion for Elasticsearch, Kibana, and Logstash than where you rest your head.
Trainings
If you are interested in Elasticsearch training we have courses taught by our core developers coming up in: