Elasticsearch
Proximity boost
We are working to implement proximity boosting in Elasticsearch. It uses the Lucene's DistanceFeatureQuery to support efficient boosting by recency and geo distance. The functionality is similar to the function score query except that the new query uses the BKD-tree and the max score optimization to efficiently skip non-competitive documents when the total number of hits is not tracked accurately so it should be much faster without any loss in terms of precision.
SQL
A "columnar" results option for json, yaml, smile and cbor formats has been added to SQL, which makes every result's row contain all the values of a specific column from the current page of results. This helps some applications like Canvas parse the SQL results in a more efficient way. For a more detailed explanation and some examples, see the docs in the PR
Performance
We are working to add benchmarks for the default distribution and we are getting closer to deployment. This is a pretty complex change overall and required changes to Rally itself. To ensure a smooth transition and to understand whether performance differences are due to changes in Elasticsearch or the environment, we will run our benchmarks on both the current and the new environment for a certain period of time and will then decide on a day to cutover to the new environment.
Watcher UI
We have made great strides converting the Watcher UI to React/EUI. Along the way we've also had a chance to use the new React Hooks feature instead of Redux, resulting in a terser and simpler architecture. This work is inspiring some UI/UX improvements which we can incorporate along the way.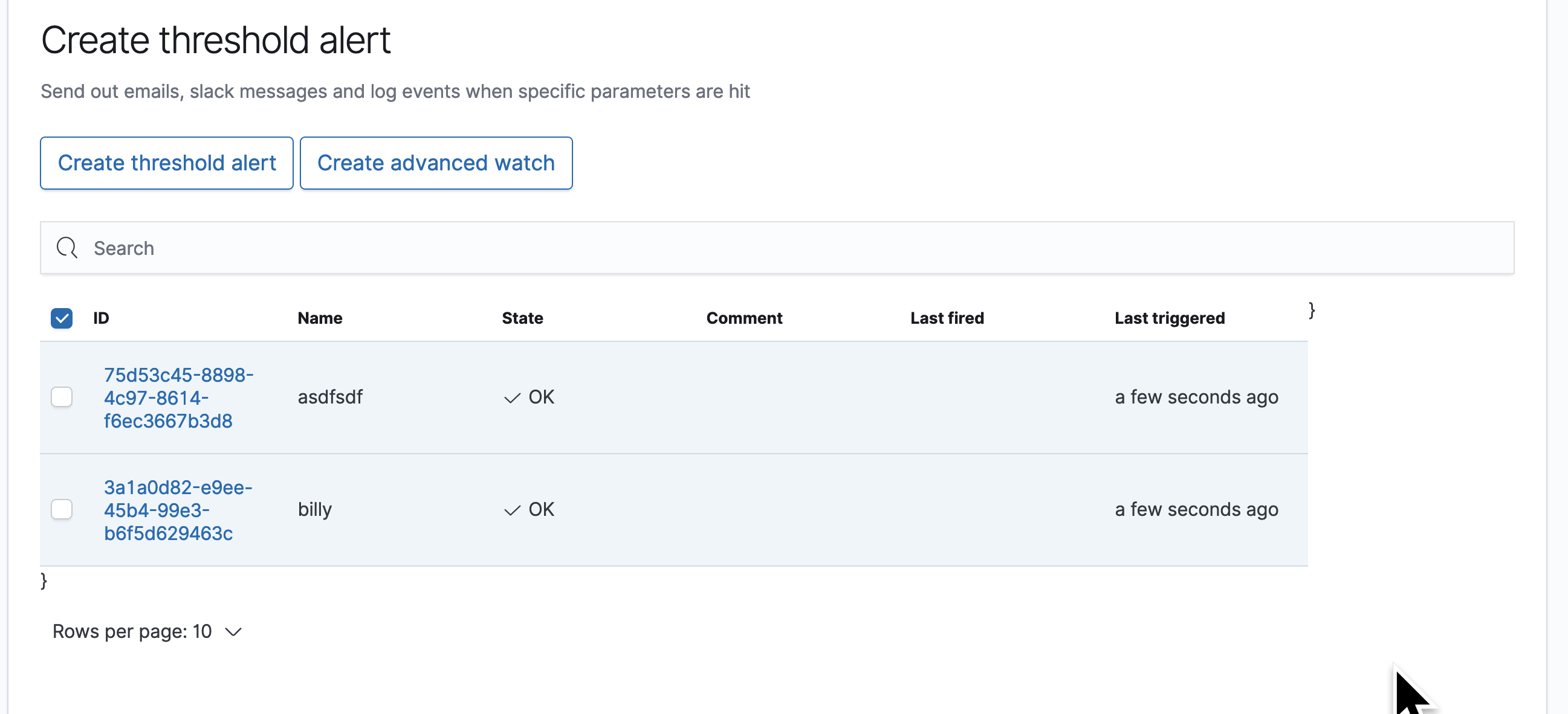 Watcher
Hipchat has been shut down so we are removing our support for it. We are deprecating Hipchat support in 6.7 (#39160) and removing it (#39199) from Watcher for 7.0.
Replicated closed indices
We have merged the closed replicated indices feature into the master branch. Closing an index now causes its shards to be reinitialized and then be replicated as regular shards. Closed indices and closed shards should also pop up in the cluster state as well as in other APIs like the Cluster Health APIs or the Recovery APIs.
Cross Cluster Replication
We have wrapped up the integration of shard history retention leases with CCR. This included removing a retention lease when we unfollow and renewing retention leases while following.
Lucene
Lucene 7.7.1
Lucene 7.7.1 is out, so we can start again the release process for 8.0 soon.
Other
Changes
Changes in Elasticsearch
Changes in 8.0:
Unify blob store compress setting #39346
Re-enable backwards compatibility #39459
BREAKING: Remove Hipchat support from Watcher #39199
Changes in 7.1:
Changes in 7.0:
Changes in 6.7:
Changes in 6.6:
Changes in Elasticsearch Hadoop Plugin
Changes in 7.0:
Changes in Elasticsearch Management UI
Changes in 7.1:
Changes in 6.7:
Changes in 6.6:
Fix bug where rollup job search would display an empty prompt if no jobs matched the search. #31642
Changes in Elasticsearch SQL ODBC Driver
Changes in 6.6:
Fix: string and floats conversion fixes #117
Changes in Rally
Changes in 1.1.0:
Changes in Rally Tracks