Last week was all about Berlin Buzzwords - the EU startup hub's most exciting conference on storing, processing and searching large amounts of digital data. Over 600 attendees from every continent save Antarctica, with visitors from Chile, India, Korea, South Africa and the US. Among these, a total of 15 Elasticsearchers were onsite to share the love and spread knowledge about our products and contributions to the open source community.
Take a minute to watch Robert Muir  on Apache Lucene 4: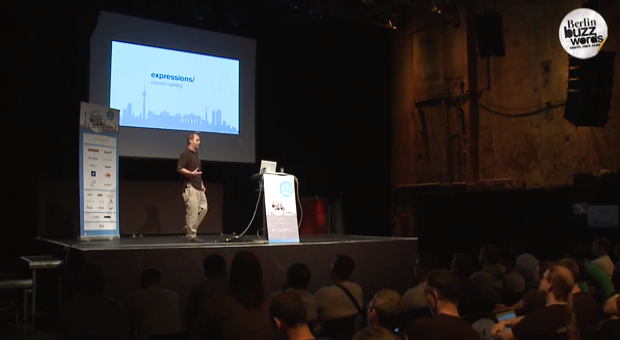 The fantastic Kulturbrauerei – an old beer brewery – was once more the perfect atmosphere for some great talks and inspiring discussions in the expo hall. And people really loved our swag.
Thanks a lot Elasticsearch for protecting me from bad architecture nightmare :) #elasticsearch #elk #bbuzz pic.twitter.com/K48oknkcNA
— Loïc Bertron (@loicbertron) May 29, 2014
Britta Weber, Boaz Leskes, Clinton Gormley, Adrien Grand, and Martijn van Groningen rocked their sessions without leaving any seats empty. (We'll be featuring all of our employees talks from Buzzwords in our weekly blog newsletter, This Week in Elasticsearch.)

(photo source: Berlin Buzzwords Flickr account)
Berlin Buzzwords wasn't just about talks. As a gold sponsor Elasticsearch had the chance to provide a fun chill & play area with a cool foosball table, comfy outdoor recliners and a green powered DIY smoothie bike.
Here's Shay taking a ride:
The search for hydration continues!@kimchy cycles his way to a smoothie #bbuzz #elasticsearch pic.twitter.com/KUL7UOPsZ4
— sejal korenromp (@sejiek) May 26, 2014
After two days of conference talks and social gatherings, it was time for a deep-dive into the Elasticsearch code.
The Elasticsearch hackathon was a great round off of the entire event. Hosted by Immoblienscout24, we had a great facility to make this event truly amazing. Thanks again to the Berlin User Group, especially brand new community manager Cristina Santamarina, and all other sponsors who contributed to this hackathon! Florian and Felix will be sharing a write up of the hackathon with us next week.
Today's #Elasticsearch #bbuzz hackathon. Thanks @elasticberlin @berlinonlinenet @syseleven @immobilienscout for all! pic.twitter.com/tLbmixz3cs
— Leslie Hawthorn (@lhawthorn) May 28, 2014
Finally, a BIG thank to Newthinking (especially Daniela Bentrup) for their fantastic organization before and throughout the whole conference. It was a pleasure to be part of it and discover a bunch of new glowing Elasticsearch & ELK stack users!