Welcome to our weekly news bite about where you can find all sorts of Elasticsearch & ELK stack goodness. This week, David Pilato will get you ready for the wide world of Elasticsearch and Kibana, while Jordan Sissel will teach you how to love your logs with Logstash - the L in the Elasticsearch ELK stack - and Elasticsearch & Kibana.
Databeat
Good morning, San Francisco! Headed to Databeat 2014 today and tomorrow? Make sure to say hello to our resident Elasticsearchians, Amy White and Jen Grant as you wend your way through The Grand Hyatt Union Square. And block your calendar now for 3:10 PM today, as you won't want to miss Graham Tackley, Director of News and Architecture at The Guardian, on User Behavior Analytics Frameworks to Drive Revenue.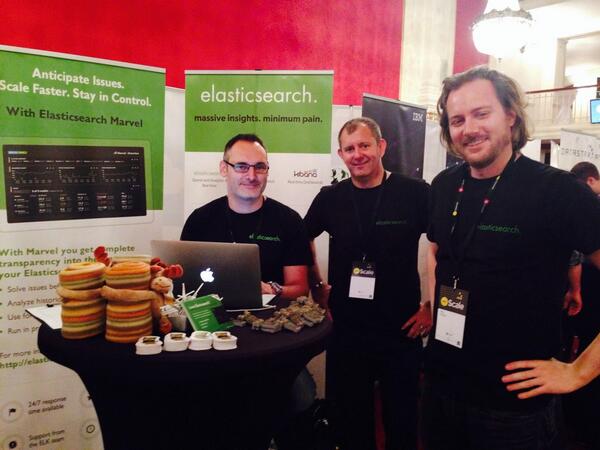 David Pilato, Richard Maurer and Alex Ksikes wrapping up the festivities at DotScale EU
Solutions Linux
The team putting on Solutions Linux are at it again, bringing you the Sixteenth edition of the conference this week on May 20th and 21st in Paris. Join David Pilato on Wednesday, May 20th at 11:40 AM in Salle Monet for a one hour workshop, including a feature overview of Elasticsearch and an introduction to Kibana.
You can also visit our team throughout the conference in Booth A18. Come on over and say "Bonjour!"
GOTO Chicago
With this a-mazing speaker line up on offer, we just had to go, too. Join us at GOTO Chicago on May 20th and 21st at the Drake Hotel. We'll have Binh Ly and other folks from Elasticsearch Inc there to answer all of your questions and to offer you some cool ELK toy goodness. Plus, we've got a meetup on in Chicago right after the conference!
You can visit Binh and the rest of the Elasticsearch team at Booth #2.
Gluecon
Gluecon 2014 kicks off on Tuesday, May 20th with a pre-conference camp, CampDevOps @ Gluecon. Even if you're not joining us for Gluecon on May 21st & 22nd, you can still attend CampDevOps. Just register here!
For those who will be attending Gluecon in Broomfield, Colorado, plan to hear from the creator of Logstash, Jordan Sissel. Jordan will be covering Love Your Logs with Elasticsearch ELK at 11:05 AM in Breakout Room #2, directly after the conference opening keynotes on Wednesday.
Jordan and other stalwart folks from the Elasticsearch team will be hanging out at the Elasticsearch table, T8, when not presenting. Visit us to get some cool Loggy and Elasticsearch stickers!
BreizhCamp
David Pilato will conclude his Elasticsearch love powered tour of France this week in Rennes at BreizhCamp. The conference runs from May 21-23rd, with David leading a hands on Elasticsearch and Kibana workshop at 10:30 AM on Thursday. Make sure to attend David's workshop and chat with him during the breaks about all things ELK stack!
If that's not enough Elasticsearch goodness for you, Jérôme Mainaud will cover Five Ingredients to Spice up Your Elasticsearch experience on Thursday evening. Bonjour, Jérôme! Nous sommes impatients de vous rencontrer à BreizhCamp!
Polyglot Vancouver
The fine folks at the Polyglot Unconference in Vancouver, BC, Canada are hosting their annual event on May 23-25th. The conference kicks off with Ganesh Swami presenting a half day workshop on Getting Started with Elasticsearch.
Meetups
Since you are not Dr. Who and are therefore likely without a Tardis, you may not be able to join us for all these conferences. But we have lots of great meetups happening this week. Please join us in a city near you for more informal get togethers, including refreshments and tasty talk treats!
San Francisco
Okay, so we took this one out of alphabetical order, but that's because we're welcoming a speaker from overseas. Please join us tomorrow, Tuesday, May 20th to hear from Graham Tackley, Director of Architecture at The Guardian News and Media. Graham will discuss how The Guardian leveraged Elasticsearch to build an analytics platform that allowed everyone in The Guardian's newsroom to deep dive into reader engagement - all in real-time.
But wait, there's more! Kirsten Stewart from Desk.com will present on the challenges, complexities, and triumphs Desk has experienced giving their users a near real-time experience using various tools and configurations of Elasticsearch.
We're at capacity now, but there's still room on the waitlist. If you cannot join us in person, we'll be taping the talks, so stay tuned to this blog for updates.
Chicago
The day after the conference program for GOTO Chicago concludes, the fine folks at ADP Dealer Services will be hosting the 4th Elasticsearch Chicago Meetup. Attendees will hear from Binh Ly on an Introduction to Kibana, and from Igor Motov on Improving Resiliency in Elasticsearch.
Doors open at 6 PM in Thursday, May 22nd. Register now, as space is limited. We'll fill your brain, feed your belly and you'll probably walk out with some cool Elasticsearch gear.
Miami
The Miami JVM Users Group will get together on Thursday, May 22nd and cover an Introduction to Elasticsearch. Doors open at 7:00 PM.
Sydney
Mark Walkom, the lovely organizer of the Sydney Elasticsearch Meetup group, will don his SAGE-AU User Group speaker hat and treat folks to a talk on Getting running with Logstash. Please join Mark and company at 6:00 PM on Tuesday, May 20th at Google's Sydney offices. Logstash stickers on us!
Headed off to Berlin....
Next week, the Elasticsearch team in Europe will be out in force at Berlin Buzzwords. We'll get you a full itinerary for all things Elasticsearch at Buzzwords next Monday, but for the moment go ahead and sign up for next Wednesday's hackathon on May 28th. It'll be great!
We'll see you next week's exciting installment of Where in the World is Elasticsearch?