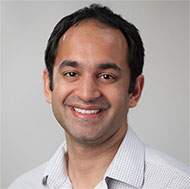 Hello Elasticsearchers! I'm Gaurav Gupta, and I recently joined Elasticsearch as VP of Product Management. A little bit about me and why I'm so excited to be part of the team!
Bringing two worlds together
My love for all things data and search started in the late 90's when I first tried out Google. For the first time, the data on the web truly became useful to me. When I joined Splunk in 2008, I found a kind of corollary to Google. Splunk leveraged search, but explored an entirely different type of data. Machine data was a kind of metadata of the world – the logs, metrics and spew that come out of servers, applications, network devices, and sensors that run our world. It was possibly thousands of times larger than the entirety of human-generated data (the stuff that Google mostly searched) and its growth seemed limitless.
In the world of Big Data, "human" and "machine" generated data have largely remained distinct in terms of both tools and technical approaches. Elasticsearch brings these two together for the first time. Its engine can tackle both document search and machine data analytics with an elegant simplicity and speed. The sheer number of use cases is a product guy's dream (or nightmare, depending on how you see it!)
The awesome community
The Elasticsearch community really "gets" it. Hop onto twitter, read the blog posts, hang out in the IRC channel, or better yet talk to some customers of Elasticsearch. People LOVE our products, and they're excited to contribute back to make it even better. I can't wait to be a part of it.
The people and culture
Elasticsearch is building one of the few truly geographically distributed startups I know of. As a result, we are able to hire the best and brightest technical and business minds regardless of where they live. I live in San Francisco, but I regularly communicate with people living in Amsterdam, Germany, the UK, and all over the US. We all get together 1-2x a year and with modern technology coupled with the right culture, it works.
Beautiful products are simple, yet flexible and powerful
My recent experiences with other open source "Big Data" infrastructure companies (ie Hadoop, NoSQL etc) left me puzzled. Getting those solutions up and running, let alone getting something useful, took days and often weeks. Elasticsearch and the ELK stack is a dream in comparison. Beyond the surface, lies great power. Everything is designed with flexibility in mind: clean APIs, JSON everywhere, and a product built with scalability and reliability as a first class citizen. It can just as easily live on-premise as it can in the cloud. And being open source means that we are by nature open and transparent, quality conscious, and focused on serving our community.
I look forward to meeting many of you! Feel free to reach out anytime via email at gaurav.gupta (at) elasticsearch.com or on twitter at @ggupta1.