Welcome to the merry month of May! As we start this month's adventures, we've got a full slate of awesome talks coming up this week. If you're attending any of these conferences, we hope that you'll stop by to meet our team members!
DevOps Days Austin 
Our very own Logstash core developer and creator of Curator, Aaron Mildenstein, will be at DevOps Days Austin. The conference takes place on May 5th and 6th, and you can meet up with Aaron during the festivities at the Elasticsearch table. Even cooler, Aaron is hoping to schedule some time during the conference's open space hours to talk logging, the ELK stack and other topics near and dear to the heart of ops humans (and developers!). Make sure to say stop by our table and say hello to Aaron!
Monitorama
The North American edition of Monitorama, an open source monitoring conference and hackathon, kicks off at 9 AM today in Portland, Oregon, US. In addition to all of the great talks on the agenda, Rashid Khan, creator of Kibana, will host a workshop on Wednesday, May 7th just after the opening welcome at 9:45 AM. Check out the workshop, and make sure to say hi to Rashid and Steve Mayzak in the hallway track!

Can't join us a Monitorama? Want a sneak peak of Kibana in action? Look no further!
Espirit JUG Day Tunisia
The Espirit Java Users Group Tunisia will hold their annual conference on May 7th and 8th in Ariana. David Pilato, Elasticsearch Developer Advocate and DJ extraordinaire, will host two sessions:
Make sense of your (BIG) data! - May 7th at 2 PM
Advanced search for your legacy application - May 8th at 9:15 AM
Make sure to attend David's talks. If everyone is excited about it, perhaps you can convince him to spin some tunes like he did recently at Devoxx France!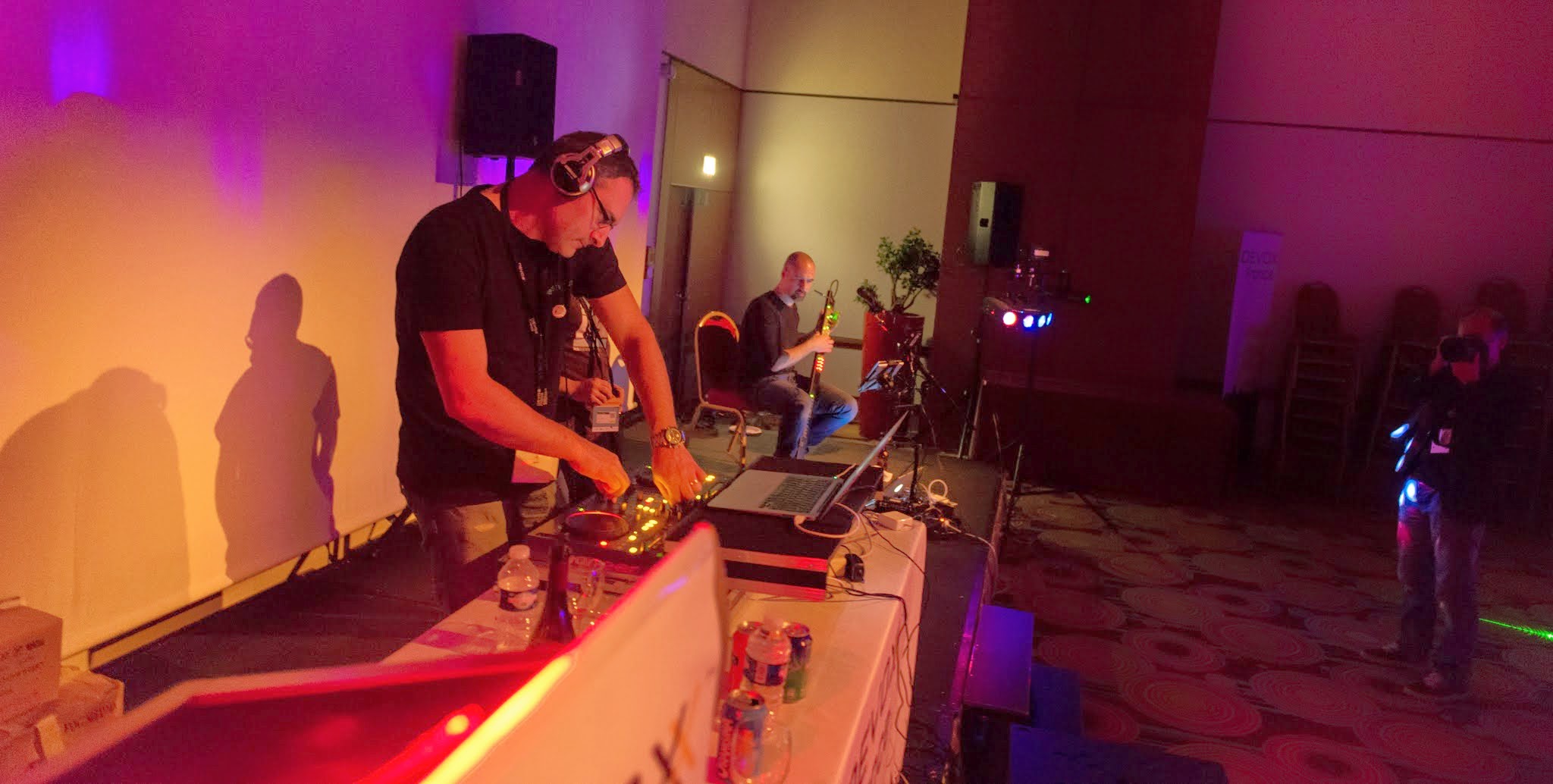 David delights the crowd at Devoxx France 2014
15th Fórum Internacional de Software Livre and Brasil Meetups

Elasticsearch is very excited to send our first speaker from the company to Brazil! Leslie Hawthorn, our Community Manager, will return to FISL once again to speak on Community 2.0: Beyond Using Software Livre. She will speak on May 7th and FISL 15 runs from May 7-10th in Porto Alegre.
Leslie's talk will be in English but most of the talks on the program are given in BR-PT. Leslie will also be on hand to answer questions you may have about Elasticsearch, Logstash and Kibana. You can visit with Leslie after her talk or in the Elasticsearch booth in the exhibits area.
During her visit for FISL 15, Leslie will also speak at the first ever Rio de Janeiro Elasticsearch Meetup on May 5th.
If you are attending FISL 15 or make your home in or near Porto Alegre, please join us for the first Porto Alegre Elasticsearch Meetup on May 8th.
Elasticsearch and MIT Sloan Data Analytics Hackathon
On May 10th in Cambridge, Masschusetts, US, Elasticsearch will host a hackathon along with the MIT Sloan Data Analytics Club. In addition to the chance to hack on Elasticsearch, network with other cool folks and eat delicious noms, we'll feature something a little different: data science for the non-computer scientist. We know that there are many people who need to make sense of their data, not just those with experience as technologists. If that sounds like you, we'll have Binh Ly from the Elasticsearch engineering team on hand to help you get started using Kibana, the data visualization tool that makes extracting insights from your data simple and beautiful.
Igor Motov, Elasticsearch core developer, will also be on hand to mentor attendees coming up to speed on Elasticsearch. And to make awesome things. :)
The hackathon is open to anyone, not just students. Space is limited, so please register now!
But Wait, There's More ... Got Meetups?
We've got a number of meetups happening this week, and even more awesome Elasticsearch content on offer from the wider community:
Karlsruhe - What's New in Elasticsearch 1.1 and Practical Logstash by Alexander Reelsen
Boston - Building a Lambda Architecture with Elasticsearch by the Yieldbot Engineering Team
Miami - Intro to Elasticsearch by the Miami JVM Group
Wednesday, May 7th
Phew. That's one busy week! We'll keep bringing you news of where we'll be each week, so stay tuned to this blog or Elasticsearch on Twitter for the latest news.