For those of you who couldn't join us in San Francisco this week, we had quite the busy week.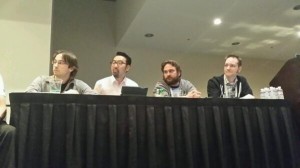 Jordan Sissel – creator of Logstash – was part of a star-studded BoF panel at DevNation in San Francisco this past Tuesday night. Jordan – pictured left (via @robynbergeron) was joined by Gene Kim – author of The Phoenix Project, Langdon White – Developer and Platform Evangelist for Red Hat Enterprise Linux, and Michael McGrath – Principal Open Shift Architect at Red Hat. The quartet led a vibrant discussion on the best practices for system and application monitoring. Our own Leslie Hawthorn was on hand for the BoF and captured the essence of the discussion.
#monitoring – "Everyone seems to have all these tools. That they hate." Problem is not fully solved. @jordansissel
— Leslie Hawthorn (@lhawthorn) April 16, 2014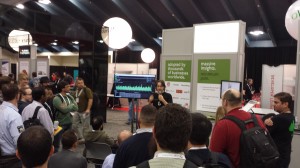 Jordan also joined the Elasticsearch team at our Red Hat Summit booth. Partnering up with fellow Logstash engineer Kurt Hurtado, Jordan led 3 standing room only demos on the ELK Stack.
If you couldn't make any of Jordan & Kurt's demos this week or just wanted more information, take a moment to watch this video from our recent New York City meet-up and listen to how Bloomberg is utilizing the entire stack.
As you can see by the pictures from the Red Hat Summit and the Bloomberg video, simple and beautiful data visualization is a key part of the ELK Stack. The creator of the K part of ELK – Rashid Khan – just hosted a great webinar on Kibana. If you have a few minutes this weekend and simple and beautiful data visualizations interest you, we recommend taking a moment to watch it.