Welcome to This Week in Elasticsearch. In this roundup, we try to inform you about the latest and greatest changes in Elasticsearch. We cover what happened in the GitHub repositories, as well as many Elasticsearch events happening worldwide, and give you a small peek into the future of the project.
Elasticsearch Core
Full house at last night's DevOps Amsterdam Meetup: DrupalCon & ELK Stack Style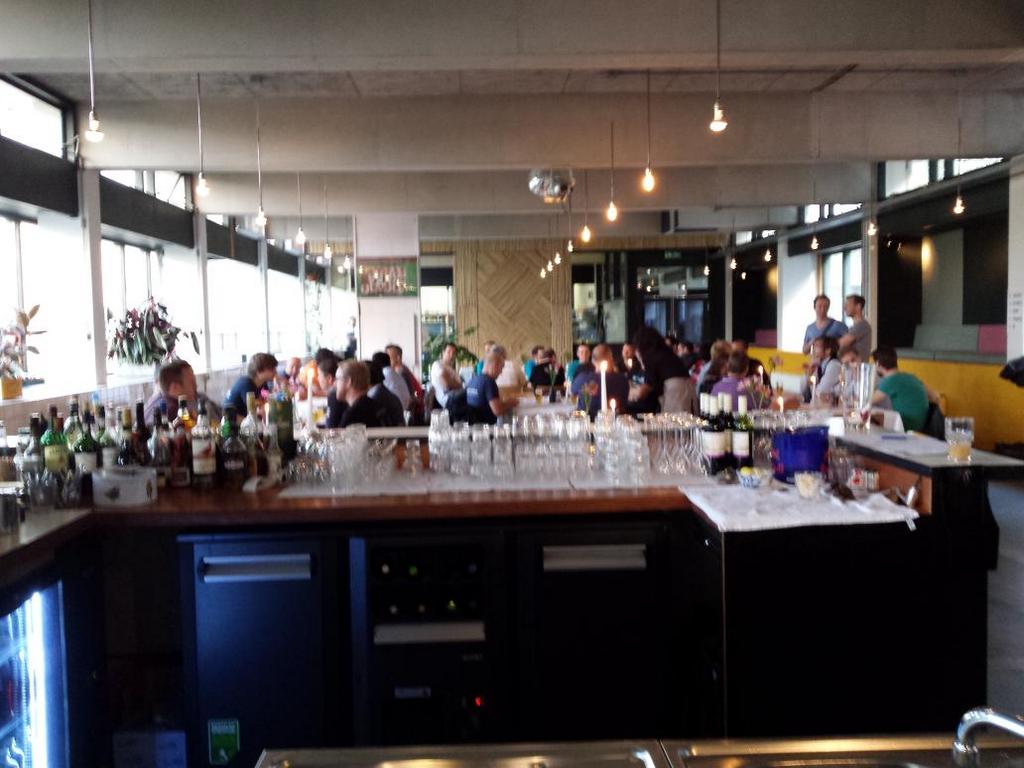 Elasticsearch Ecosystem
Here's some more information about what is happening in the ecosystem we are maintaining around the ELK stack - that's Elasticsearch plus Logstash and Kibana - including plugin and driver releases.
.@odolbeau and @thewhitegeek talking about #elasticsearch at @BlaBlaCar_FR for @ElasticsearchFR meetup. pic.twitter.com/Uv3RklEVSE
— David Pilato (@dadoonet) September 28, 2014
Slides & Videos
A great lessons learned story from Etsy, including how they're using Elasticsearch & Logstash in their new architecture
An incredibly in-depth use case shared at last week's Elasticsearch Netherlands Meetup. Thanks again for hosting us, Bol.com!
An end to end tutorial on the ELK stack, including code samples and Vagrant environments you can use as you watch
Elasticsearch Aggregations Webineri Tamamlandı (Video) http://t.co/70KbkLEsHU
— kodcu.com (@kodcucom) September 29, 2014
Where to Find Us
We'd love to feature all the great Elasticsearch, Logstash, and Kibana presentations and meetups happening worldwide in this section. If you're speaking or hosting a meetup, let our Director of Developer Relations, Leslie Hawthorn, know!
Austria
The Vienna Elasticsearch User Group will convene tomorrow on October 2nd at 7 PM. This next meetup will focus on Elasticsearch use cases. You can register now to attend.
Belgium
We're a proud sponsor of the 5th anniversary of DevOps Days Belgium, held in its original hometown of Ghent. Elasticsearch will have a booth at the conference, so stop by and say hello to Leslie Hawthorn between sessions. We'll be at DevOps Days October 27-28th.
China
Zeng Yong, aka Medcl, is one of our most active community members in China. He has two upcoming talks on all things Elasticsearch:
France
Germany
The code.talks conference is back in Hamburg this year on October 9th and 10th, though with a new name. (We had a great time there last year when this conference was known simply as Developer Conference EU.) Alexander Reelsen will be speaking once again, along with Isabel Drost-Fromm.
Here's all the Elasticsearch and ELK stack information on offer at code.talks:
The week after code.talks, Leslie Hawthorn will be heading LinuxCon Europe in Dusseldorf, where she'll speak on the panel Empowering Your Corporate Open Source Software Developers. The panel takes place on Wednesday, October 15th at 2:30 PM, and the conference runs October 13-15th at Congress Centre Dusseldorf.
And, if you happen to be in Karlsruhe on October 16th, you can catch Patrick Peschlow on Elasticsearch Performance in a Nutshell at the Search Meetup Karlsruhe. Registration is now open, and the meetup will begin at 7:15 PM.
Japan
New event: Jun Ohtani will attend the Global Hack Day with Mashape in Tokyo. Jun will present on the ELK stack and why he works for Elasticsearch. Global Hack Day takes place October 3rd-5th.
The Netherlands
Nikolay Ignatov and Welin Welchev from Propeople will present on Elasticsearch, the New School Search Engine for Drupal. Join them on Thursday at 10:45 AM to learn all about the Elasticsearch Connector module!
Norway
The next Elasticsearch Oslo Meetup is on for October 7th at 6 PM. Register now to save your seat. We'll get back to you with more details as soon as the meeting agenda is finalized.
Poland
Honza Kral will be speaking at PyCon Poland 2014. The conference runs from October 16-19th in Orle Gniazdo. We'll be back to you with more details on Honza's presentation soon!
Honza will speak at PolyConf 2014 on Elasticsearch's language clients, Bridging the gap: one API, 5 languages. Honza takes the stage at 5:30 PM on October 30th, and the conference runs the 30th-31st in Poznan.
Spain
The first ever Elasticsearch Meetup in Madrid has been scheduled! The meetup will take place on October 7th from 7:00 - 8:30 PM. Our very own Clinton Gormley will cover all things Elasticsearch. You can register now to save your place.
Sweden
Two of our developers, Honza Kral and Lee Hinman, will be visiting Sweden on October 7th. Starting at 7:00 PM, we'll convene our sixth Elasticsearch Stockholm Meetup, featuring a demo of our new high-level Python library elasticsearch-dsl and an overview of circuit breaker. You can register now to save your place.
Switzerland
David Pilato will return to Soft-Shake in Geneva once again this year. He will speak on Advanced Search for Your Legacy Application in the Big Data Track. Soft-Shake takes place on October 23-24th, and David will speak in Slot 5 on Thursday.
New meetup: #Elasticsearch Minneapolis on Oct. 22nd, 6:30 PM. Join us to hear @trackjs' use case. Details & reg at http://t.co/XGlqQHRzqV
— Leslie Hawthorn (@lhawthorn) October 1, 2014
United States
Where to Find You
Our Director of Developer Relations, Leslie Hawthorn, is hard at work to help folks create more Elasticsearch meetup groups and to help meetup organizers find more speakers. If you are interested in either effort, let her know.
Oh yeah, we're also hiring. If you'd like us to find you for employment purposes, just drop us a note.  We care more about your skill set and passion for Elasticsearch, Kibana, and Logstash than where you rest your head.
Trainings
If you are interested in Elasticsearch training we have courses taught by our core developers coming up in: