Product release
What's new in Elastic Enterprise Search 7.13: Broader Dropbox integration and enhanced APIs
We're thrilled to announce the latest release of Elastic Enterprise Search. In our 7.13 release you'll find exciting enhancements you can use in your workplace, website, and mobile app search experiences. Included are new additions to the already broad content source integrations for Elastic Workplace Search, so you can index and synchronize even more content than ever. Also included are new APIs — and improvements to existing APIs — to give developers and admins powerful new tools for fine-tuning search results and indexing content. Let's dive into some more detail.
Deeper Dropbox integration
Elastic Workplace Search offers unified search across all the content spanning all your productivity and storage apps. If your organization uses Dropbox to house all that content — and to collaborate on creating new content — enhancements in Workplace Search can help you harness that wealth of data and information. Workplace Search enables your teams to search not just your Dropbox content but also content that lives in Salesforce, GitHub, Gmail, and any other content created in your teams' vast toolset. And it's all in a single search experience with unified relevance across all those apps.
Welcoming Dropbox Paper
In 7.13, we've broadened the prebuilt Workplace Search connector for Dropbox to include  support for Dropbox Paper. Teams that rely on it to collaborate, create, and coordinate can lean on Workplace Search to help them find needed content right alongside relevant Slack messages, wiki pages, PDFs, and all their other content.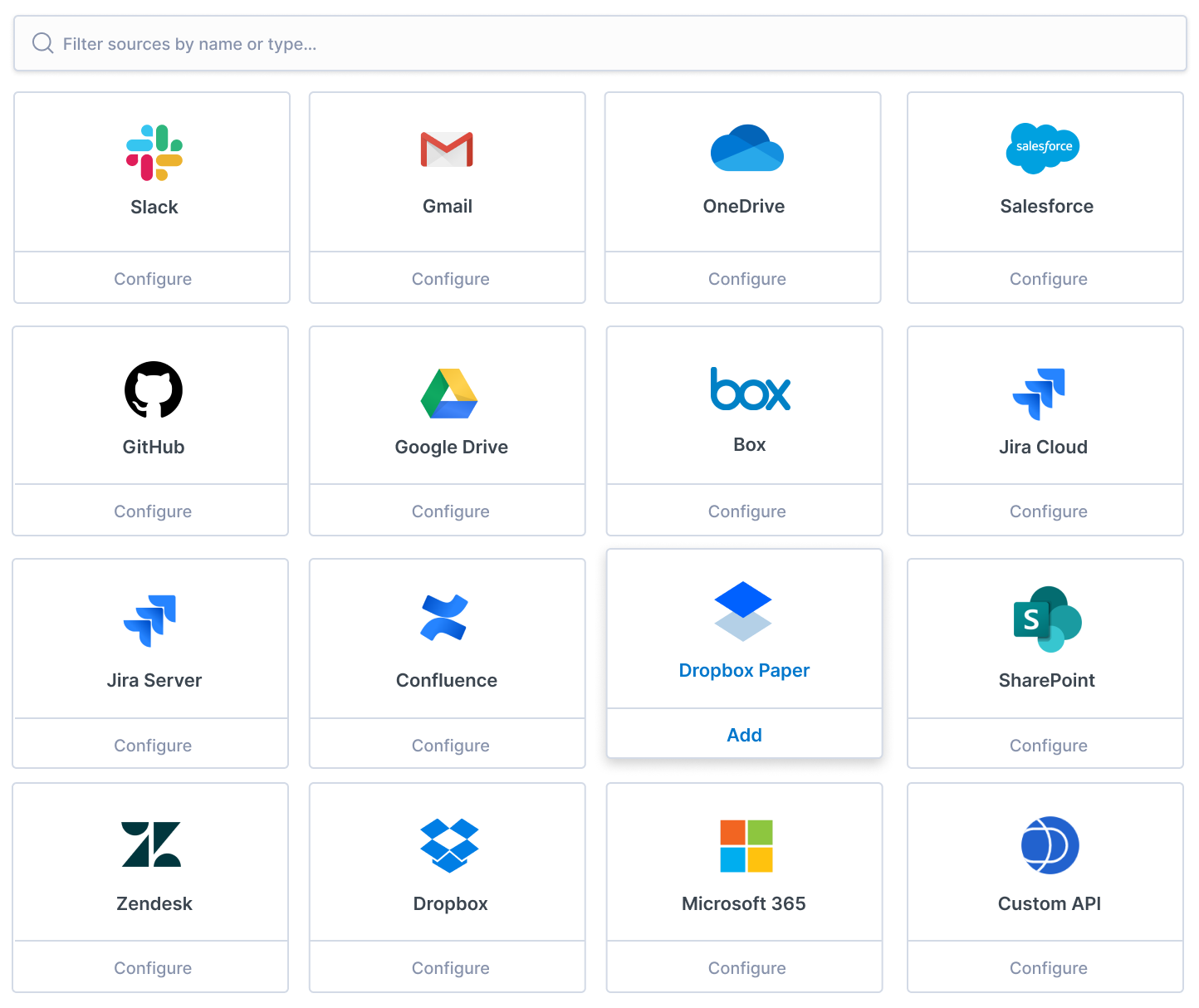 Automatic syncing of users' Dropbox permissions
A critical element for any shared document is ensuring proper access, especially in a collaborative environment like Dropbox Paper. Workplace Search offers complete document-level permission synchronization across all Dropbox content, so you can rest assured that only the right people have access to the right content.
Precision tuning — now in beta
In addition to the already powerful and intuitive Elastic App Search relevance controls, the new precision tuning API empowers search admins to adjust the recall and precision of your website or application search results. They can easily configure how broad or tight your search results should be with a single API call or parameter at query time to suit the exact needs of your search users.
New custom source APIs
Your development teams can more easily ingest and manage content from any content source, including legacy and custom applications, thanks to the new custom source management APIs in Workplace Search 7.13. The new endpoints allow for programmatic, on-the-fly creation and operation of sources without the need for manual setup. The ability to easily create high-quality ingestion pipelines for any source means that even the most obscure applications can be available for your teams to search across alongside their other day-to-day tools — all with unified relevance.
Logstash, meet Workplace Search
A new Logstash output plugin is now available for Workplace Search, providing a simple interface for ingesting data which may already exist in an Elasticsearch index, or leverage Logstash's well-established portfolio of data transformation strategies. To get started, you may simply retrieve and configure the Workplace Search output plugin using the bin/logstash-plugin install logstash-integration-elastic_enterprise_search command.
Try it out
Existing Elastic Cloud customers can access Enterprise Search directly from the
Elastic Cloud console
. If you're new to the Elastic Cloud, take a look at our
Quick Start guides
(bite-sized training videos to get you started quickly) or our
free fundamentals training courses
. You can always get started for free with a
free 14-day trial of Elastic Enterprise Search
. Or
download
the self-managed version for free.