While Google G Suite is an indispensable productivity and collaboration tool for modern businesses, all too frequently content tends to pile up in the far corners of Google Drive, making content search and discovery difficult. Spending valuable time sifting and searching through tens of thousands of documents to find the right one has become all too common, and most workers spend several hours per week searching for information. Countless hours spent searching aren't just unproductive, but oftentimes worse if work ends up getting duplicated, or incorrect or outdated information gets shared. Elastic Workplace Search aims to alleviate these search difficulties by keeping all your teams' content — across all those different sources — right at their fingertips (and with all the existing document-level permissions intact). And it's all available to try out for free.
And with recent shifts towards more virtual work, making information both easily accessible and easy to find has become more important than ever. Elastic Workplace Search serves up all the docs, sheets, slides, and all your other image, PDF, and other non-Google-related content shared on Google Drive in a single search experience.
And if you're not sure where it was you saw a bit of information? Workplace Search delivers results from all your content sources right alongside one another, filterable in a number of ways, so you can drill down to quickly find what you need. You can connect and index popular content sources like Salesforce, Confluence, GitHub, and many others. And you can use the Workplace Search Custom Source API to connect any other source of content you might have.  
Getting Google Drive connected
Connecting Google Drive to Workplace Search is simple. With the intuitive management dashboard, you can connect sources with a couple of clicks — no development or code needed.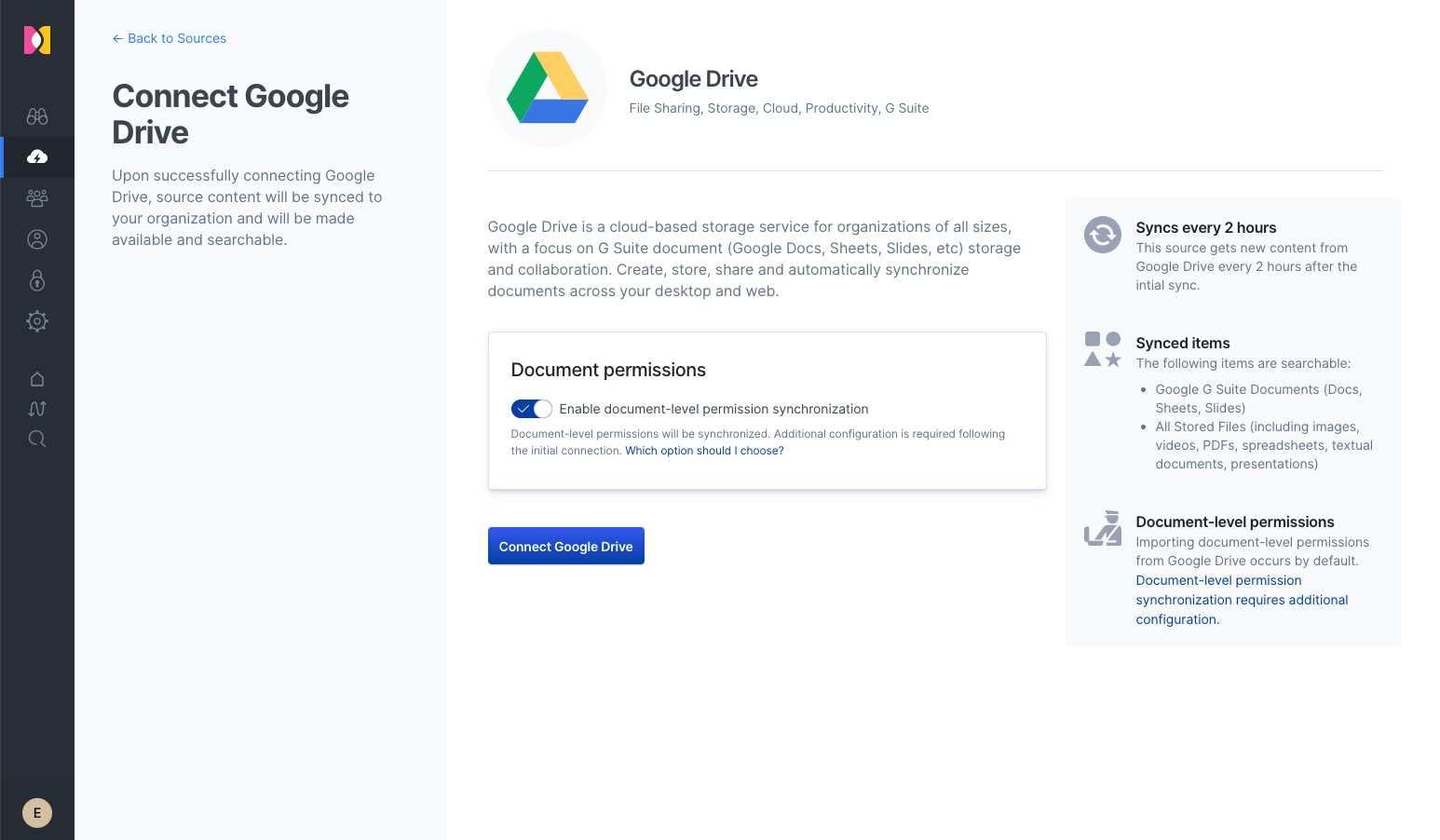 But what about some-eyes-only documents that are private or restricted to certain groups or roles? The Workplace Search Google Drive content source automatically provides document-level access and authorization control to ensure that documents are discoverable by only those folks with the proper permissions. Capturing document-level access information is as simple as a toggle, allowing admins to automatically capture and respect the permissions established for Google Drive.
The Google Drive connector provided with Workplace Search automatically captures, syncs, and indexes the following items:
G Suite documents: Including ID, file metadata, file content, document permission data, collaborators, and timestamps
Stored files: Including ID, file metadata, file content, updated by, and timestamps
To connect your Google Drive content to your Elastic Workplace Search environment, configure the Google Drive connectors found in your source list within Workplace Search, and then connect them to your organization.
Right results, right people
For your teams that use the Google G Suite as their primary collaboration tool, it's a simple process to prioritize Google Drive in their search results. Sliders adjust results relevance — no need to call in development resources or update/write code. Just bump up the relevance priority for the content types each team values most, and results will adapt accordingly. Tweak settings all you like to continue to refine and optimize results so that your teams are finding just what they're looking for.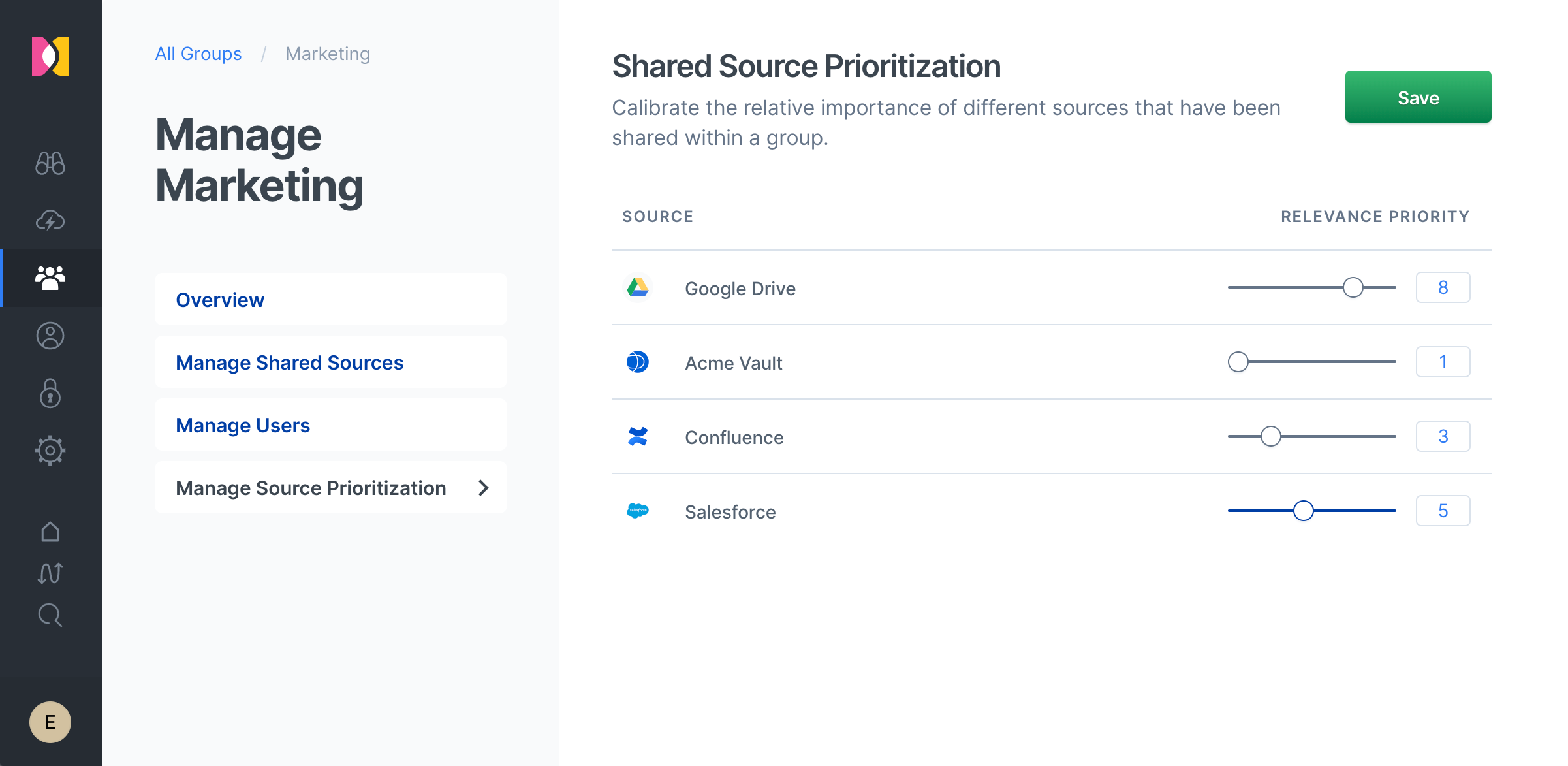 Getting started
Make the most of the substantial investment you've made in the Google G Suite — and all your other content sources — with a search experience your teams deserve. You can get started for free with a 14-day trial, and then check out our detailed guide for connecting Google Drive.