Each year, distributed Elasticians from around the globe gather for our Engineering All Hands (EAH) event. EAH is a very special week dedicated to highlighting our successes, discussing where we can do better, and an opportunity to dive deep into our products and explore the new technologies we're just getting started with, such as Elastic Endpoint Security.
This year, the engineering team gathered in beautiful Toronto in Ontario, Canada. Toronto was chosen as the closest possible location for the majority of our team to travel to, with folks flying as far as Australia to attend.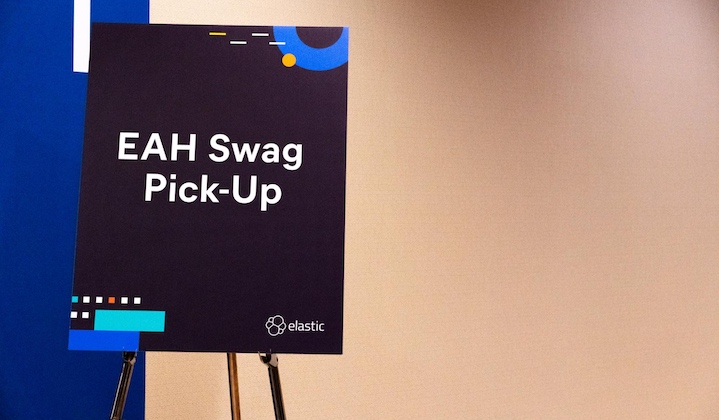 Signage outside the Elastic swag booth at the Toronto Sheraton Centre, where EAH was held.
More than any other function at Elastic, what engineers develop, how they interact with our product marketing teams, and how the engineers work together have wide-reaching implications for the company — both from a business and a cultural standpoint.
But while EAH might, at first glance, look like an event that involves engineers and engineers alone, that simply isn't the case. Engineering isn't the entire story. While everyone at Elastic is passionate about technology and building the best products we can as a team, you don't need to be writing code to bring passion to Elastic. At EAH, this is on full display. Recruiting, Marketing, Sales — Elasticians from diverse functions were in Toronto to discuss processes, interact with engineers in close settings, and work out how to more effectively work together with our engineers.
"Building products and solutions that our users and customers love is at the cornerstone of Elastic's engineering culture," says Jeff Yoshimura, vice president of worldwide marketing. "Their work is highly focused on making the products as simple as possible, and this simplification enables the marketing team to create programs that drive demand. Engineering All Hands is a great way to interact with our engineers across various teams, learn more about the products and their roadmaps, and plan ahead on how to communicate upcoming features."
Why is EAH a great opportunity to talk messaging? Elastic, as we've mentioned in other articles, is distributed by design. While we regularly discuss over Zoom, Slack, and Google Docs how we can best communicate the features of our products to customers and find great success in using the tools of the distributed workplace to nail down messaging, getting everyone in a room together can push projects forward that might need large chunks of time and cross-team participation (which is sometimes difficult to schedule across time zones).
That's why at EAH, regularly scheduled breakouts took place so that teams could discuss priorities, develop game plans, and tidy up lingering asks in a concentrated way. Cross-team functions were also scheduled so that teams that might not normally interact could have face-to-face time. We've found that introducing cross function sessions feeds collaboration and nurtures discussions that continue long after we've headed back to our distributed offices, sparking new projects and strengthening those that just needed a little extra love.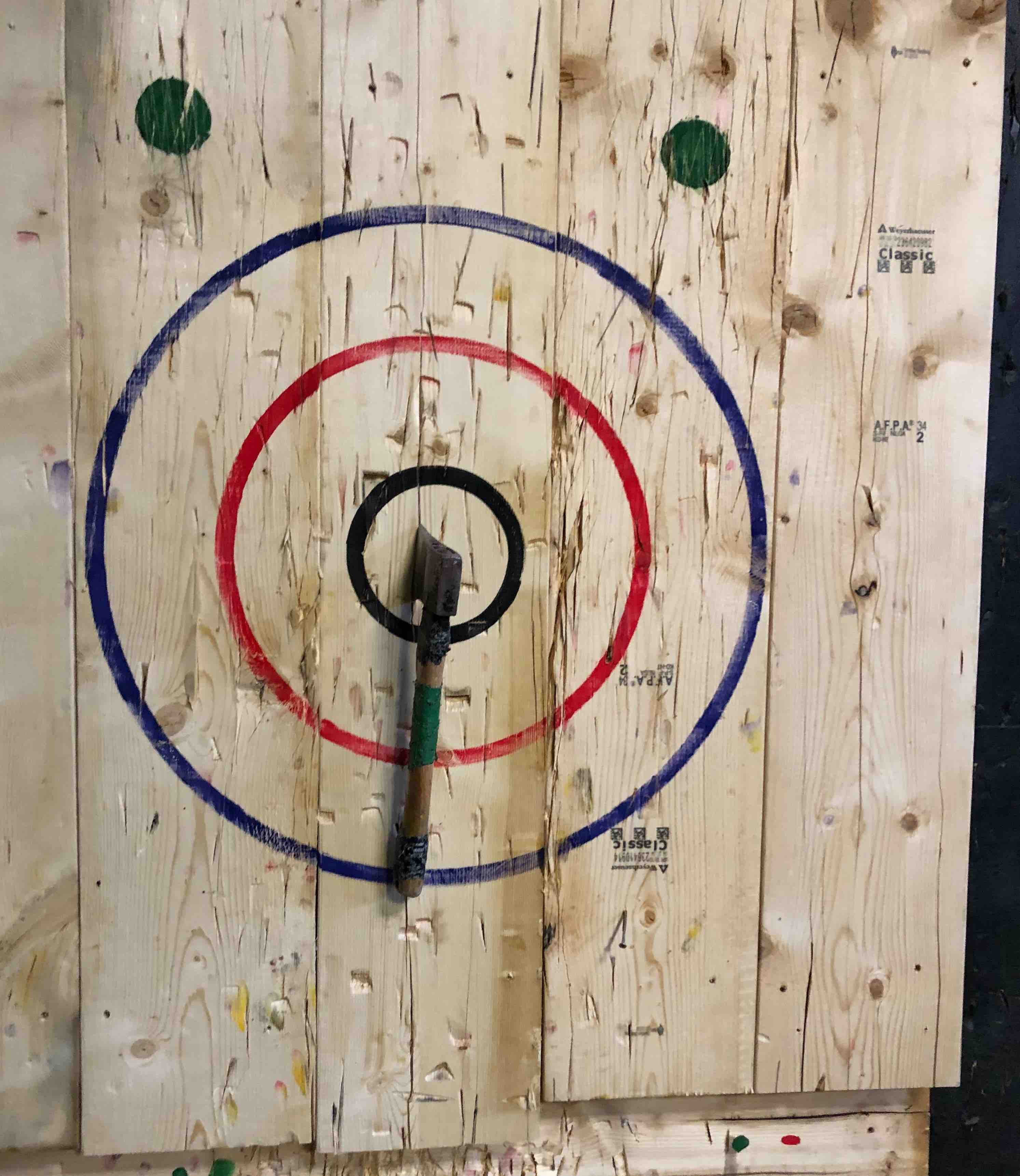 A bullseye during one of our fun day events.
With Elastic growing at a steady clip, department dinners at EAH gave us an opportunity to meet new Elasticians and give them a warm welcome. EAH was also a great opportunity for Elasticians to enjoy the kinds of interactions that folks in a traditional office space might enjoy — shared lunches together, gatherings around the watercooler, and getting to know each other over drinks at the end of the workday. The simple value of sitting down over breakfast and discussing the previous month's work, or the work ahead, cannot be overstated. Distributed work tools are … well … for work. EAH gives us an opportunity to step out from behind our Slack avatars and get real. Who on our team is a morning person? Who thrives after ten cups of coffee? Who is the best karaoke singer?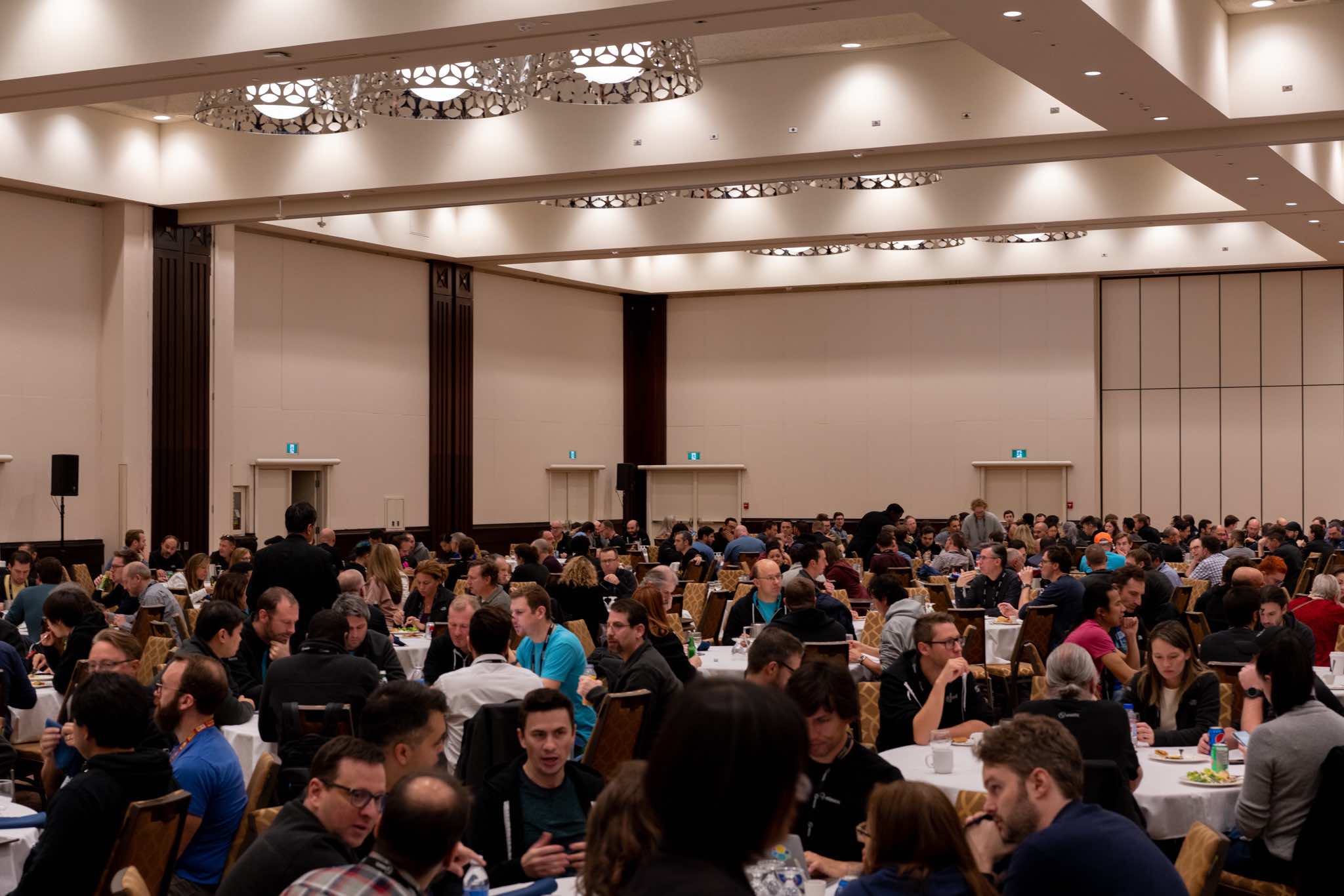 Elasticians gathering at breakfast to talk shop over coffee, tea, and good food.
Recruiting found value in connecting with the teams that they are supporting, sitting in on technical meetings to better understand the technology, and meeting with their hiring teams to better improve processes. They also took advantage of having everyone in one place to videotape interviews with engineers to talk about their experiences working with Elastic. This video interview project was a huge, cross team effort, with Elasticians from our design, content, recruiting, culture, and videos teams represented. These videos are coming to an Elastic blog near you in the coming weeks and months, so keep an eye out.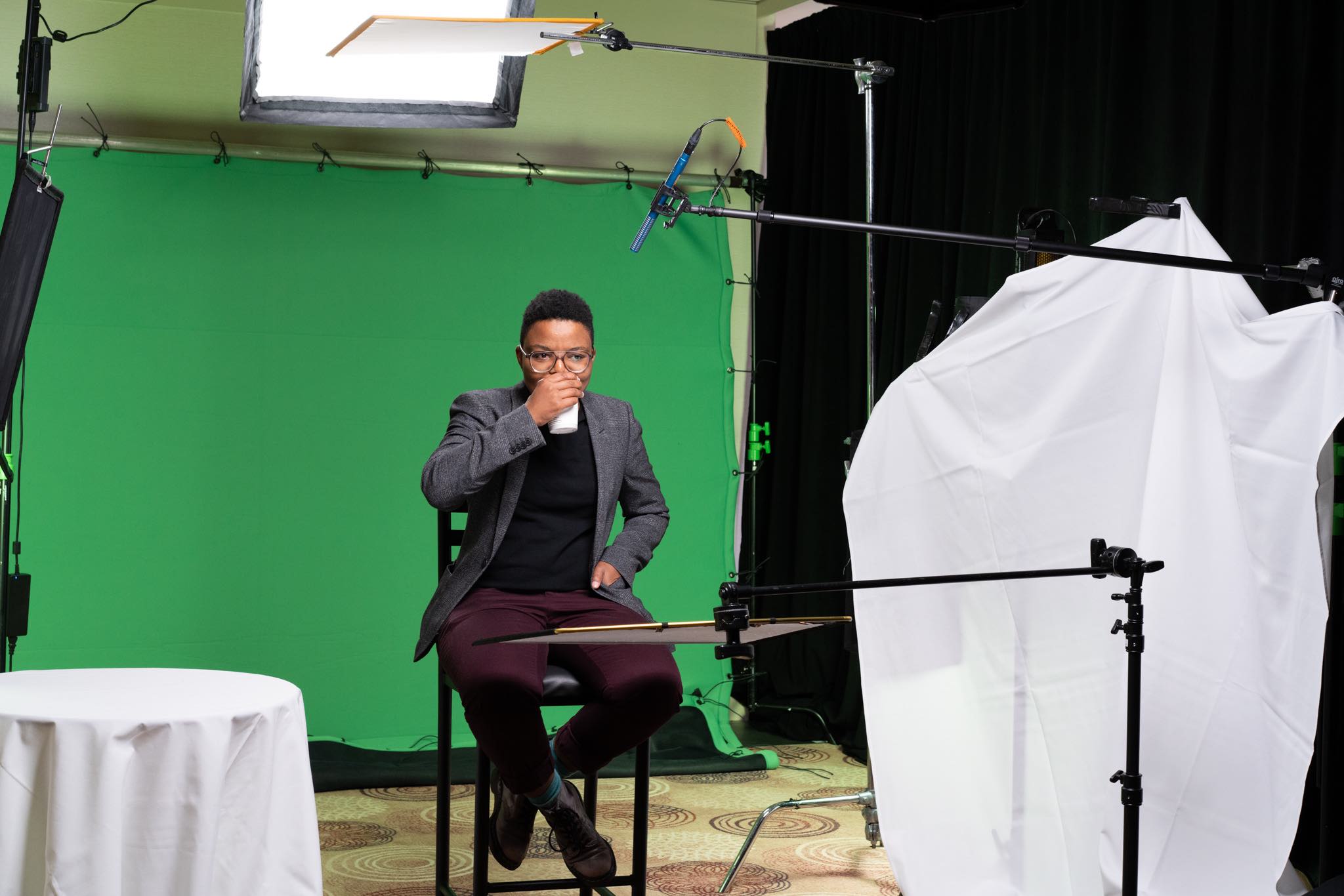 Beverage break during an interview.
An #ENG-ALL-HANDS Slack group provided a channel for folks to communicate across departments. It was used for a variety of reasons: birthday announcements, finding the next interesting cross team session, wrangling someone into an early morning jog, or reporting lost items (a surprising amount sunglasses were lost in gray-skied Toronto). The channel was also a place to give feedback on sessions, to challenge each other to learn new ways to be inclusive (e.g. being better about using pronouns, how to speak to a large group of women to make them feel included, etc.), and more.
EAH isn't all about work, it' s also about bonding. To that end, the final day of EAH was dedicated to extracurricular activities that gave us a chance to step away from the work and have a little fun over wine and whiskey tastings, a planned trip to Niagara Falls, a bike tour of Toronto, axe throwing, arcade visits — there were too many events to choose from!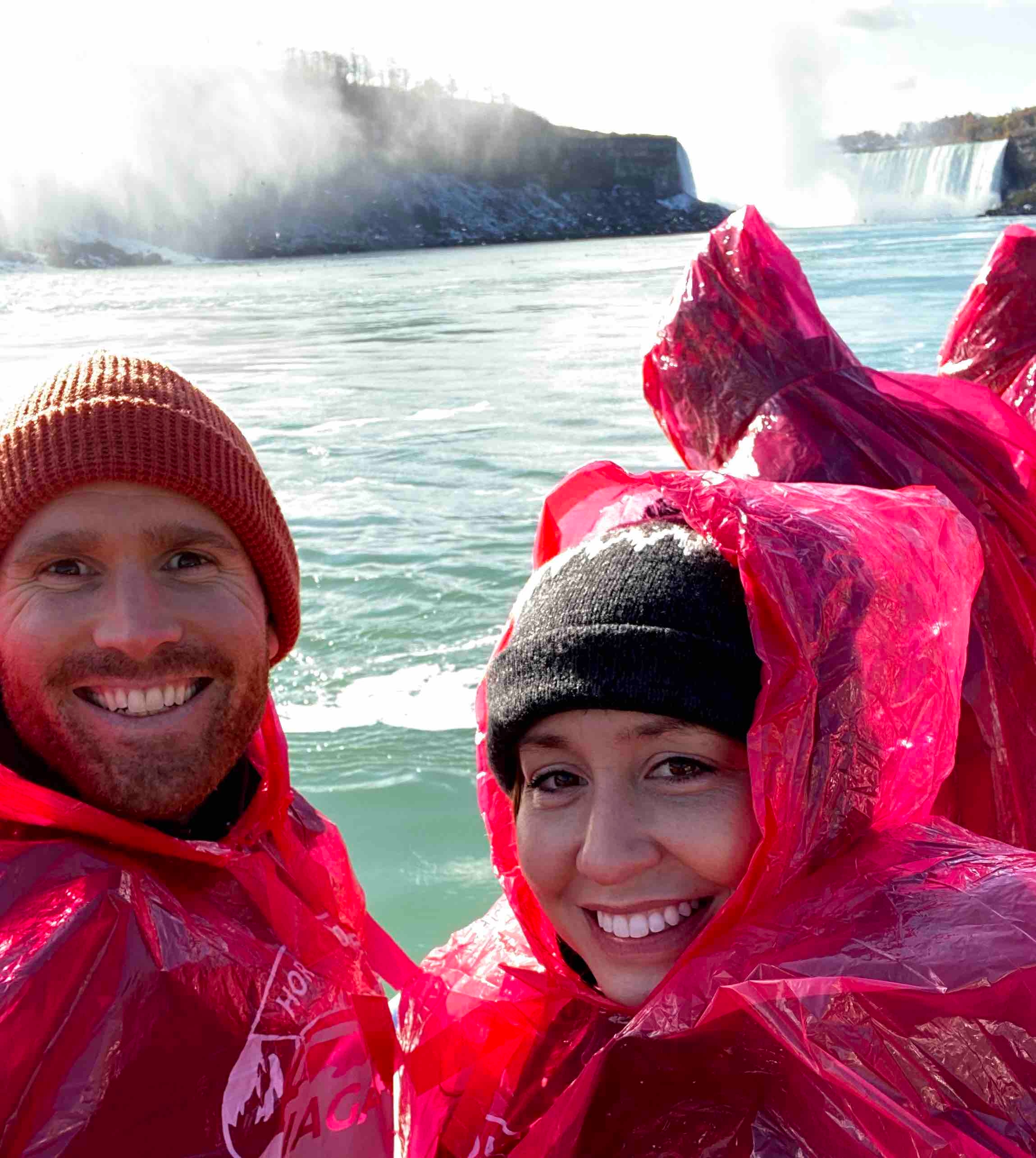 Two Elasticans from marketing at Niagara Falls during a fun day outing!
EAH has a culture of its own. It's engineering culture for sure, but it is also representative of the way Elastic is inclusive across teams. It showcases how many Elasticians are ready to listen to well-structured feedback and take action. It highlights how many Elasticians truly care for their teammates. And it shows how much we can accomplish when we come together, and what we can do when we're distributed across the world.
Interested in joining a company with a Source Code to live by? We're hiring. Check out our teams and find your fit! Want to read more about life at Elastic? Read more on our blog!