We're excited to share that Elastic Security has been recognized in the 2021 Gartner Magic Quadrant for Security Information and Event Management (SIEM). Elastic Security is the latest Elastic solution to be recognized in a 2021 Gartner Magic Quadrant report, following the 2021 Magic Quadrant for Insight Engines and 2021 Magic Quadrant for Application Performance Monitoring. 
Download the complimentary report to see Gartner's market evaluation, and read on to understand why we think that momentum is continuing to build for Elastic Security.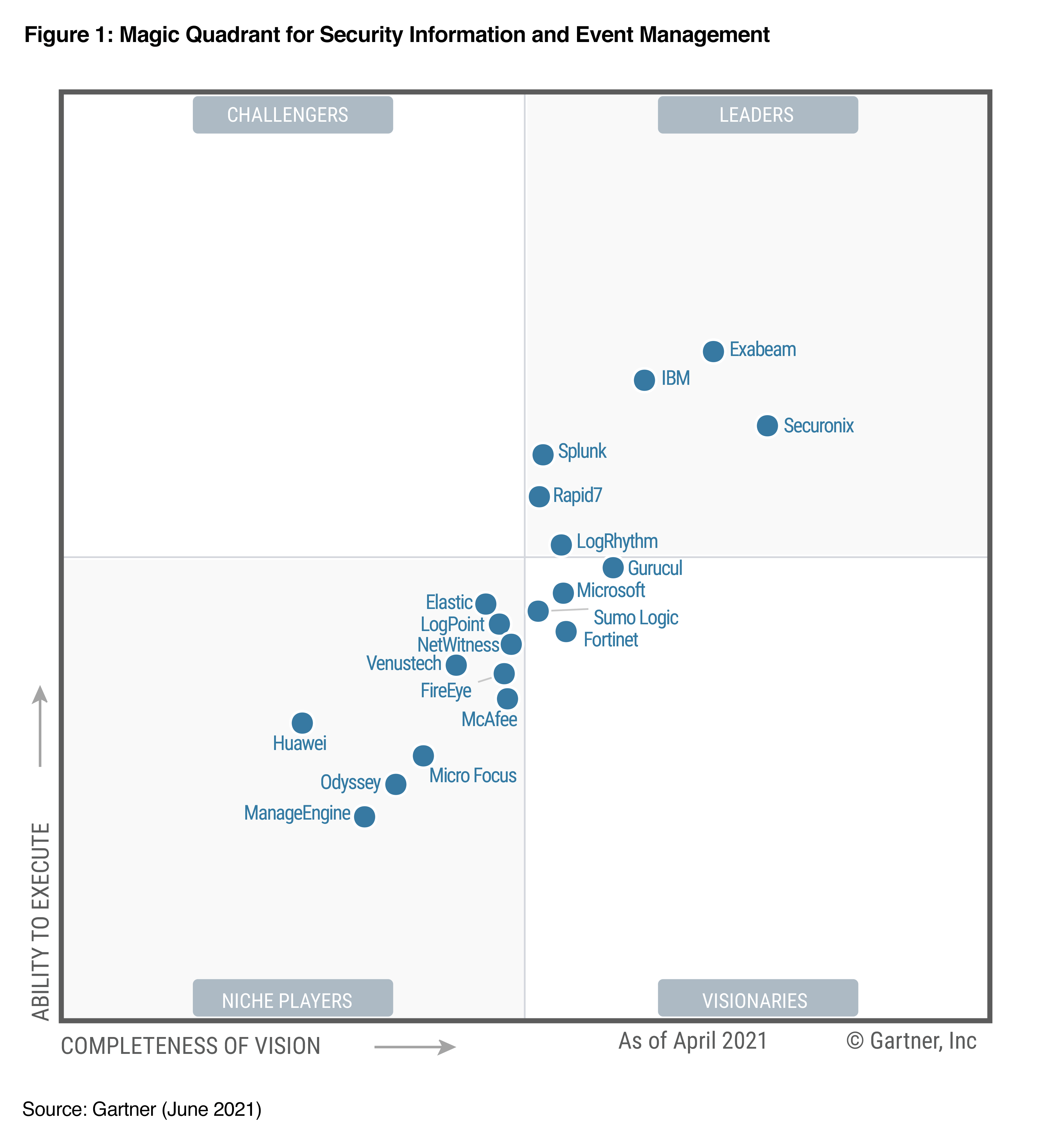 The 2021 Gartner Magic Quadrant for Security Information and Event Management (SIEM)1
SIEM for the modern SOC
The Elastic Stack has enabled security teams at organizations like Uber and the Indiana University OmniSOC revamp how they operate since the earliest days of the Elastic Stack. Countless commercial security technologies — SIEM, UEBA, threat intel platforms, you name it — also run atop Elastic, as do popular OSS projects like Security Onion and numerous government agency programs.
Prevention, detection, and response, all on the Elastic Stack
We've been implementing our vision for what a SIEM should be for the nearly two years since we shared the first version of our dedicated security solution. Remarkably, the strengths that drew our initial security early adopters remain among the top reasons why organizations choose Elastic Security today.
Elastic Security is built on an open, flexible, and extensible platform, enabling SOC teams to solve challenging security use cases by using data in new ways. BPCE Group chose it for this specific purpose, facilitating their near-real time analysis of 22 billion documents.
Our solution offers a frictionless path to advanced security use cases, helping customers address barriers to operational maturity. OLX is on this path, expanding detection coverage and expecting to cut response times by 30% through automated threat detection. A free and open distribution tier enables SecOps teams to quickly validate and scale, and bolsters a rich community of security researchers, engineers, and analysts.
Elastic Security enables analysts to work smarter and faster by exploring forensic data on an intuitive timeline. It advances investigations by giving analysts immediate access to valuable contextual data. Integrations with orchestration and ticketing platforms ensure cross-org alignment.
Solving longstanding SecOps challenges
In the months since sharing our SIEM Magic Quadrant demo with Gartner, we've released a ton of new functionality.
New and enhanced Elastic Stack features like schema on read via runtime fields and searchable snapshots equip organizations to eliminate blind spots and streamline processes. New data integrations, including enhanced threat intelligence support, enable analysts to harness an unprecedented level of information. Increased functionality in Elasticsearch Service such as autoscaling and cross-cluster search enable teams to quickly adapt to the rapid rate of data ingestion needed to detect the adversaries of today, altogether eliminating data silos.
Our security research engineers continuously build new detection rules for protecting hosts and cloud applications, plus machine learning jobs for spotting anomalous network and host behavior. They also recently refined the precision of several existing detections and shared a novel way to detect domain generation algorithms related to the SUNBURST attack. For your endpoints, behavioral ransomware prevention is now available on the do-everything Elastic Agent.
Amidst the challenges presented by the global cyber skills shortage, we're arming analysts to detect and respond more efficiently and effectively. Analyst-driven correlation across all environmental data enables practitioners to explore the relationships between data points, accelerating hunting and investigation. The solution unlocks access to rich host data via central management of osquery on Elastic Agent and unified search and analysis of host data with Kibana.
The choice of fast-evolving security teams
The SOC must solve today's most pressing use cases, and prepare for tomorrow's, too. Elastic Security remains focused on providing the flexibility and power to:
Achieve environment-wide visibility and accelerate investigations by harnessing all data, including high-volume, unconventional sources, and years of historical context
Reduce alert fatigue by improving detection efficacy with high-fidelity alerting, ML-based anomaly detection, and MITRE ATT&CK® mapping
Maximize SOC velocity to respond faster with fast unstructured search and integrations across your security tools portfolio
Protect every host with native endpoint security to prevent malware, ransomware, and advanced threats and quickly gather host instrumentation context with osquery
Enable the functionally consolidated SOC at increasingly distributed, cloud-based enterprises with true hybrid + multi-cloud deployments
Elastic Security user reviews on Gartner Peer Insights suggest that we're on the right path, earning an overall rating of 4.7 out of 5 in the SIEM market, based on 50 reviews from the preceding 12 months, as of July 6, 2021.
Download the 2021 SIEM Magic Quadrant Report
Review the 2021 Gartner Magic Quadrant for SIEM today to explore how Elastic helps security teams fulfill SIEM use cases.
Do you use Elastic Security and want to share your experience with others? Please consider reviewing Elastic Security on Gartner Peer Insights.
Further resources
To learn about the endpoint security capabilities delivered as a native extension of our SIEM, review the latest MITRE Engenuity ATT&CK evaluation. In years past, we participated with our standalone Endpoint Protection Platform (EPP) product. But with substantial EPP functionality now built directly into the Elastic Stack, we wanted a neutral evaluation of its effectiveness. We're proud of our performance and the fact that we were one of only a handful of SIEM vendors to enter the evaluation.
Check out our dedicated web page and resources that highlight Elastic Security's placement in the 2021 Gartner Magic Quadrant for SIEM.
Two more Elastic solutions recently achieved Magic Quadrant placement. Review what analysts shared in the 2021 Magic Quadrant for Application Performance Monitoring and 2021 Magic Quadrant for Insight Engines.
Notes
[1] This graphic was published by Gartner, Inc. as part of a larger research document and should be evaluated in the context of the entire document. The Gartner document is available upon request from Elastic.
[2] Gartner, "Magic Quadrant for Security Information and Event Management" by Kelly Kavanagh, Toby Bussa, John Collins, June 2021"
Gartner does not endorse any vendor, product or service depicted in its research publications, and does not advise technology users to select only those vendors with the highest ratings or other designation. Gartner research publications consist of the opinions of Gartner's research organization and should not be construed as statements of fact. Gartner disclaims all warranties, expressed or implied, with respect to this research, including any warranties of merchantability or fitness for a particular purpose.