We're excited to announce that Elastic has been named a Visionary in the 2021 Gartner Magic Quadrant for Application Performance Monitoring. We are thrilled with the Visionary placement and believe that it validates our differentiated approach to delivering a modern application performance monitoring solution, powered by the Elastic Stack. 

Download the complimentary report to see how Gartner evaluates the market, and why they recognized Elastic as a Visionary in our first time participating.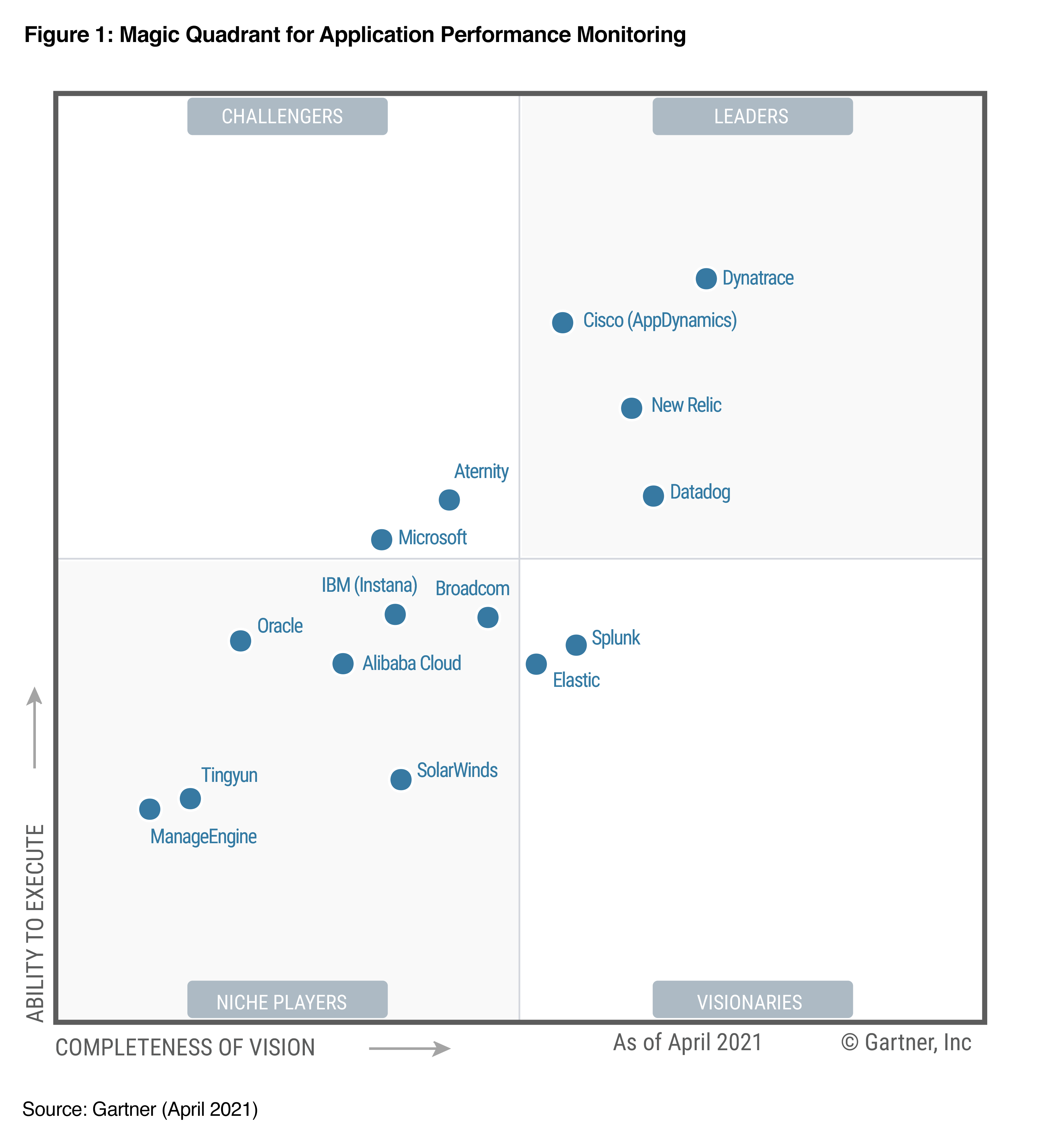 The 2021 Gartner Magic Quadrant for Application Performance Monitoring 1
Gartner reports that "APM tools have become powerful analytics platforms that ingest, analyze and build context from traces, metrics and logs. Infrastructure and operations leaders choosing APM software must weigh these functions against core APM capabilities and the automation being provided by new and existing vendors." 2
A differentiated offering, built on a strong foundation 
The Elastic Stack (formerly the ELK Stack) has been a popular log analysis and management solution for many years. Kroger, Audi, Etsy, Citigroup, and thousands of other organizations — from small startups to Fortune 50 enterprises — use Elastic as their centralized log monitoring platform. Blazing fast queries, the ability to fluidly search and query petabytes of data in an ad hoc way without losing performance, and a value-centric pricing model that doesn't charge on ingest rate are just some of the reasons that have made the Elastic an enterprise standard for log analysis.  
Over the last few years, we have invested heavily in building a unified observability platform that brings these core design principles to other data types and use cases such as infrastructure monitoring, application performance monitoring, user experience monitoring, and more. We have seen many customers that started with Elastic as a logging solution consolidate their entire monitoring tooling on Elastic. We believe that the recognition by Gartner is another external validation of our strategy and investment. 
A flexible solution to deliver on your unique monitoring needs
The way applications are built and delivered is constantly evolving, and customers demand a flexible monitoring solution that can deliver on their unique, evolving needs without being blocked by the vendor's roadmap. 
We recognized this early on, and optimized on building an open, flexible, and extensible platform. Whether it's ingesting a new unsupported data source, visualizing your monitoring data in a different way, writing a custom anomaly detection job, or exporting all your monitoring data to an external tool for your data scientists — it's always possible and easy to do with Elastic Observability. 
Even as we continue to build richer, more opinionated experiences for specific monitoring, investigative, and remediation workflows in Elastic Observability, we will continue to infuse the flexibility of the underlying Elastic Stack platform into our observability experience — because we know each organization is different with unique needs that can never be completely addressed through an out-of-the-box product. 
Unmatched deployment choices 
With the rise of hybrid and multi-cloud environments, we understand the need to monitor hybrid workloads. Elastic Observability is available on Elastic Cloud in over 40 regions (and growing) on Google Cloud, Microsoft Azure, and Amazon Web Services (AWS), and can also be deployed on premises. And with support for federated searches and analysis, you can still achieve unified visibility across your hybrid or multi-cloud environment while keeping your observability tooling closer to the monitored workloads (and thus avoid massive data transfer costs). 
Simple, unified pricing for greater cost control and predictability  
Pricing models for legacy, as well as newer, APM solutions are complex and punitive, often forcing the user to optimize their architecture to manage costs, rather than maximize visibility. We believe that you should not be forced to drop data at ingest or monitor only your tier 1 apps or select which metrics are important to track enough because of cost. 
Elastic Observability takes a fresh approach with a simple, unified resource-based pricing model, where you only pay for the hardware resources you need — across all data types and use cases. No hidden add-ons that automatically get activated when you ingest that 201st custom metric or cross some arbitrary container count threshold. It's simple and transparent pricing that helps you manage costs, without limiting monitoring coverage.
And, we are constantly innovating to help you get more from your Elastic investment. For example, the recently introduced cold and frozen tier (powered by searchable snapshots) allows you to directly search years of data stored on low cost storage like Amazon S3 at a fraction of the cost. 
Powerful free and open tier
Many of our customers start their Elastic journey with our free and open tier — where they are able to get started and see proof of value before they become paying customers.  The free tier is packed with powerful features, and doesn't impose any limits on use (for example, users, hosts, metrics, etc.) — which means you can evaluate and validate proof of value at scale. 
If you'd prefer a managed experience, a free trial for the managed service on Elastic Cloud is always an option.
Download the complimentary report
Read the 2021 Gartner Magic Quadrant for Application Performance Monitoring today to learn more about Elastic's placement as a Visionary.
Disclaimer:
[1] This graphic was published by Gartner, Inc. as part of a larger research document and should be evaluated in the context of the entire document. The Gartner document is available upon request from Elastic.
[2] Gartner, "Magic Quadrant for Application Performance Monitoring" Federico De Silva, Padraig Byrne, Josh Chessman, April 2021
Gartner does not endorse any vendor, product or service depicted in its research publications, and does not advise technology users to select only those vendors with the highest ratings or other designation. Gartner research publications consist of the opinions of Gartner's research organization and should not be construed as statements of fact. Gartner disclaims all warranties, expressed or implied, with respect to this research, including any warranties of merchantability or fitness for a particular purpose.