We're excited to announce that, as a new entrant in the 2021 Gartner Magic Quadrant for Insight Engines, Elastic has been recognized as a Challenger.
You can download the complimentary report today. Read on to learn more about creating powerful, modern search experiences with Elastic Enterprise Search.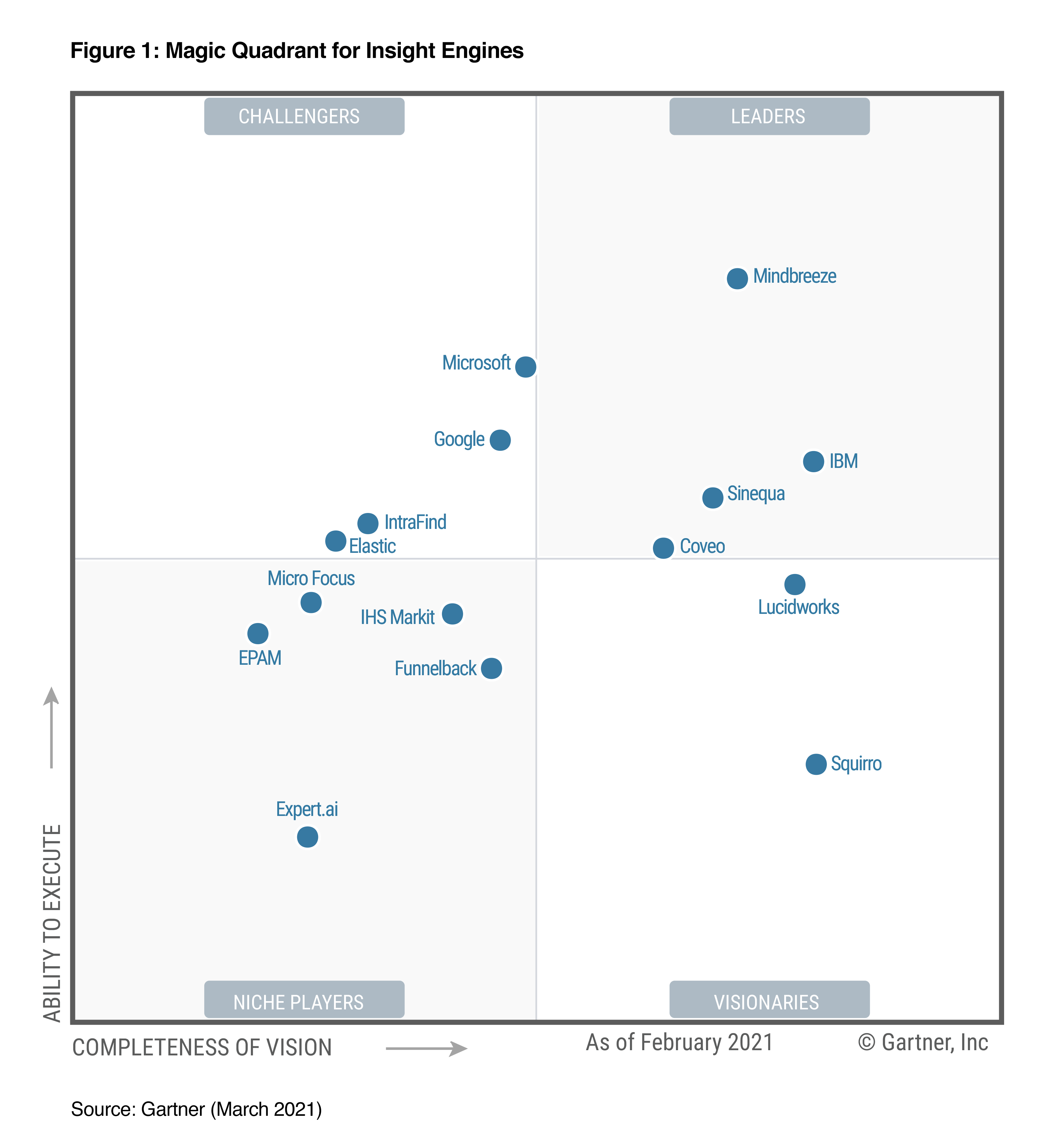 The 2021 Gartner Magic Quadrant for Insight Engines1
Why we believe Elastic shifts the status quo of search
Elastic Enterprise Search is built on the idea that getting started with powerful search should be easy. It shouldn't require lengthy, costly setup and ongoing maintenance. It should scale seamlessly as you grow. You shouldn't have to navigate a maze of complex, difficult-to-forecast pricing that doesn't scale well. Elastic simply provides enterprise-grade search experiences with all the modern, intuitive features users have come to expect. And it does so without the messy setup, scaling, and budget difficulties you might have encountered with other software implementations. 
The low-friction experience of getting started
With Elastic's free and open heritage, we've always emphasized the ease with which users can get the product into their hands and get up and running quickly.
A robust feature set is available for free with the Elastic Enterprise Search download. You don't need to rely on a canned demo to evaluate the product. You can freely experiment, set up a POC, or fully run it in production if you'd like. If you'd prefer the easy button, you can nab a free trial for the managed service on Elastic Cloud.
The power of Elasticsearch
As the creators of Elasticsearch, we're in a unique position to leverage its speed, scale, and relevance within our Elastic Enterprise Search solution. Beyond providing an industry-leading foundation, this architecture also provides an unprecedented level of flexibility and extensibility for our users. The improvements our team makes to Elasticsearch are inherited directly by Elastic Enterprise Search with every release, and users who wish to augment our out-of-the-box functionality may do so by diving into the details, leveraging third-party contributions, or integrating with a variety of other services. This unique combination of turnkey functionality and simple extensibility allows Elastic Enterprise Search to accommodate an incredibly broad set of enterprise needs.
Ease of implementation leads to faster time to value
Elastic Enterprise Search aims to get you up and running quickly, without the need for months-long implementation schedules or lengthy, expensive services contracts. Here's just a few of the ways Elastic fosters a smooth search experience setup:
Unmatched deployment flexibility, without vendor lock-in: Elastic Enterprise Search is available on Elastic Cloud in over 40 regions (and counting) on Google Cloud, Microsoft Azure, and Amazon Web Services (AWS), in addition to our self-managed option, all with simple, free options for getting started. And because Elastic is platform-agnostic, you're not tied into using certain cloud vendors or particular productivity and collaboration suites. You can flexibly connect to content wherever it sits. 
Easy indexing: Web crawling and flexible APIs make quick work of indexing content for your apps and websites. For your workplace, our rapidly growing ready-to-use content source integrations for the most popular tools, such as Google Drive, Salesforce, Slack, and GitHub, give you everything you need to connect and ingest content rapidly. 
Intuitive tuning and customization: The search experience is easily managed — with clicks, not code — by business users and search admins, with intuitive relevance tuning tools and analytics built in.
Fast, relevant, scalable search experiences
The bar is set pretty high for search experiences. Today, everyone expects a good search experience that feels natural, intuitive, and personal. In a search-first world that is increasingly virtual and swimming in data, finding the right content isn't a mere convenience, it's mission-critical.
And you want to be confident that your search can scale as your company grows, in addition to being able to comfortably handle spikes in search traffic. Solutions built on Elasticsearch are well-known for their ability to handle massive amounts of data and search volume.  
Predictable, transparent pricing
Historically, pricing models for search have ranged from opaque to downright cumbersome. Many pricing structures are based on complex combinations based on number of queries, users, documents, API calls, engines, and on and on.
With our transparent pricing model, budgeting and forecasting are simplified. You pay only for the resources you use. You can scale (up or down) as your business needs change without worrying about being locked into a rigid pricing structure based on the number of seats, users, engines, or other metrics. And we provide easy-to-use pricing calculators that help you with comparisons with other vendors.
Our commitment to innovation
Because we develop on top of a single unified platform, we can innovate and deliver innovations faster — typically issuing significant new releases several times per year. For example, the past year featured the following major product investments:
New software releases of App Search on Elastic Cloud, the general availability of Workplace Search, the build-out of our combined Elastic Enterprise Search solution, and Workplace Search on Elastic Cloud
Exciting new feature sets such as an ever-broadening library of content source integrations with popular productivity, collaboration, and storage tools, such as Gmail, Sharepoint, Jira, GitHub, Salesforce, and Slack; we also debuted our new web crawler for efficient, easy indexing of web content
Expansion of our always-growing portfolio of global cloud regions, with nearly 20 new regions in 2020 alone
Download the complimentary report
Read the 2021 Gartner Magic Quadrant for Insight Engines today to learn more about Elastic's placement as a Challenger.
Disclaimer
Gartner, "Gartner Magic Quadrant for Insight Engines"; Anthony Mullen, Stephen Emmott, March, 2021.
Gartner does not endorse any vendor, product or service depicted in its research publications, and does not advise technology users to select only those vendors with the highest ratings or other designation. Gartner research publications consist of the opinions of Gartner's research organization and should not be construed as statements of fact. Gartner disclaims all warranties, expressed or implied, with respect to this research, including any warranties of merchantability or fitness for a particular purpose. GARTNER is a registered trademark and service mark of Gartner, Inc. and/or its affiliates in the U.S. and internationally, and is used herein with permission. All rights reserved.
1This graphic was published by Gartner Inc. as part of a larger research document and should be evaluated in the context of the entire document. The Gartner document is available upon request here.