Elastic Enterprise Search 8.8: Easy AI-powered search for your enterprise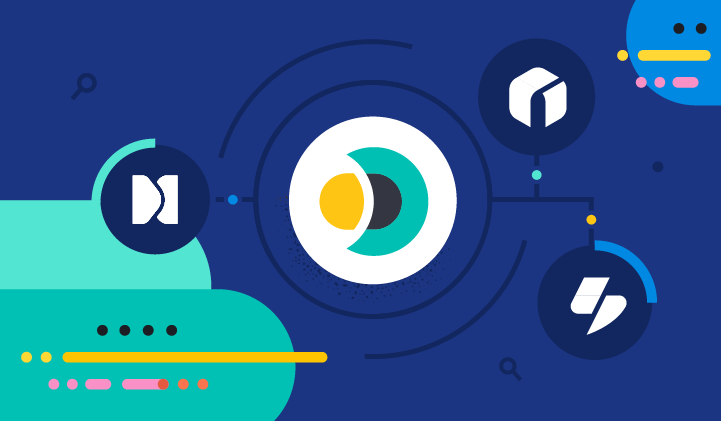 Elastic Enterprise Search 8.8 seamlessly bundles new Elastic developed semantic search capabilities with an expanding catalog of open code database and storage connectors. Additionally this release adds rich capabilities to measure and simplify adding features to your search application. 
These new capabilities allow customers to: 
Quickly uplevel search experiences with AI/ML powered relevance

Utilize new production ready, scalable, and open code connectors to unify search across many sources of data

Visualize web and search analytics from the perspective of their web client 
Elastic Enterprise Search 8.8 is available now on Elastic Cloud — the only hosted Elasticsearch offering to include all of the new features in this latest release. You can also download the Elastic Stack and our cloud orchestration products, Elastic Cloud Enterprise and Elastic Cloud for Kubernetes, for a self-managed experience.
What else is new in Elastic 8.8? Check out the 8.8 announcement post to learn more.
Elastic's AI model for semantic search
In 8.8, we are excited to couple the ability to utilize our new Elastic Learned Sparse EncodeR (ELSER) proprietary text expansion model seamlessly with our expanding connector catalog. Whether ingesting data with the Elastic web crawler, connectors, or via API, the ability to power enterprise search experiences with this new model is only a click away. 
Prior to the introduction of ELSER, modern AI-powered search experiences required relevance tuning expertise for lexical (BM25) search and fine tuning on domain specific data was the norm to be able to best utilize available machine learning models for dense retrieval. Using ELSER as part of your search architecture design, relevance will be dramatically improved, and state of the art semantic search will be at your fingertips without needing to ramp up on ML techniques for adapting models to a domain. 
You can choose to download the model directly from the Trained Models management page.
Or, download and immediately start configuring and testing your pipeline against your searchable information.
Read more about the results that can be achieved for your designed semantic search in the announcement post and the thoughtful research that led to the innovations contained with our proprietary text expansion model. 
Elastic Integrations: Database, storage, and workplace content connectors 
Elastic has a broad and deep integration catalog that enables you to ingest any type of data that is necessary to power a variety of search applications. Starting in 8.4, we have been evolving our content connectors to accommodate syncing searchable content from popular database and storage connectors. Supplementing operational data in MongoDB, MySQL, Postgres, and Microsoft SQL by syncing the searchable content into Elastic and enabling that to be powered by our semantic search capabilities is as easy as logging in to your Enterprise Search deployment and configuring the connection and sync schedule. Our connectors are intuitive to use, and ingested content will be optimized for search use cases. All of these connectors are bundled with a managed ingest pipeline to enable quick deployment and usage of machine learning capabilities like our Elastic Learned Sparse EncodeR model. 

Our open code Python connector framework is generally available in this release along with our MongoDB and MySQL native connectors. PostgreSQL and Microsoft SQL connectors are now available as native (Elastic hosted) connectors, and several new connector clients have also been introduced in this release. Customers looking to utilize the next generation of Elastic Atlassian Jira, Confluence, and Microsoft SharePoint connectors will have plenty of new connector clients available to enhance their unified search experiences for the workplace.
Web and Search Analytics dashboards and Search Applications 
8.7 brought the release of an Elastic Web and Search Analytics client, enabling customers to embed this into their search experiences to retrieve behavioral analytics that are critical to measure the success of your designed search requests. We've expanded on that support with additional out-of-the-box dashboard visualizations, so search operators at a glance can determine which query terms are highly utilized by end users and whether they are returning relevant results. These events can be customized and can be combined with other data using the power of Kibana dashboards to unlock analytics across multiple dimensions and perspectives of your search application. Our open source Search UI toolkit is highly utilized by customers to build fantastic search experiences, and it is already tightly integrated with the client and will support sending analytic events to Elastic.  
Deploying Elastic Learned Sparse EncodeR and enriching your searchable corpus with those embeddings is only a few clicks away in this release. However, updating your designed search requests may not be as simple. Consider simplifying the versioned search requests against index/_search with our new Search Applications (technical preview). With Search Applications, developers will be able to utilize a default search template with presets that can be easily updated to combine results from tuned lexical searches and Elastic Learned Sparse Encoder text expansion queries, while abstracting that level of detail away and reducing constant updates to the logic powering their production search experience. A simple, unified search architecture is now available with the additional power and flexibility of the application/_search endpoint.
This release is full of bundled capabilities to make your enterprise search applications better on day one, as well as countless usability improvements. If you're looking to build personalized, AI-powered search with the robust power of the Elastic Stack and utilize the best of Enterprise Search intuitive capabilities, this is the release for you! 
Try it out
Read about these capabilities and more in the release notes.
Existing Elastic Cloud customers can access many of these features directly from the Elastic Cloud console. Not taking advantage of Elastic on cloud? Start a free trial.
The release and timing of any features or functionality described in this post remain at Elastic's sole discretion. Any features or functionality not currently available may not be delivered on time or at all.