Launched in May 2020, the Elastic for students and educators program provides the resources and support necessary to bring our products and solutions into classrooms around the world. Whether it's through provisioning Elastic Cloud accounts for students to use during their course, extending access to premium features like machine learning to propel research, or working with universities to design partnership programs to help prepare students for their future careers, Elastic is committed to education and inspiring the future workforce. 
An educator uses Elastic Cloud to power data visualization
Luis Francisco Sanchez Merchante, Assistant Professor in the Department of Telematics and Computer Science at Comillas University in Madrid, Spain, is part of the Elastic Cloud for education program that extends free cloud instances to students and educators for academic use. Luis explained how this program helps power improved data visualization in his course. 
In his own words: 
We introduced Elastic products with the purpose of improving our data visualization programs. We intended to provide our students with a differential industry-oriented education. Most visualization courses in the market focus on multi-purpose applications implementing use cases based on data files. Multi-purpose visualization tools are amazing. We indeed train our students on their use. Introducing new sessions with tools like Kibana, we provide our students with a wider knowledge that will allow them to have better criteria to decide the best alternatives depending on the use case. I have complete faith that the use of actual data pipelines with ingestion tools like Filebeat or Logstash and big data databases like Elasticsearch prepares our students for real industrial environments.

In addition to these benefits, using an Elastic Cloud deployment has been and still is of great help. Recent limitations due to mobility restrictions have proved that cloud deployments are the best option for academia. They have proved to be a great alternative to the university's on-premises resources when a significant proportion of students attended our sessions from home.
Every six months we anonymously survey our students and we get confirmation that our students understand the usefulness of data visualization. That's why this program today registers around 250 students when only two years ago there were only 50 of them.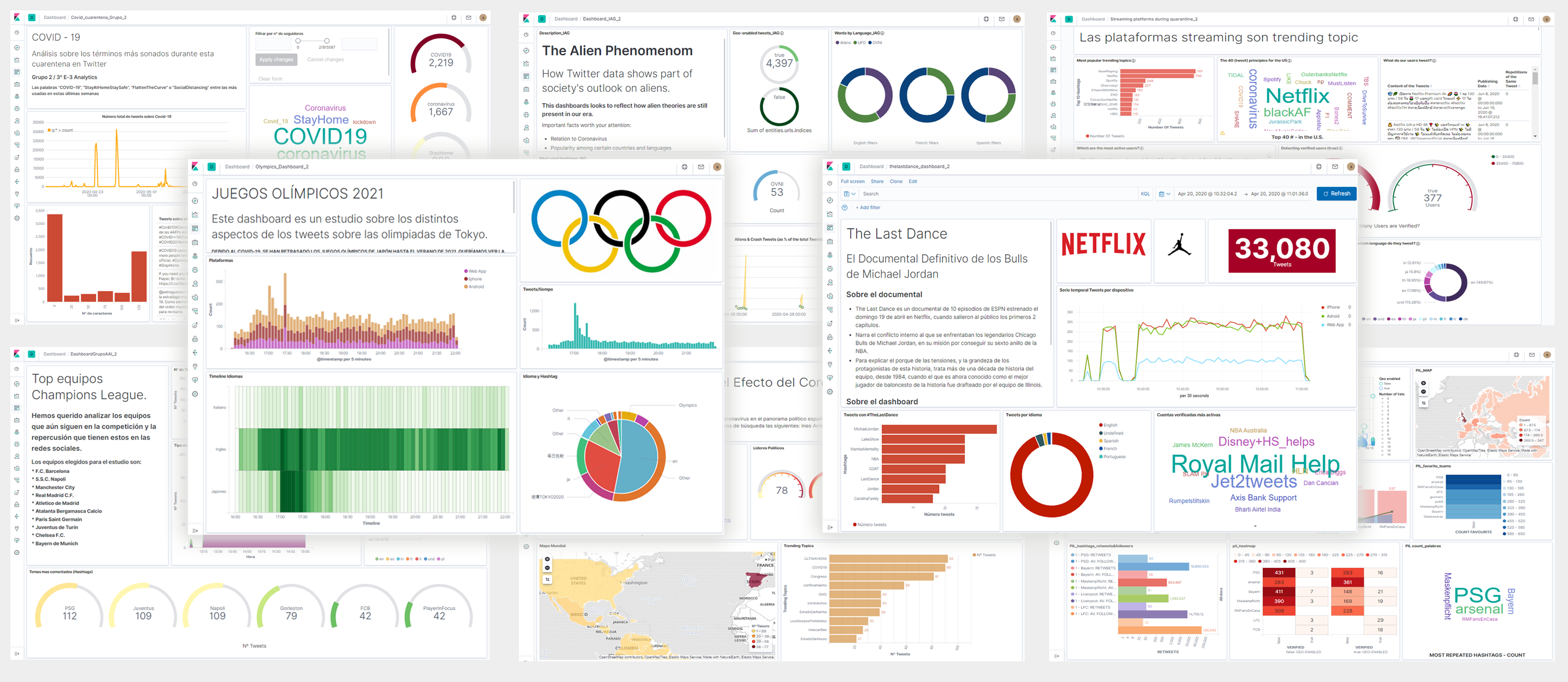 Kibana dashboards created by students in Luis' course.
Elastic machine learning powers a student's final year project
Thomas Bisof, a BSc. Ethical Hacking and Cybersecurity student at Coventry University, was granted a free license extension to power the research being used in his final year project.
In his own words: 
I'm using the Elastic Stack, primarily Elasticsearch, Kibana, and various Beats. These tools are being used as part of my final year project: "Utilising the Elastic Stack and its anomaly detection capabilities to identify known attack vectors." In the absence of a research grant, Elastic supported the project with an extended trial.

I first heard about Elastic prior to starting University (2017), when I was running my Minecraft server It was introduced to me by researching within the area and word-of-mouth within the community.

Elastic is very simple and easy to use. Whenever I faced issues with access control once I had enabled the community helped to quickly resolve them. Furthermore, the Kibana front end is beautiful and a delight to use.

I believe that having experience with Elastic makes me more employable. I feel confident knowing that I have used an industry standard tool.

The community and staff members have been great.
University students receive hands-on training through a partnership with Elastic
Led by Jongmin Kim, Elastic Senior Developer Advocate, Elastic's partnership with SangMyung University (SMU) in South Korea launched in late 2020. The partnership provides students and educators with an opportunity to engage with Elastic products and solutions through in-person training, project mentoring, and the creation of a dedicated resource library to support student skills development. Students who participate in the program are also given the opportunity to apply for internships with Elastic partner companies in the region that are looking for new talent to help support their business. 
While industry and university partnerships are nothing new to the region, they are usually with larger global corporations that have a dedicated program to support the initiative. However, SMU saw value in Elastic and wanted to work with a smaller company due to the high demand for graduates with skills in Elastic. 
Some of the events hosted to date as part of the partnership include: 
3-part workshop series introducing students to Elasticsearch and Kibana
Mentoring support for students' course project which utilized Kibana
Elastic career seminar
4-day consulting workshop — over 100 students registered, but only 21 could attend due to Covid-19 restrictions

Partners participated in workshop to help identify students for internships

3 students presented at our recent Elastic Community Conference about their use of Elastic in their course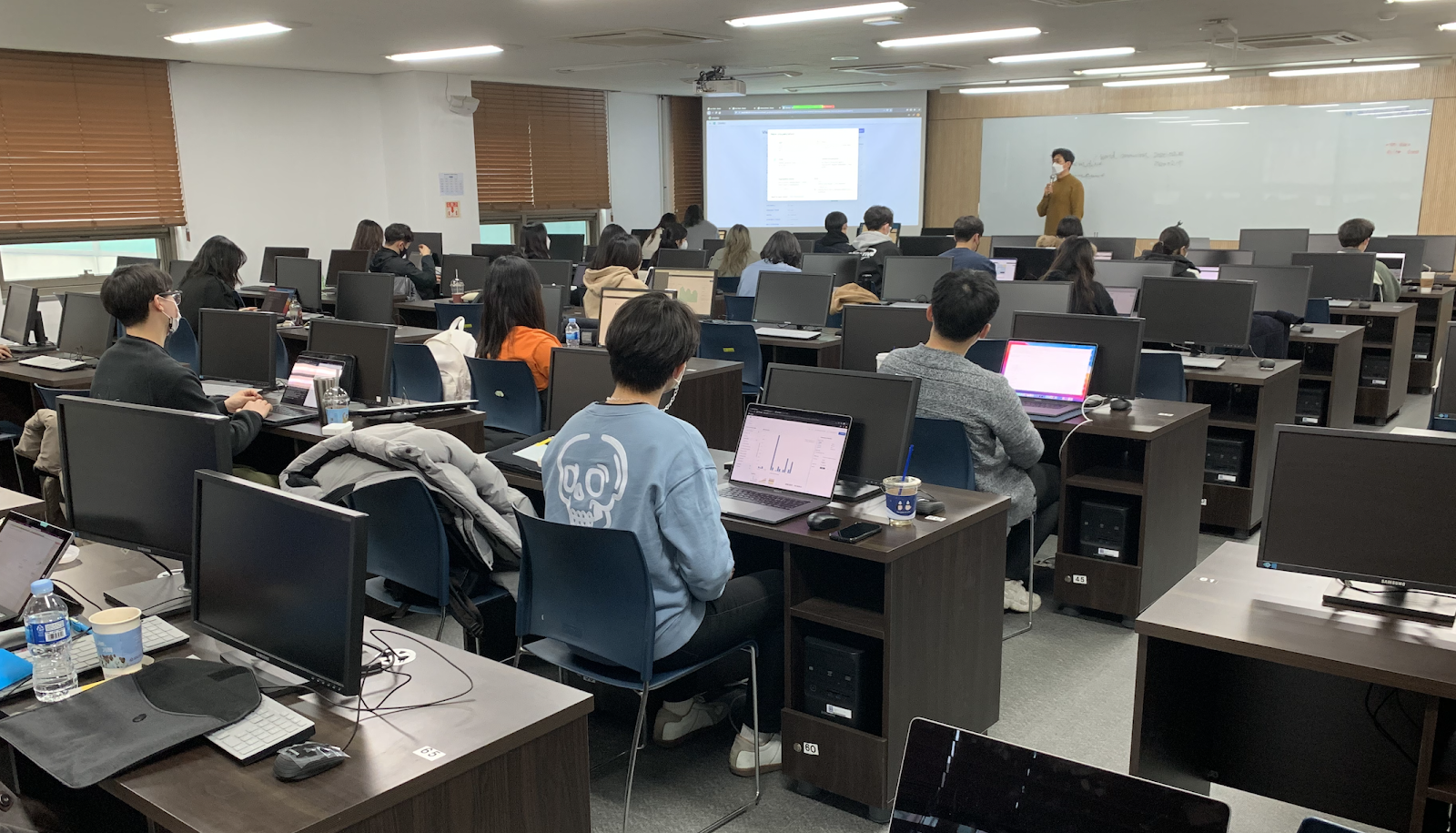 Students from SMU participating in a 4-day workshop series.
This may be the first partnership of its kind in the region, but Elastic sees this as a model for other universities interested in bringing Elastic into their classrooms. 
Interested in working with Elastic?
These are just a few of the ways in which Elastic impacts education by engaging students and educators with our products and solutions. We are always looking for new opportunities to work with universities around the world and help to educate and inspire students interested in learning more about Elastic. If you are interested in working together, please reach out to start the conversation!