At Elastic, we care about those who serve.
We support active military and veterans with initiatives that empower them through education, employment, and beyond. On Veterans Day last year we announced one such initiative, Operation Giving Back, which offers free Elastic training and sustainable donation programs to provide opportunities for the military.
To continue building on these initiatives, we recently welcomed our first fellow as part of the Hiring Our Heroes program. This 12-week fellowship is the result of a partnership between Salesforce and Hiring Our Heroes to provide virtual opportunities to veterans and their families to participate in paid training and experience with host companies as a certified Salesforce professional.
The Hiring Our Heroes fellowship was introduced to Elastic by Hector Perez, senior director of CRM Applications. Hector has a long history of military service both in and out of uniform, as well as connections to the Salesforce Military program.
"I am a military veteran," said Hector Perez. "I served in the US Air Force right out of high school. It was pretty transformative for me as an individual. When I became a professional later in life, I wanted to give back to the military community that had given me so many opportunities. I worked for Salesforce from 2014 to 2016. There I helped start Salesforce Military. During this time I also started Merivis, a 501(c)(3) nonprofit that helps support veterans prepare for the next step in their careers. Merivis worked in partnership with Salesforce to provide training and job readiness for vets so that they can pursue technology careers."
Hector joined Elastic in 2020 and was eager from the start to get Elastic involved in the Hiring Our Heroes program.
"When I look at talent, I want people who are going to bring passion and drive to the business and get the job done. I know that veterans bring that kind of passion. It was a no-brainer for me to work with Elastic to bring the Hiring Our Heroes program to our business and attract that passionate new talent."
Hector worked with Salesforce through Merivis to bring on our first Hiring Our Heroes fellow, Miguel Hernandez. He'll be with Elastic from mid-January through April 2021. During this time he'll have an opportunity to shadow senior Elastic Salesforce administrators and receive mentorship.
We sat down with Miguel to talk to him a bit about his background, how he learned about the program, and what he hopes to gain from the opportunity.
Where are you based, Miguel?
I'm based in San Francisco.
Can you tell us a bit about your home life?
I was fortunate enough to marry my high school sweetheart. We have two dogs, a rottweiler and a lab. Both love to play catch at the park. I'm all about outdoor activities such as hiking, swimming, and running.
Which branch of the military were you in, and how did your career develop?
I joined the Navy right out of high school. I was stationed in New Orleans for most of my tenure, but I spent my last year in Alameda, California. California is home to me — I was born in Oakland and I grew up in the Bay Area. I spent most of my time in the service as an Aircraft Mechanic. It was a lot of hands-on work, not a lot of technical stuff. After that I transitioned to a desk job doing logistics work. Really, that was most of my work after the military, beyond the odd job here and there in construction.
How did you hear about the fellowship?
I was going to community college and I kept hearing a lot about the Salesforce Pathfinder program. The Pathfinder program is an introduction into Salesforce and the admin program. Once I completed the admin program, I was able to start applying for jobs within the Salesforce ecosystem. I was looking for work but had a hard time finding anything. That's when a buddy of mine, also a veteran, introduced me to Merivis. I was really impressed by the service they were providing. The Pathfinder program was strictly admin, and Merivis provided a lot of other training, such as platform app builder training and developer programs. I took some training with Merivis and it was through them and a posting on LinkedIn that I found the Hiring Our Heroes program.
When you were studying at community college did you want to get into tech?
It was something I was aiming for. I was studying electrical engineering, but I knew I wanted to be in the tech industry. To be honest, I didn't exactly know where. I started working towards certain certifications, such as the CompTIA certification and Network+, which was my way of trying to figure out what direction I wanted to head toward. It was the Pathfinder program that really caught my attention. I found myself being really entertained by the homework — it felt fun.
You're still very new to Elastic. What has it been like onboarding with us?
Really great. On the first day I was introduced to my mentor and team lead, and from there the training began right away. It's a lot to take in, but Hector has given me a clear plan of what's expected of me, and left the ball in my court. This is totally new to me — I'm used to a more regimented way of working. I think autonomy is good for me, as it's stretching me in new directions. Really, I'm getting the best of both worlds: I'm free to do my work and am responsible for it, but I'm also getting good guidance and mentorship.
What is the mentorship process like at Elastic?
It's really hands on. My team lead and I are in contact over Slack every day, which is great when setting expectations and learning the ins and outs of the business. I'm being assigned small ticket items that my mentor helps me through as I learn processes. There's also great resources like recordings on how my team uses Salesforce and how it's integrated into the business. It's a lot of information but really well organized.
What differences do you find between the military and working in tech?
It's a very different experience. Working distributed is new. Much of what I was doing after the military isn't exactly possible during COVID. I really enjoy working from home. Elastic's Source Code allows me to have a flexible schedule, which gives me the opportunity to spend more time with my wife and family. With my previous jobs, I was often away from home. Now that I can work distributed, we have a much more collaborative home life. It's been a blessing.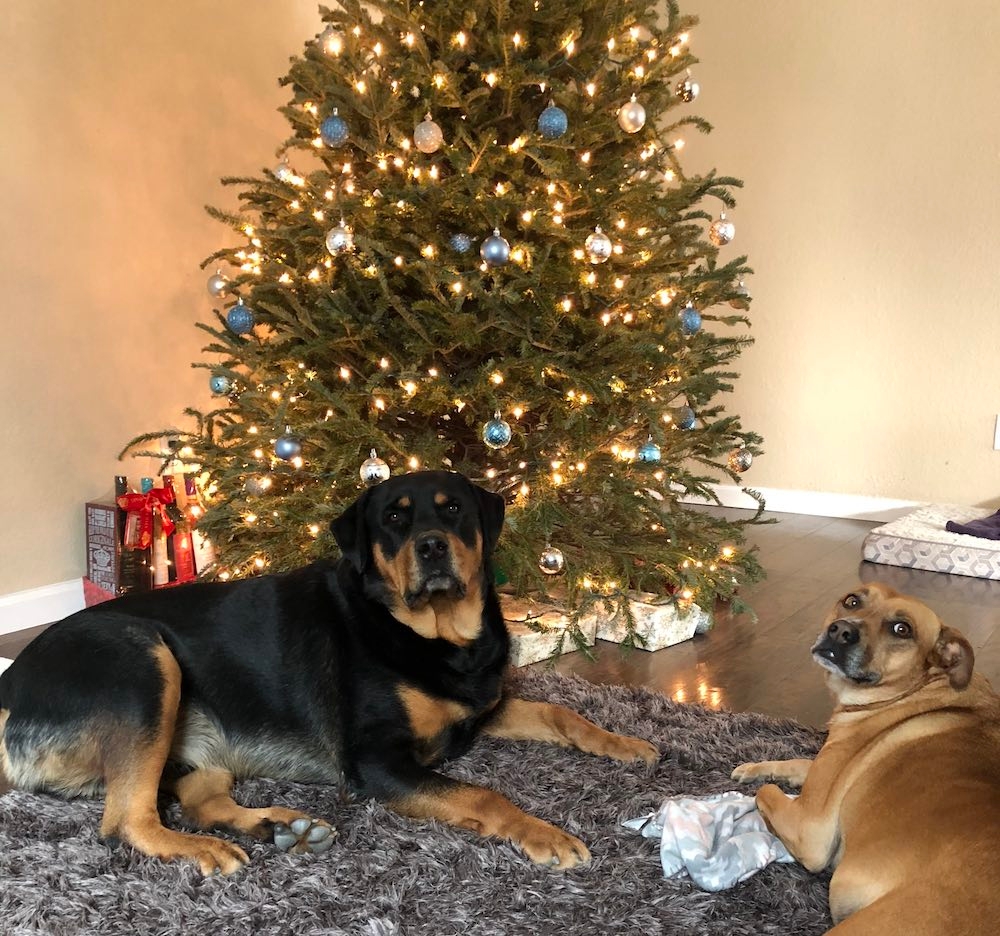 Miguel's dogs at home during the holidays.
The learning curve is also different in tech. Everything I've done in the past has been hands-on work, and what I'm doing now requires a lot of hard work. Being able to develop all these new skills is so rewarding.
Still, there is some military experience that translates well to Elastic. In the military you need to work under pressure. In my case that used to mean planes coming in, having to check them with a quick turnaround, and making sure that I was never putting lives at risk. You have to be sure that you're doing something quick and efficient that's going to benefit the company. I think that translates really well to working at Elastic. You need to be able to execute quickly, but here there's room for failure and improvement. It's really an exciting opportunity.
Interested in joining Elastic? We're hiring. Check out our teams and find the right career for you! Want to read more about life at Elastic? Read more on our blog!