We're excited to announce the latest updates to the Elastic Enterprise Search solution: today marks the release of Elastic App Search 7.6 and Elastic Workplace Search 7.6. In this update we'll share some highlights of these releases, as well as details about our big recent launch of App Search on Elastic Cloud.
But first, a new name
You may have noticed we've up-leveled Elastic Enterprise Search as the new "umbrella" solution name that encompasses our suite of search products: Elastic App Search, Elastic Site Search, and Elastic Workplace Search (the product formerly known as Enterprise Search — more on that later).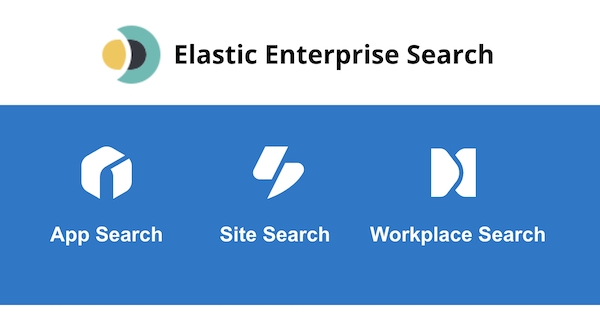 The new name reflects our belief that to bring modern search experiences to market quickly they must be enterprise-ready to scale on day one. They also need to support all different types of users — web visitors, customers, employees, partners, app users — with the scale, speed, and relevance you've come to expect from all Elastic products.
Many of you may have even known — and used — these products under the Swiftype brand.
Now all Elastic Enterprise Search products are in sync with new Elastic Stack releases. So going forward you can expect unified Enterprise Search release feature announcements like the one you're reading now.
Off to the (Elastic) clouds we go with App Search on Elastic Cloud
Elastic App Search is already a go-to for its ease of adding dynamic, powerful search experiences to your corporate website, customer support portal, internal help desk, SaaS application, or mobile app. With App Search 7.6, we've now extended those full App Search capabilities to the Elastic Cloud with App Search on Elastic Cloud. So deploy App Search anywhere Elastic Cloud runs (24 regions, and counting) with global cloud partners GCP, AWS, and Azure.
It's really as simple as point and click to get up and running with an App Search deployment inside the Elastic Cloud console.
If you'd like to dive in deeper, we've created some handy step-by-step content to walk you through setting up your first App Search on Elastic Cloud deployment. Or check out our live Getting Started with Elastic App Search webinar, which will cover the ins and outs of setup, fine-tuning your search experience, and scaling it out as you grow.
Already using App Search? Learn how to upgrade to 7.6 in this helpful step-by-step blog.
More autonomy and scalability options with meta engines
As your business needs become more complex and you deploy more and more search engines across your web properties, managing all of the engines spread across business units and use cases can be difficult. To alleviate these challenges, App Search 7.6 introduces meta engines for both App Search on Elastic Cloud and self-managed versions. This feature is available for Platinum and Enterprise subscription levels.
Meta engines provide the ability to search across multiple engines by selecting which existing sub-engines to include in the new meta engine. This allows large companies to unify and scale their search while still allowing admins complete control over the behavior of each individual sub-engine.
For example, if your company has a separate engine for Division A, another one for Division B, and a third engine for Division C, users can now create a top-level meta engine — with its own independent tuning, relevance rules, boosting, and curations — that searches over the content indexed within the three underlying engines. Meta engines are "document-less" engines that query the indexes in existing sub-engines, alleviating the need to index content multiple times even when use cases vary.
Beyond improved scalability, meta engines also give individual managers of these sub-engines more autonomy to create their own tuning setting, relevance controls, and curations.
That's not all
Elastic Workplace Search — the product formerly known as Enterprise Search — remains beta software. Head to the Elastic Workplace Search download page to grab the latest binary and follow the installation instructions to start connecting content sources.
In the 7.6 release, we're making your IT Ops team very happy with the support of security assertion markup language (SAML) protocol. So if your organization leverages single sign-on (SSO), you can now manage and provide access to Elastic Workplace Search using SAML.
Try it out!
Existing Elastic Cloud customers can access App Search directly from the Elastic Cloud console today. New to the Elastic Cloud? Start a free 14-day trial of App Search on Elastic Cloud. Or download the self-managed version of App Search.
Links:
Workplace Search (beta) download page
App Search on Elastic Cloud - 14-day free trial