When a new engineer starts at Elastic, they might be worried about getting up to speed and fitting into the Elastic culture. Sure, we're a fast moving company, and there's a lot to learn, and understanding it all can sometimes feel a bit like trying to drink from a fire hose. That's why we provide our engineers guidance for learning how to work for a distributed company and within the Elastic Source Code.
An official onboarding initiative was created to make the transition into Elastic life a bit easier to swallow. Elastic expects a certain amount of independence and initiative from our Elasticians, and that means developers not only need to know the code, but they also have to have an understanding of the business as a whole. The onboarding process offers an exchange of information between new Elasticians and the Elasticians well seasoned in their roles who understand how Elastic works.
During onboarding, new Elasticians are assigned a guide to help them navigate the way we work at Elastic, provide support when needed, and answer burning questions in a safe, collaborative environment. These guides are responsible for helping new hires get set up with the tools we use on a day-to-day basis, providing feedback during the first couple of weeks as the new hire settles in, and helping the new hire through their first commits. Beyond these practical matters, the mentor is also there to check in on their mentee to see how they're doing and provide moral support.
One thing noted as the Engineering team has grown over the past couple of years is that once the onboarding process is over, engineers still need (and want) to continue the learning process. Engineers are especially interested in gaining the perspective of colleagues from outside of their immediate teams, and feel they could benefit from talking to a colleague that might have experience in an area they are interested in.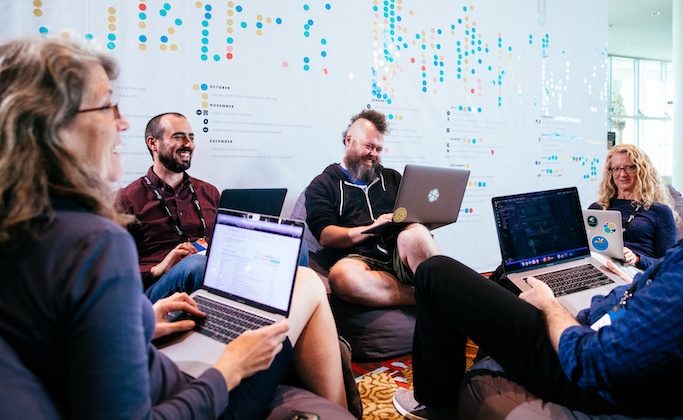 To fill this need, several managers from the Engineering team set up a grassroots "mentoring" initiative of their own. Conceived by Elasticians Paul Sanwald, Jim Goodwin, Idan Moyal, and Raya Fratkina, the Ongoing Engineering Mentorship Program connects engineers from different teams with one another for the purposes of skill sharing, support, and further professional development. Matching mentors and mentees is done through surveys that gather the interests of potential mentees and the engineers who own those skills. Once surveys of interest are sent out by the administrators of the mentorship program, matching is done by carefully selecting mentors and mentees aligned in their respective goals. For example, an engineer that wants to improve their written communications skills might be paired with someone on the docs team to help them learn that skill. The mentorship relationship is tested over a period of three months, assessed, and is either continued or dissolved to find a better match. There are typically around three rounds of pairings per year.
The Ongoing Mentorship Program can also provide an open place for discussion on less technical items. Topics might include:
I feel I'm getting into a rut at work; how do I get out of it?
I'm considering a move to a different function and I'm curious what the best way to do that might be?
Can you share your experience working on x team and what I should be prepared for if moving into that role?
"As a programmer transitioning to design," says product designer Cristina Albu, "having the support and insight of an experienced colleague was very reassuring, and helped me not only to improve my skills, but also to become more confident in my new role."
"Sometimes people find it difficult to reach out and ask for help in building the skills they need that go beyond their job description," says Raya Fratkina, Director of Engineering, "such as how to work from home, how to create a good work life balance, and how to work most effectively in a distributed environment. While a manager can help with those things, it can sometimes be an awkward conversation. Having a chat with a peer who is several steps removed can alleviate that kind of anxiety."
The Ongoing Engineering Mentorship Program provides a safe space where engineers can discuss with someone from outside of their team how they can best navigate the way we work at Elastic without fear of looking bad in front of their team or leadership.
Mentorship and setting up pathways of guidance at Elastic is always a work in progress, especially as we scale up. As our teams grow, we continue to create avenues of mentorship where and when it's needed. As mentioned in a recent post from Kevin Kluge, Senior Vice President of Engineering, being a part of engineering culture, and culture at Elastic as a whole, requires the ability to be a self starter, and a desire to learn and grow beyond what's directly required of the role. The Ongoing Mentorship program is a perfect example of how that sentiment is being put to practice from within the Engineering team.