Last year we announced an expanded partnership with Google to bring Elasticsearch Service to even more Google Cloud users. We were also named one of Google Cloud's partners of the year! We've since deepened our partnership, and today we are proud to announce new ways to purchase and discover Elasticsearch Service in the Google Cloud Marketplace. 
You can now purchase monthly Gold and Platinum subscriptions as well as Standard, Gold, and Platinum annual subscriptions through the marketplace. This allows you to leverage your Google Cloud committed spend and consolidate your bill with other Google Cloud services. Plus, Elasticsearch Service is now even easier to access in the Google Cloud console.
When you subscribe, you get access to the same Elastic solutions for observability, security, and enterprise search — and the same exclusive features that only Elastic can offer.
Monthly Gold and Platinum subscriptions
With Elasticsearch Service on Google Cloud Marketplace, we're also excited to introduce a brand new way to buy Elasticsearch Service's premium Gold and Platinum subscriptions. These subscriptions include more advanced premium features such as machine learning, alerting, and more, as well as advanced support SLAs with more support contacts. 
We are happy to offer this new way to purchase Elasticsearch Service Gold and Platinum monthly subscriptions first through Google Cloud Marketplace, with availability coming soon for other Elasticsearch Service subscribers. 
If you'd like to subscribe, you can email elastic-gcp-billing@elastic.co for more details. 
Annual subscriptions
This new update also allows Google Cloud users to purchase annual contracts through Google Cloud Marketplace. Elasticsearch Service annual subscriptions bring the same enhanced feature sets and support levels depending on the SLA in a more predictable annual commitment.
A new way to access your account
Customers who are leveraging Google Cloud can now find Elasticsearch Service on the left-hand side of the console under "Partner Solutions." Clicking the Elasticsearch Service icon takes you directly to the marketplace page to subscribe or log in to your current account.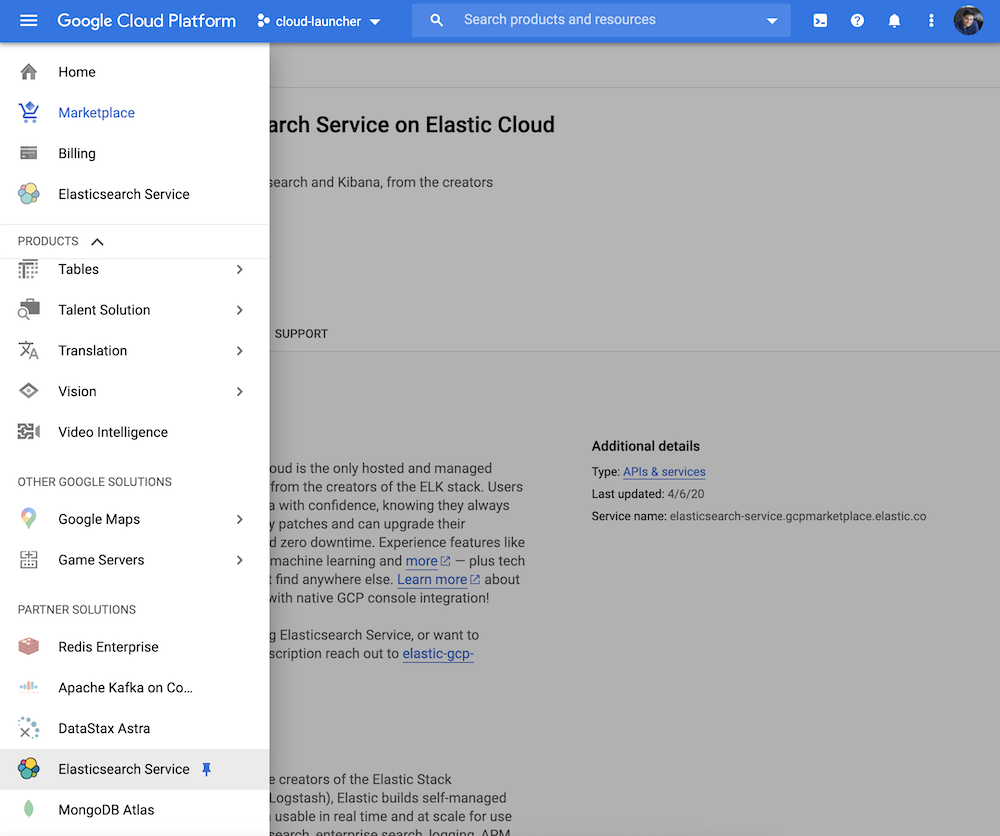 Be sure to pin Elasticsearch Service for easy access!
More regions supported
Earlier this month, Elastic announced support for three new Google Cloud regions (Taiwan, Finland, and the Netherlands), bringing the total number of supported regions to 16 worldwide. These new regions provide more choices for hosting your resources — decreasing latency, improving resource availability, and allowing you to distribute your resources across multiple zones and regions to tolerate outages. We will continue to add more supported regions throughout the year.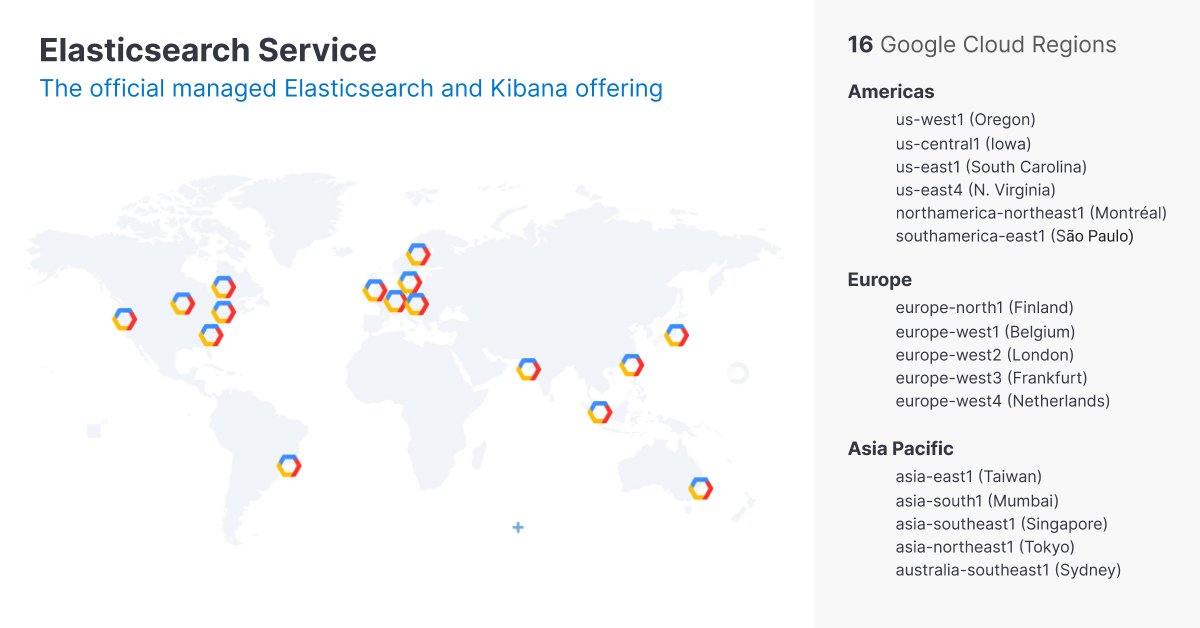 If you have any questions about Google Cloud Marketplace or are interested in purchasing an annual subscription, please reach out to us at
gcp@elastic.co
.