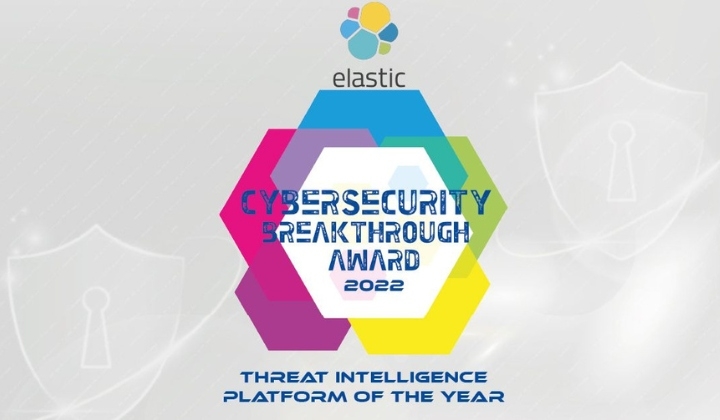 We are excited to announce that Elastic has been honored with the 2022 CyberSecurity Breakthrough Award for Threat Intelligence Platform of the Year, recognizing the cutting-edge threat intelligence capabilities of Elastic Security, which enable organizations to better understand current and emerging threats and respond more quickly to adversaries. 
CyberSecurity Breakthrough recognizes today's best information security companies and products and is driven by an independent panel of experts who thoroughly review and evaluate each entry.
Streamlined, actionable threat intelligence for all
It's no secret that cyberattacks continue to evolve rapidly. To combat these ongoing threats, organizations cannot rely on technology alone. They must have a deeper understanding of today's threat landscape and identify any potential blind spots or vulnerabilities in their environments. Arming themselves with knowledge is essential for a proactive response to threats.
Elastic Security allows organizations to easily establish robust cyber threat intelligence (TI) capabilities that reduce investigation and response times and enable practitioners to hunt for threats in their environments. We prioritize a streamlined, proactive approach to threat intelligence by offering turnkey integrations with numerous threat intelligence sources, including AbuseCH, AlienVault OTX, Anomali, Cybersixgill, MISP, Recorded Future, and ThreatQuotient. 
Earlier this week, Elastic announced that we are consolidating the artifacts of all active threat intelligence feeds — or Indicators of Compromise (IoCs) — into one unified view. This allows teams to search, sort, filter, and take actions on TI and gives practitioners the ability to add to and directly investigate within Elastic Security's investigation interface. Our new capabilities are a win-win for both threat intelligence analysts to better understand emerging threats and practitioners who can quickly find and act on threats to significantly reduce adversary dwell times. 
"In this new threat landscape, organizations need to be equipped with extensive knowledge about attacks on their own environments, and attacks in other environments," said James Johnson, managing director of CyberSecurity Breakthrough. "Knowing and understanding bad actors is essential for a proactive response to threats, and Elastic Security is delivering a breakthrough solution to achieve this."
We're honored to be recognized by the industry for our leadership in the threat intelligence space, and we're grateful that our customers trust us to solve their most complex security challenges.