The Elastic Stack is the engine powering critical systems across your organization, business, and team. Keep a pulse on how it's performing to make sure you're getting the very most out of it. Elastic Stack monitoring features provide you visibility into how your Elastic Stack is running.
Getting started with Elasticsearch: Store, search, and analyze with the free and open Elastic Stack.
Watch video
Intro to ELK: Get started with logs, metrics, data ingestion and custom vizualizations in Kibana.
Watch video
Getting started with Elastic Cloud: Launch your first deployment.
Learn more
Our monitoring features provide a way to keep a pulse on the performance of Elasticsearch, Kibana, Beats, and Logstash. Its collection of dashboards help you assess their status at various levels providing you with all the information you need to keep your Elastic Stack optimized.
Bonus: Key monitoring features ship for free.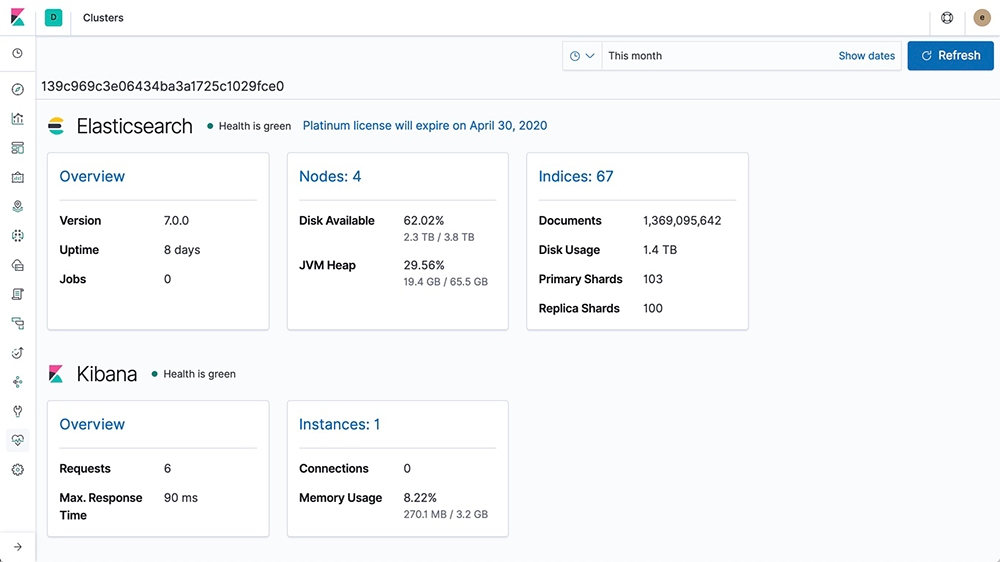 Automatically be notified to changes in your cluster — cluster state, license expiration and other metrics across Elasticsearch, Kibana, and Logstash — using the power of alerting.