AWS re:Invent has gotten so big, they don't just have an expo floor plan, they have a campus map and it's all taking place in a deceivingly short 4.5 days. There's so much to get out of re:Invent, make it a two-for-one when you stop by the Elastic booth for personalized hands-on-demos and unlimited Q&A time with Elasticsearch technical experts, plus receive your own pair of Kibana socks. 
Find us at booth #2031 in the Sands Expo Hall located in The Venetian. We are towards the back right of the expo hall, just across from Cloudreach. If you passed the Salesforce booth, you went too far. Elastic folks will be available at this booth during all expo hall hours. See agenda for expo hall hours. This year will mark the third year Elastic will be at AWS re:Invent and we're excited to make this event even more valuable for our Elasticsearch users.
1. Sign up for a personalized Elastic Stack demo.

Seeing is believing and we've got some dynamic demos in store. RSVP to be a VIP at our booth and sign up for one of the sessions listed below or request one that works for your schedule.
Elastic Cloud Enterprise (ECE) Demo: You know, the software that makes Elastic Cloud (our hosted and managed Elasticsearch product). Take a behind-the-scenes look at the architecture and see firsthand how to upgrade in a few clicks and monitor your deployments from a single console.
Demo Times
Tuesday, November 28 at 2:30 p.m. and 6:30 p.m.
Wednesday, November 29 and Thursday, November 30 at 1:30 p.m. and 2:30 p.m.
Security Analytics with Machine Learning Demo: Watch the Elastic Stack in action. Machine learning, search, and analytics join forces to track a real-world data exfiltration attack.
Demo Times
Tuesday, November 28 at 1:30 p.m. and 6:00 p.m.
Wednesday, November 29 and Thursday, November 30 at 11:00 a.m. and 3:30 p.m.
2. Dive Deeper with Elastic Experts. 
Have questions after attending your re:Invent Elasticsearch sessions? 
We'll have Elastic Stack experts on hand to take your toughest search, logging, analytics, and metrics questions and talk through product developments coming down the pipeline. Ask us about the difference between Amazon's Elasticsearch Service and Elastic Cloud, how many shards you should have in your cluster, or anything that's on your mind. You can literally ask us anything! 
Not sure what to ask? Check out this blog.
3. Get Your Swag On.

What's better than using Elasticsearch? Why, sporting Elastic socks of course!
You know what's even better? These socks will visualize your data on the go. Well, not really, but we're working on it. Snag yourself a pair by signing up to visit us. Of course we'll have stickers galore and other swag for folks who drop by. If you've downloaded the AWS re:Invent app, it's also an opportunity to earn some points!
What are you waiting for? Don't waste time thinking about. Screenshot these deets before heading to AWS re:Invent and come say "hi!"
AWS re:invent
November 27 - December 1. 2017
Hall B | Booth #2031
Sands Expo | The Venetian
201 Sands Ave
Las Vegas, NV 89169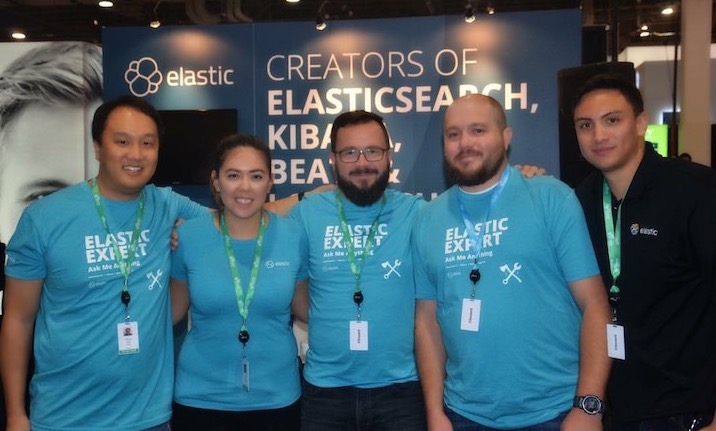 Not attending AWS re:Invent? Come visit us at our User Conference, Elastic{ON}, February 27 - March 1 in San Francisco. Early bird prices available for a limited time! Learn More