Some say that their basketball is really just a cluster, and that being distributed across three offices makes them highly available, all we know is they're called the X-Pack. 
It is difficult to say when the seed was first planted, maybe a dream one restless London night, probably during a second attempt at a first round interview, but more than likely over a shared beverage and a lot of hope. The Laurel and Hardy like duo of Ryan and Dean had one desire, to bring Elastic to the courts. At the mention of the 32nd Baros International Tournament in Rotterdam, the two began deliberating the inception of X-Pack. Less than a 24 second shot clock later it was decided and the call went out to the rest of the Elastic family, "Ballers needed, Rotterdam calling".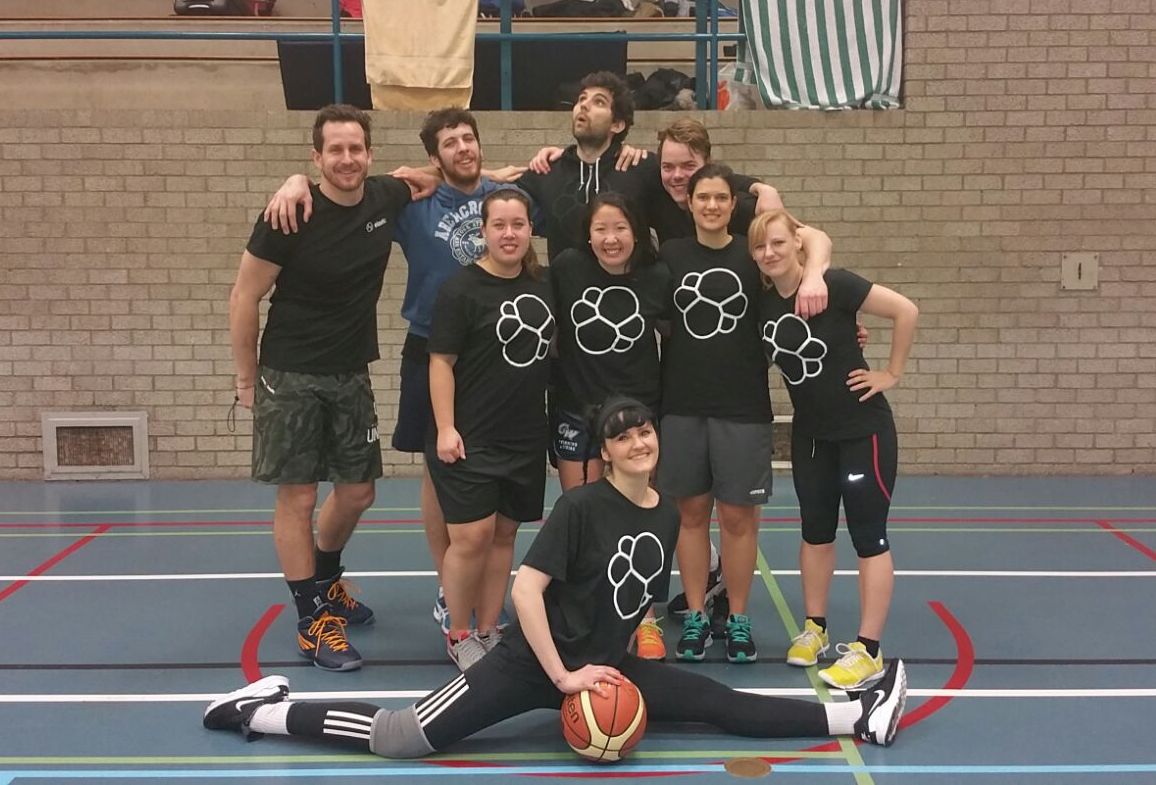 From top to bottom, from left to right: Ryan, Clément, Dean,  Sam, Megan, Janica, Christelle, Theresa and Elena.

The Elasticians of Amsterdam, Paris, and London came together in spectacular fashion to form Elastic's first basketball team, representing eleven nations across four continents. But none of this would have been possible without the silent partners across the pond dreaming that same dream, the team would be forever grateful. 

X-Pack:
Theresa Jaetsch – 5"2 – Point Guard – Germany 
Janica Lee – 5"3 – Point Guard – Canada / Hong Kong
Megan Wieling – 5"3 – Small Guard – Netherlands / Indonesia 
Christelle Kerloc'h – 5"6 – Small Forward – France / Europe
Elena Todeva – 5"8 – Power Forward – Bulgaria / The World
Sam Dijkstra – 6"3 – Small Forward – Netherlands 
Clément Cailly – 6"4 – Power Forward – France 
Ryan Liubinskas – 6"3 – Power Forward – Australia / Lithuania
Dean Prosenica – 6"6 – Center – UK / Serbia
After an intense pre-tournament training session, the team felt they were ready to undertake any challenge. The plan was simple, enjoy it and bring home the silverware, preferably the kind that divided into three with ease.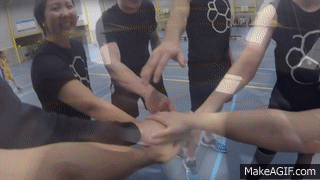 This was no fairytale, the first night had heartbreak written all over it. Taking a little longer to get up and running than your typical Elastic POC, it was clear to all that something was off. Possibly tired from travelling, X-Pack dropped their first two games by the narrowest of margins, severely hurting their chances of qualifying. With only one game left that night, it would seem impossible to gain momentum if they failed to get this next win. Coach Liubinskas had a plan. With 26 years of experience under his belt (probably more than the rest of the team combined) and two games in, he knew the strengths of each player and with some careful configuration they were ready to match up with any other team. 
Possibly facing their biggest challenge yet, is not what you would have guessed by the look in their eyes. Bolstered by the words of Coach Liubs, Christelle found ease crossing defenders and with a swift euro-step finding her way to the hoop, leaving a few sore ankles in her wake. This alone may not have worried their opponents but they had no answer to the speed of Sam on the fast break (sometimes even the ball struggled to keep up) running the floor like a man possessed, he put up a series of points to round off an impressive offensive display. They were now ready to show their strength on both ends of the court. An impressive defensive team performance, led by Theresa hurling herself at the ball and positioning herself perfectly to rack up offensive charges for the other team (at the cost of a few bumps and bruises, some even inflicted by team members that shall remain anonymous). This allowed X-Pack to close out the game and pick up their first win of the tournament. Not a moment too late, making the tally one win from three on opening night, this would have to do. On the recommendations of Coach, the team got an early night, plenty of hydration, and rest to maximize the chances of making the playoffs (the truth, the whole truth, and nothing but the truth). 
Reinvigorated from a good night's rest (seriously sticking with it), X-Pack hit the courts with one goal in mind. The following three games would see them continue the momentum of the day before, and starting to see a little flair emerging. Starting with isolation plays utilizing the shake n' bake skills of Elena, left her defender on skates as she (literally) danced her way to the bucket, ensuring everyone knew she was "a professional basketball player". Now, some might know her as Miss Lee, but Janica's tendency to miss was about the same as mine to sprout wings and fly. Finding her sweet spot at the 45, she would be the mid-range assassin of this team, propelling them to victory shot after shot… after shot. X-Pack slowly moved their way up the standings now bolstering a 4-2 record, the playoffs within their grasp. But alas, complacency kicked in, a straightforward win on paper always turns out more complicated when played out in the real world. Some poor decision making from the X-Pack big man and a run of threes down the stretch for the opposition led to a loss in the final seconds. A big blow to playoff hopes and with only one group game left, everything was riding on the next game. 
Both teams showed signs of nervousness at the outset. One of these teams was going home early, a win the only way to secure their spot. A hard-fought duel, the game ebbed and flowed, either side making runs but neither able to pull away and clinch victory. The defining moment came with 2:28 on the clock, Ryan would take a heavy hit forcing him out of the game, node(s) down. With no time to lose, some load balancing was needed, someone had to step up. Clément had spent the game crashing the boards and putting them back more than… something that puts it back a lot… but not for much longer. Channeling his inner Splash Brother, Klay-ment made 3 in a row from way downtown, one even off the backboard keeping the team within reach of victory. The game tied up, the clock at 8 seconds, possession with X-Pack, this was their chance. Sam inbounds to Christelle at the top of the three. A double pick from Janica and Megan in an effort to get Clément alone at the three. But, the opposition was wise to this threat, double teaming Mr Splash and denying him from getting the ball. In that moment, opportunity arose, a gap at the top of the key. Megan flashes high, a bounce pass into the chest, crossover past the defender as the clock winds down to 2... 1… she takes the shot and…
NOTHING BUT NET! X-Pack make it through to the playoffs! An unbelievable rollercoaster of emotion. 
These Elasticians had given it their all, broken (mainly Ryan) and tired, they went into the quarter final with all they had left, huge Elastic hearts. There isn't much to say other than a close game saw them defeated to very strong opponents, with no shame in the effort and dedication shown. Finishing 5th overall, a respectable position for a young team and proof that they were ready to scale out for next year. I was proud to share this journey with my teammates, we may have shown up as nine individual nodes, but by the end of the weekend, this was one cluster that would forever leave a mark at the Baros International. Those courts will always remember the day they hosted Elastic's X-Pack!