Our Source Code is public to the world, but what does it mean in practice?
Some people have their whole life planned out for them, and some are less constrained by plans. I was in the first category. I planned my life like a connect-the-dot puzzle that spelled out one word: NAVY.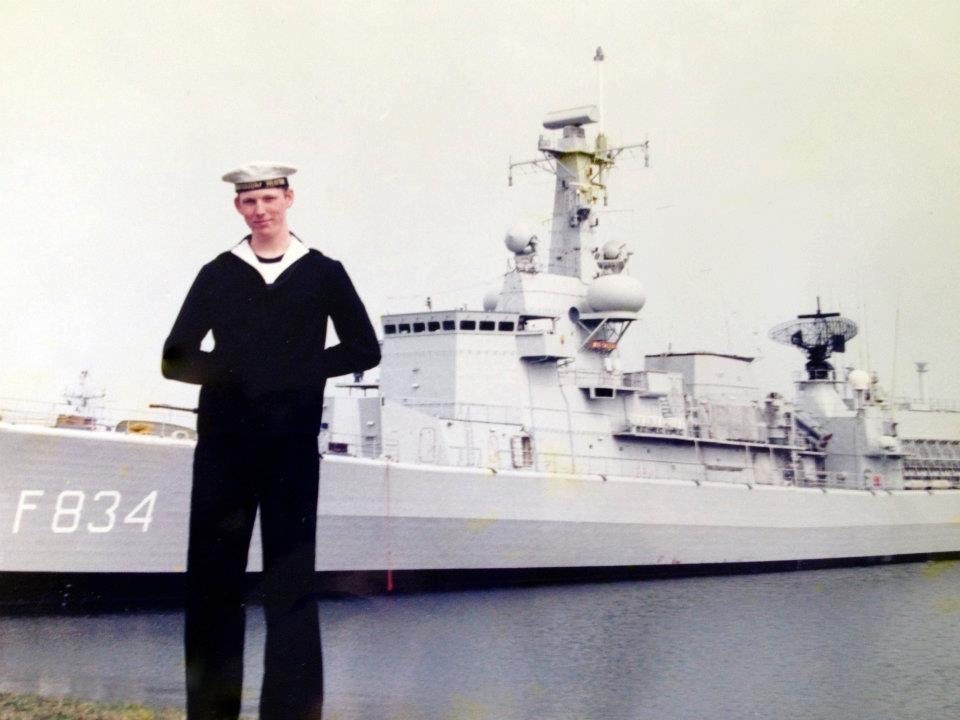 I started at the Royal Netherlands Navy at an age where most of my friends were not allowed to go on a vacation by themselves.
At 16 years young, I went for military training with the goal to start my career as an engineer and retire as a flag officer. From stripe to star was the idea. But after five years of being in the Navy and nine months at sea per year, I decided that maybe a different military career would be better for my personal life. I joined the Air Force and used that switch to dive into IT and communication technology. For almost 13 years I built, maintained, and troubleshot all kinds of systems while supporting missions around the world.
The things I loved most about the Airforce were the comradery, the training, and building and leading teams. I liked my job. And though I wanted to stay there, fate decided differently. Reorganisations within the Air Force forcibly ended my military life in 2013. While wondering what to do as a veteran, I was approached by an offshore company called Ampelmann and took a job as an engineer/operator. Within a few months I was training and leading people again and found myself stepping out of hands-on tech and into project leadership at Boskalis.
That's where things really changed. I started managing project teams, coached team members, and collaborated with other teams on people-oriented subjects instead of technology. I also started to advise leadership on communication and helped build processes that were manageable for the engineers. Eventually, I was approached by a recruiter that somehow convinced me to join Middlepoint, a recruitment agency for the maritime and offshore sector, as a technical recruiter. He taught me the ropes of the trade and that hiring people was an amazing, fulfilling job.
I never saw myself becoming a recruiter, but life can surprise you that way. However, while working for the agency, I missed a few things from my previous roles: the comradery of building and being a part of real teams, the freedom, and having an impact. You see, I wasn't seeing the impact I had on the people I hired and because of that, life was beginning to feel like an endless cycle of work, eat, sleep, repeat. So, I went looking for something new.
Enter Elastic!
My first contact with Elastic was thanks to my current manager, Anne Carlhoff. We knew each other from a job I applied for at her former company. Though the application fell through we kept in touch, and I heard amazing stories through her about the company she had recently joined — a startup named Elastic. When she asked me if I was interested in joining her team as a Technical Recruiter, I was honored and enthusiastic.
Oh, and nervous! While I'd worked at some big companies in the past, Elastic made an impression on me that it was on its way to being a tech giant. The nerves? They were gone in no time. Anne scheduled a series of interviews with directors of support, Elasticsearch tech leads, and my future recruitment colleagues. It was a great introduction to how Elastic perform their interviews. Being in recruiting, I noted how no one seemed to ask the standard questions I was used to during an interview. Instead, the interviews felt more like discussions, a bi-directional check if I and the teams would be a good fit together. It was the first time that I actually saw value in the interviews that I had with the people on the other side of the screen.
I joined Elastic in February 2018 as a Technical Recruiter and was given my own teams to work with. I was able to build a relationship with my team and become an actual business partner instead of a reactive recruiter. That is the way it should be, and exactly what I was looking for in my next position.
I started at the Amsterdam office, which houses an amazing group of people. My background in the military and offshore made me cautious. Suddenly, I was in a different world. But to my surprise, joining the team at that office was such an incredible experience that it had me looking for the hidden camera! It was hard to believe that a company could build and especially retain a culture with people that are humble but ambitious at the same time.
Still, the commute into Amsterdam was challenging. Living in Scheveningen (the Netherlands) was amazing, but commuting to Amsterdam was a daily three-to-four-hour commute. I have a two-year-old daughter that I hardly saw before Elastic came into my life because when I came home, it was dinner and bedtime. There was also no time to go to my Crossfit gym because I lost too many hours a day on my commute. And it seemed to go that direction again. So, I brought up the commute during a talk with management and thanks to my amazing leadership team I was able to lose the commute and work from home.
Then, at the end of 2018, I asked for something bigger...
Fast forward to June 2019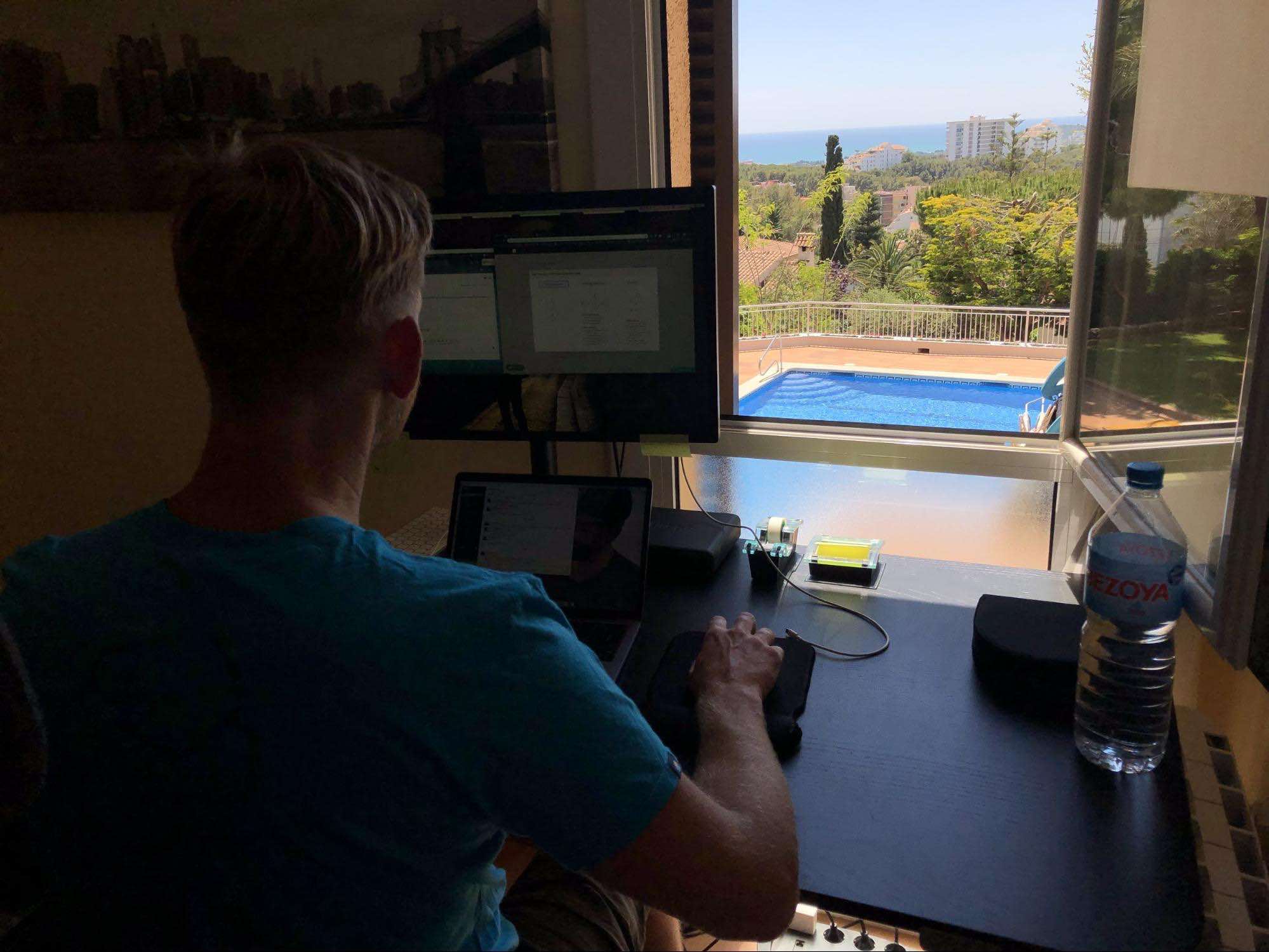 The 'office' view … fresh air, sun and a nice view.
I'm living in Spain!
I asked for it, Elastic said "Okay, it's up to you, we'll help with the paperwork where we can", and at the start of 2019 I moved to Spain to see if life would be more relaxed there.
Once we moved to Spain, I came up with a plan to make sure I could spend more time with the family AND make sure work would not suffer. I 'split' my days up into two parts (sometimes three depending on the need) wherein I start early in the morning, have a three-hour break, and start working again in the afternoon. Sometimes I stop earlier and work in the evening when the whole house is asleep. It depends (I love those two words) on what the day brings.
So why did I do split up my days, and what's in it for Elastic and me? For Elastic it means that my availability is better for both my teams and candidates. I cover technical recruitment across all time zones — Europe, the Middle East, and Africa (EMEA), the Americas (AMER), and Asia Pacific (APJ). In my early mornings, APJ is still awake and in my late afternoons/evenings, AMER wakes up. I have enough hours available during the day for EMEA. With this schedule, there's no more puzzling over how to find a good moment to have a call, or having a meeting pop up in the middle of my evenings. And the beautiful thing is that we work with open calendars, so colleagues know exactly when they can reach me and when they can't — and they respect when I'm not available. Working distributed means a lot of things, but foremost it's about respecting that we all have a life outside of work.
This schedule makes it possible to spend a three-hour break with my family when the sun is high in the sky. We mostly spend it at the beach or a playground — a luxury I would normally miss if I had a nine to five job. I'm also available to have breakfast, lunch, and dinner with my family, something I was never able to do at previous jobs. Before I go back to work in the afternoon, I have the chance to take a dive in the pool which relaxes me and makes me more productive afterwards. After my swim, I'm fully reloaded with creative energy instead of the well-known afternoon dip.
As for meetings: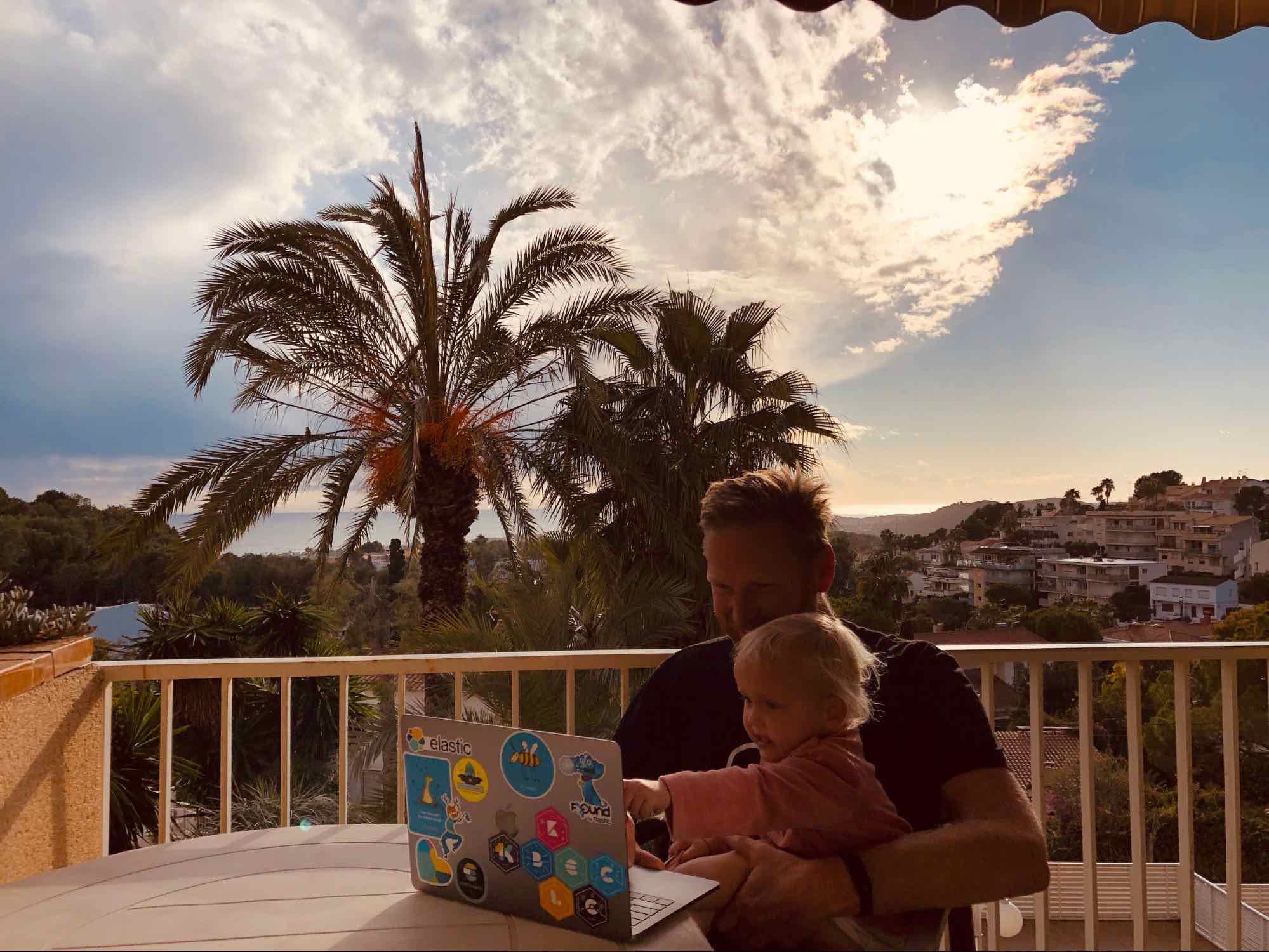 Somehow Elastic made team meetings great: kids are welcome (a mute button as well).
We've experienced some serious milestones as a company including a successful IPO. Even with all that success the 'Elasticians', as we lovingly call ourselves, have not changed. When you look at our Source Code you're seeing more that a statement or idea — you're seeing the reality we work in. And this is where Elastic accomplished something truly amazing — having so many Elasticians, globally distributed, that are part of a culture, one where it's understood that we are all human, we all come with our own accents, and bring our own ideas.
Interested in joining a company with a Source Code to live by? We're hiring. Check out our teams and find your fit!