Want to know what life at Elastic is like? You've come to the right place. Hear from our Elasticians first hand as we highlight their stories and photos from around the world. In this Spotlight, we profile Vice President of Sales for Europe, Middle East, and Africa (EMEA), Samantha Wessels, on what makes a good sales person and how Elastic is innovating things in everything they do.
When Samantha Wessels joined Elastic in 2018, she was making the move from a large system integrator firm. It wasn't an easy decision to take on a role at a new company like Elastic after working for a multi-billion dollar behemoth. So, why did Wessels choose Elastic?
"I chose Elastic because of the culture," says Wessels. "When I was interviewing for the role, I was interviewing Elastic just as much as they were interviewing me. In the end, the more people I spoke to, the more I thought well, these are people that are smart, humble, and nice — but they're tough as well, and driven. And I liked that."
For Wessels, it was also about the products that Elastic is creating. "I believe in going where the puck is going. Enterprises are starting to adopt and see the value in open source. It's driving innovation. I think Elastic, being open source, is going to be one of those solution providers that can really shift the industry and add enormous value to businesses."
Seizing opportunities
For a public company like Elastic, the sales department plays a key role in brand building and adoption of new technology. Sales, in other words, is how innovative products like the Elastic Stack gain wide acceptance and find sustainability in a competitive marketplace. So what's the key to making deals?
"You have to use the opportunities that are there, and you need to go after them," says Wessels. "At Elastic, we've got all the backing you'd want — a great product, a great buy-in to the role, and you've the CSM organization driving renewal and marketing that's driving demand. What we need to do in sales is to make sure that the people within the organizations we're pitching to — whether they're the most senior or junior buyer — know about the Elastic brand."
Wessels experience in a variety of roles has made her ready for that challenge. "I've done all the sales positions a person can do," says Samantha. "From inside sales and account management, to strategic account management, global account management, sales lead, global sales lead, etc."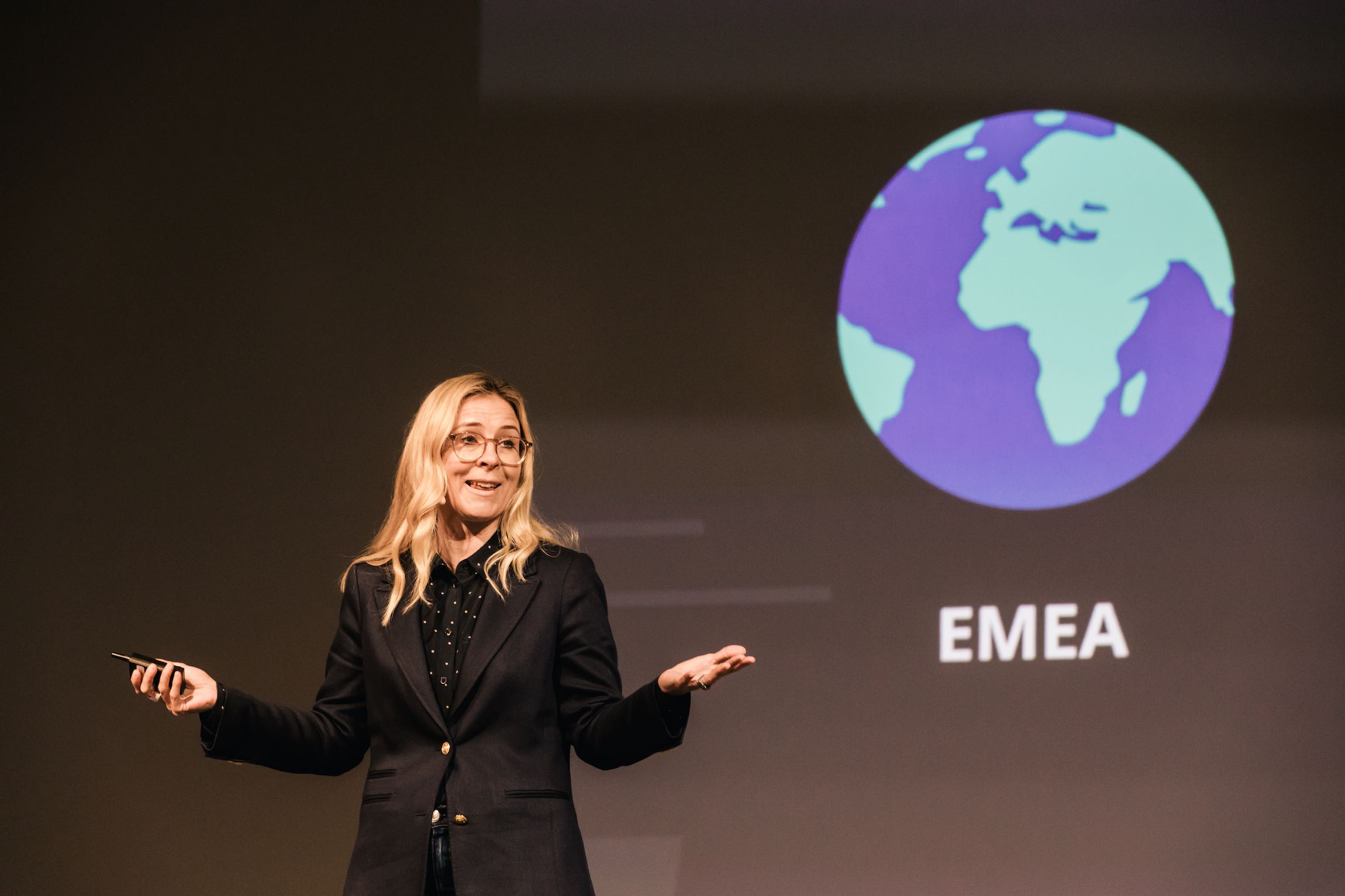 Samantha presenting at the Elastic Global All Hands event in May, 2019.
And for Samantha, taking on these roles was more than just a career path — it was the school in which she found the confidence to fill the role she's in today. It's a path that she thinks is important for anyone considering stepping into a sales career.
"I believe, from a career perspective, that it's important to stand on each step of the ladder, so that when you do get to where you want to be, you have the respect and the competence and knowledge to lead a team. I see too many sales people who want the bigger deals, they want to get promoted from an SDR to a territory manager within 18 months, but they're not ready. Often, people underestimate sales and how complex a profession it is. As sales people, we carry a very big responsibility to drive revenue for a company, and it's something you need to take quite seriously."
Building the right team
At Elastic, diversity is woven into our Source Code and the fabric of everything we do — including hiring. Wessels sees this being reflected in the way her sales team is growing.
"The talent pool is a lot wider. Being distributed allows for a more diverse sales team — whether that's age, or location (and that means background), and obviously gender diversity. There's flexibility in where you live, how you operate, and when or if you come into the office. I think all of that drives a different type of culture in sales."
"Because of our distributed nature, we're starting to see a different level of sales people join as Elasticians. They like that we treat people like adults, but that we also have high expectations of our teams. When people do come into the office and see one another, there's lots of excitement. Even though people are so often working apart, they still bring that kind of energy. Somehow people get to know each other. They have these points of connection. I love that about Elastic. You have to collaborate together to be successful."
So, what makes a good candidate for sales at Elastic?
"We look for self starters with initiative," says Wessels. "You have to be a collaborator and networker. You need that to be successful in a distributed environment."
Navigating a male-dominated field
Asked if she'd faced any challenges being a woman in the tech industry, Wessels sounded off with a resounding "no".
"I think it's been to my advantage being a woman," says Samantha. "I'm often the only woman in the room, and I stand out. [Being a woman in sales] has never been a problem for me. I think women often talk about the imposter syndrome — men have that too. How many men sit in a room and go how did I get here? What am I doing here? I see myself as equal. And my biggest message to women out there is that you've got to believe and act as though you are equal."
Wessels also sees Elastic working towards a fairer workplace.
"What I like about Elastic is that it aligns with my values. And some of my core values include integrity and fairness. What I see at Elastic, and what I haven't seen a lot of elsewhere, is that we work very hard to make sure everyone is equal, and that everything is fair. I really appreciate that about Elastic, and if there's anything that stands out to me, it's that these things are across the board."

Interested in joining a company with a Source Code to live by? We're hiring. Check out our teams and find your fit! Want to read more about life at Elastic? Read more on our blog!