While 2020 has been a year of big adjustments and new normals, it's nice to know that the connections and support of our amazing global community are as strong as ever. Without you — our users, contributors, customers, partners, and champions— there is no Elastic. And as a way of embracing our present and preparing for the future, I'm excited to share that we're bringing our community together in an entirely new way for our biggest virtual user conference.
ElasticON Global is coming October 13-15, and it's free and open to everyone. We're making it easy for anyone to attend by offering the event across time zones. All the speakers, all the sessions, all the Elastic experts – everything, completely free of charge.
Whether you're new to the Elastic community or an ElasticON alumnus, join us at ElasticON Global to learn more about how to turn data to insights using our three solutions built on a single stack, share ideas, get energized, and discover new strategies for tackling your toughest challenges. It's going to be three days packed full of the inspirational keynotes, product roadmaps and demos, customer success stories, expert advice, and the fun our users have come to expect at ElasticON events.
We are very proud to be presenting "Power and Privilege in Technology," a discussion hosted by Elastic Senior Inclusion Officer Karen Penn. She'll be joined by a fantastic panel to explore the personal and professional experiences that have informed each panelist's life. They'll discuss how they've overcome hurdles in the quest to establish their own spheres of influence, and how individuals, managers, and organizations can use their privilege to craft just, equitable, inclusive, and diverse cultures.
The panel will include:
Anjuan Simmons, Engineering Coach
Heather Savory, Non Executive Director at UK Parliament's Information Authority
Madhura Chopda, Director of Engineering at Elastic
Gary Smyth, VP of Worldwide Cloud Sales at Elastic
And this year, Elastic is going even bigger.
We're excited to share that comedian and host of The Daily Show Trevor Noah and soccer star and World Cup champion Megan Rapinoe will be joining us at ElasticON Global. You won't want to miss these intriguing conversations!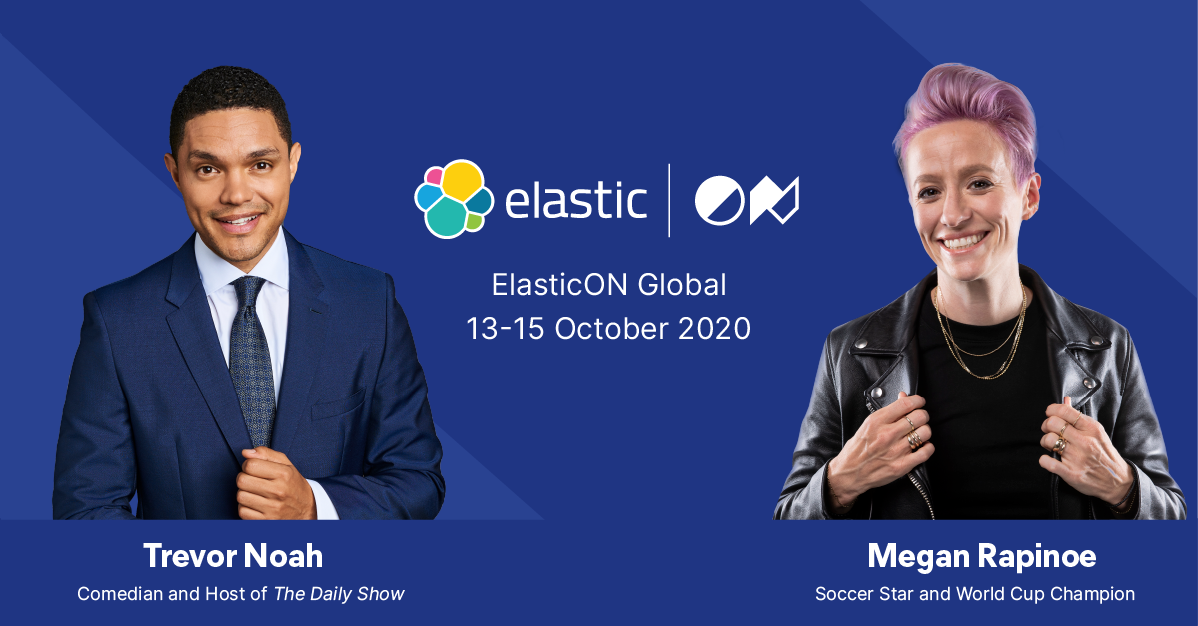 And of course it wouldn't be ElasticON without diving deep into all things Elastic.
Get inspired with more than 100 sessions by Elastic customers, partners, and experts, including:
Audi Business Innovation Team Lead / Scrum Master Stefan Teubner
Google Cloud CEO Thomas Kurian
Indiana University Acting Associate Vice President, Information Security Von Welch
King & Wood Mallesons Head of Information Security John Reeman
Microsoft Head of Product, Microsoft Azure Development Tools & Diagnostics Paul Yuknewicz
Shell International GM Digital Emerging Technologies / VP IT Innovation Johan Krebbers
Gain insights from customer talks and panels by Cisco, Société Générale, Square Enix (Makers of Final Fantasy & Dragon Quest), UC Davis, and more.
Build expertise with free Elastic training workshops and technical presentations.
Create new connections within the Elastic community and explore the offerings of our wonderful sponsors.
Here are just a few more of the exciting things we have planned:
A dedicated public sector day on October 13 with talks by public sector standouts like CACI, the UK's Driver and Vehicle Licensing Agency, and our very own Nate Fick, General Manager for Elastic Security, former U.S. Marine Officer, and author of One Bullet Away: The Making of a Marine Officer.
Elastic Founder & CEO Shay Banon will be joined by Thomas Kurian, CEO of Google Cloud, for the opening keynote on October 14. Hear what's on the horizon for Elastic and how we are partnering with Google Cloud to meet the growing needs of our customers.
Elastic solution, stack, and cloud keynotes with roadmap details and demos delivered across time zones so that you can join during business hours, no matter where you call home.
An executive panel with guest speaker Noel Yuhanna, VP and Principal Analyst at Forrester Research who will present the latest trends and predictions for data analytics in the cloud, including how organizations can tackle the elimination of technology silos to fulfill their innovation and value creation agendas.
Technical deep dive talks from Elastic developers on everything from autoscaling to going from development to production in 15 minutes.
A jam-packed virtual exhibit hall where you can collect giveaways, receive access to exclusive promotions, chat live with fellow attendees, and tune in for 30-minute partner sessions with Google Cloud, Microsoft, Novetta, Pure Storage, and SVA.
(Virtual) Ask Me Anything booth sessions happening throughout the event so you can get answers and advice from our Elastic experts.
Networking opportunities to connect with peers on topics that matter to you; create a profile when you log in and network via chat with attendees who share your interests.
Entertaining sessions to keep you engaged throughout the event, like a magic show, a yoga class, and a guided meditation session.
While the move to virtual makes this event available to more people, we're aware that COVID-19 continues to impact many around the world. Elastic will be contributing to COVID-19 relief charities Direct Relief and The Global FoodBanking Network for every person who participates in ElasticON Global and offering donation opportunities for attendees during the event.
Register to join us and mark your calendars for the biggest, best ElasticON yet.