Elastic believes in giving back, both by supporting the communities in which we live and work, and recognizing that participating in these activities can inspire and enrich our lives in unexpected ways. That's why we offer our Elasticians volunteer time off (VTO) to foster a culture of caring.
The Helper Node blog series shines a light on the inspiring ways our Elasticians use their volunteer hours to help their community and the world at large. In this edition of the Helper Node series we meet Tanya, who volunteers her time at an elementary school in Menlo Park City School District (MPCSD).

---
Tell us a bit about yourself and what do you do at Elastic?
Tanya Bragin: I joined the company in 2014 as one of the first product managers. Currently, I am a senior director of product management and a product lead for Observability, a set of use cases that include Logging, Metrics, and APM. At Elastic, a product lead works side-by-side with team and tech leads to define product and go-to-market strategy.
This requires immersing yourself deeply in what's happening in a specific market, listening attentively to customers and users, thinking about how we can bring our technology to solve the problems we see in new ways, and then working collaboratively and cross-functionally to make it happen. Day-to-day, this can result in a dizzying schedule of internal status meetings, customer calls, and travel to conferences, user events, and regional customer trips.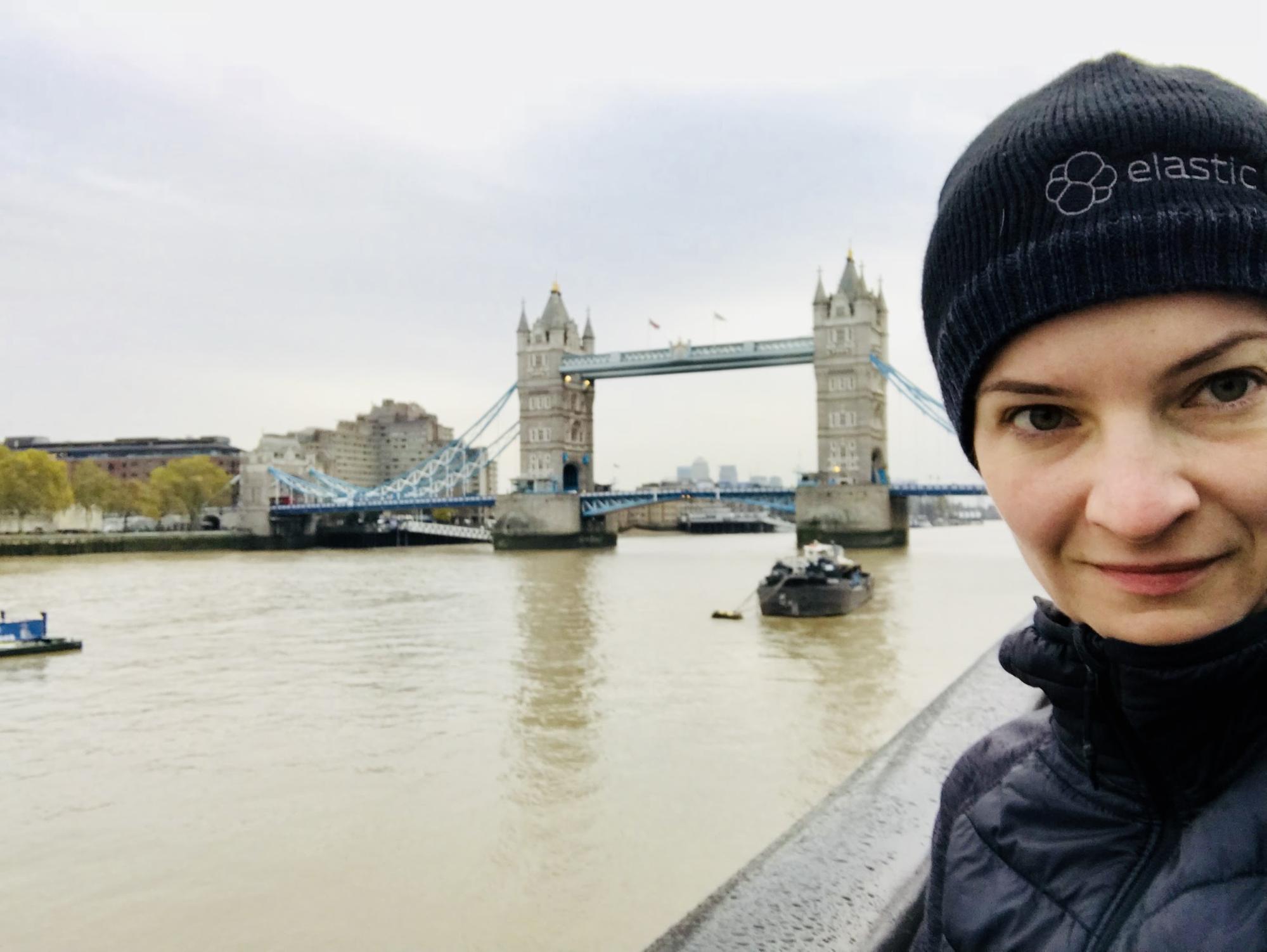 Tanya in front of Tower Bridge in London, UK.

How did you arrive at the idea of volunteering your time?
Tanya: Volunteering consistently at the same organization has not been something I've done before. I joined many one-time events organized by others to further great causes, and have always derived a sense that I'm doing something good, but somehow every time it felt like an excursion. I would immerse myself in a worthy cause for a day, but the next day I would be back in my own life, often not seeing the long-term effect of my actions (or lack thereof -- I was never quite sure).
When joining Elastic, I knew that the product I would work on, which is open source and free at its core, is adopted by many organizations and projects to further social good. That made me feel happy. However, there was a gnawing feeling that in my own life, I was not doing enough to concretely help contribute to efforts I personally believed in. I struggled with that realization, it made me feel incomplete.
After having my daughter, I became viscerally aware just how vulnerable children can be. I would tear up when reading news stories that reminded me how many kids need our help, encouragement, and protection in so many ways; from war zones to economic instability to family challenges -- children often suffer the most.
Looking around, I also saw that you do not have to travel to far-flung places to be a caring adult that can serve as a positive role model and help children. When my daughter started going to preschool, I witnessed firsthand the difference educators make in the development of a young mind. I also knew that in many communities educators can face challenges due to understaffing and a lack of resources. I realized that getting involved in the school system in my own community would be a really concrete way to contribute to a cause I really cared about.
I wanted to volunteer as a parent aid in a classroom directly supporting educators and kids. However, there was one catch. I already spent considerable energy balancing professional life, family life, and motherhood. And I don't think that I'm alone in that, for better or worse. I viewed stepping away from work on a regular basis during the work week a breach in the work ethic I've adopted over the years.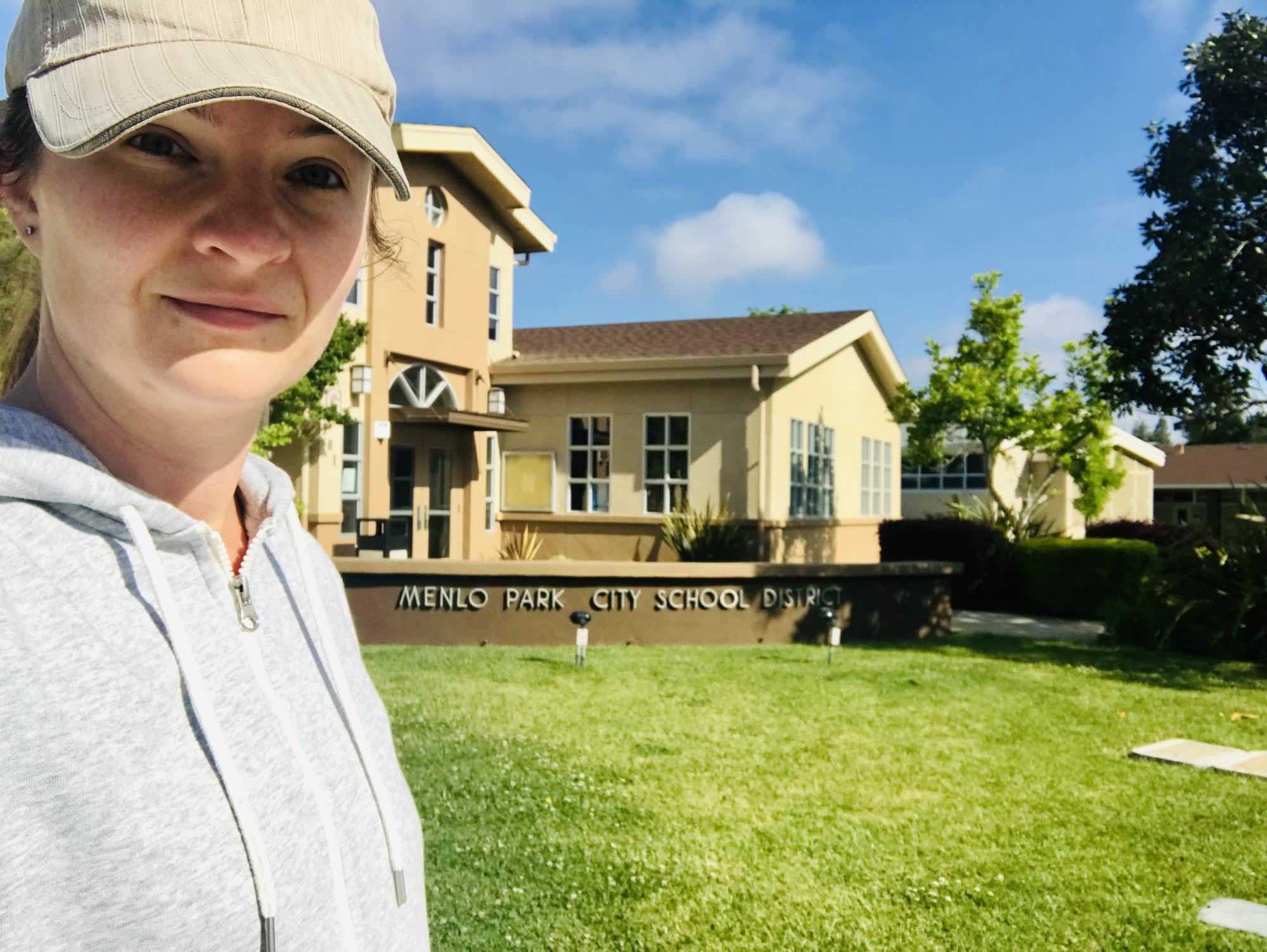 Tanya in front of MPCSD building.
What role did the VTO program play in your decision to volunteer on a weekly basis?
Tanya: Right off the bat, Elastic proved to be a flexible workplace when I arrived here in 2014. Even before the VTO program was established, due to the distributed nature of the company, there was less pressure to work traditional hours and be physically in the office. Since our collaborators were often on different time zones and holiday schedules, we all worked the hours that made us productive, from the locations that made sense, and we were responsible for our results, rather than clocking in and out at a particular office.
Even so, I found it challenging to step away consistently during business hours to volunteer. Mostly, this was because I felt guilty declining meetings others worked hard to set up while working with my already way too busy schedule. I simply did not know how to explain the trade-off I was making to volunteer consistently during that time to either myself or my peers.
When Elastic announced the VTO program, I was ecstatic. After looking at the details, I quickly realized it was exactly what I needed to make my weekly volunteering commitment official, stable, and non-negotiable. I finally took the plunge, and signed up every Friday morning to help kindergarten school teachers at a local public school as a parent aid during a math and art class.
What does your volunteer time look like?
Tanya: The school does a good job organizationally to make it easy for busy parents like myself to get involved in all kinds of volunteer opportunities. They have an online system where I can go and check for opportunities to volunteer and sign up. This is how I found out about the ability to volunteer on Fridays at the art room. Given my frequent out-of-town trips early in the week, Fridays was an ideal day for me to volunteer consistently.
My duties are seemingly quite basic. During math class, I facilitate a progressively more challenging set of exercises that help students master the early skills in counting, addition, and subtraction. During art, the teacher needs help preparing the various activities in the classroom for students. Once the students pile in, she gives them an overview of activities available and they plunge right in. The majority of my time is spent answering questions to make sure the kids understood the goals and occasionally helping them with a difficult task.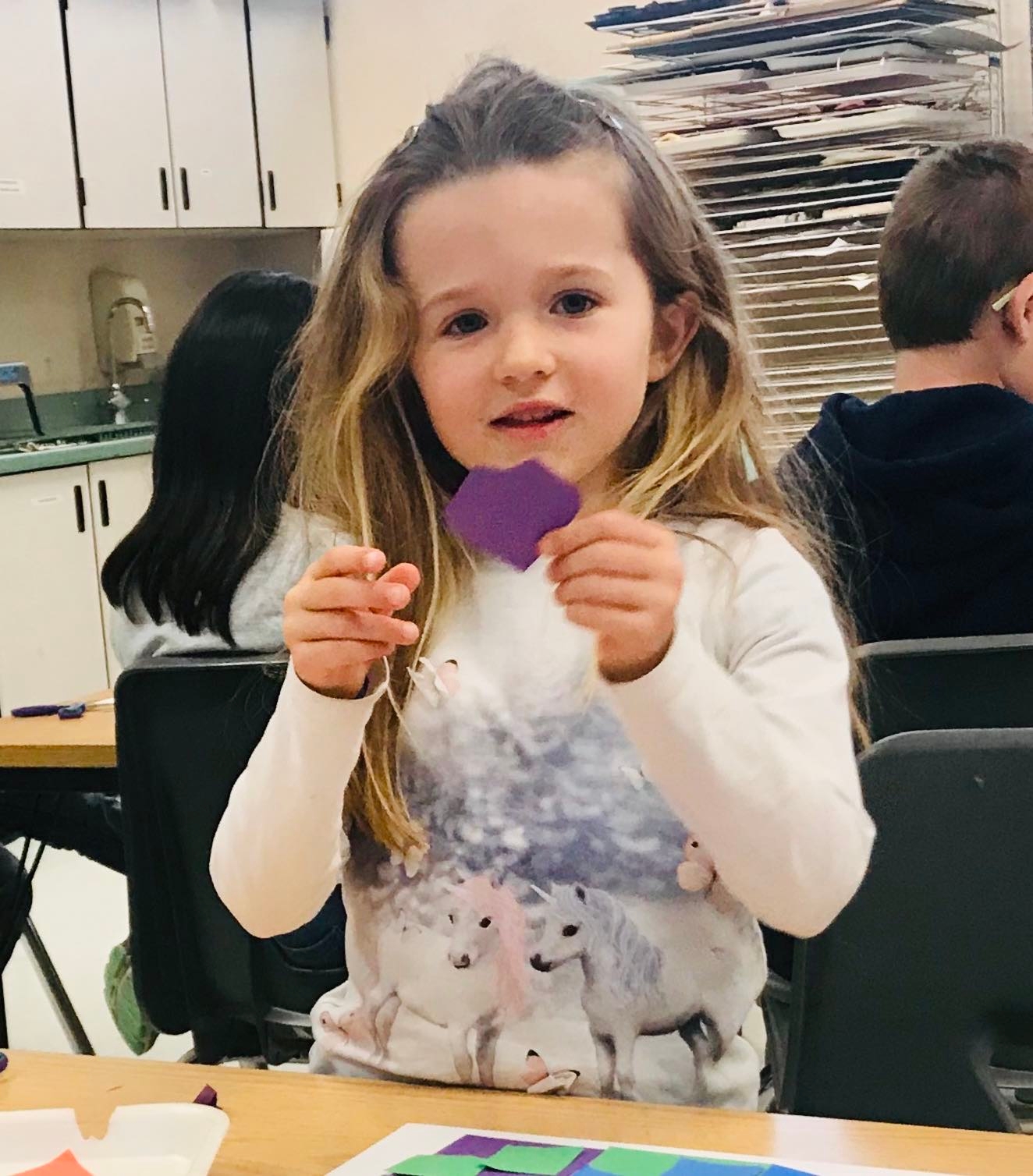 A kindergarten student working on an art project.
What do you take out of the experience?
Tanya: It is gratifying to watch students become more independent and patient with themselves over the course of the year; to not only complete the tasks, but to work together and encourage each other. For my part, I look out for anyone that needs extra advice or encouragement, and let them know I am proud of them as they try new things, ask inquisitive questions, and add creative touches to their projects.
In some cases, my contribution feels deeper than simply helping with the mechanics.
In one instance during math class, I noticed that a girl seemed unenthusiastic about the exercise. She was quite a bit behind the peers at her table by the time I joined them as a facilitator. The other kids were gently teasing her. I tried to engender empathy and camaraderie among them, reminding them that everyone learns at their own pace, but still the teasing continued. At some point during class, rushing, I handed the girl a more advanced exercise by mistake, and she suddenly blazed right through it. I realized then that she was unenthusiastic because she was bored! I was so happy to be there to offer individual attention and help her get ahead.
In another instance, I saw that it was hard for kids to understand why a peer, who recently moved from another country and was still learning the language, acted out in ways they did not understand. I shared with them that I had the same jarring experience of moving to America as an awkward teenager, and encouraged them to be patient, engage with their peer, and incorporate him into their activities. When later in the year, the student, who by then mastered the language, thanked me for being kind to him, my heart simply melted.
It is during moments like these that I know I am in the right place.
---
Does distributed work sound like the right fit for you? Why not check out our teams and see if there's a fit for you! You'll be glad you did.