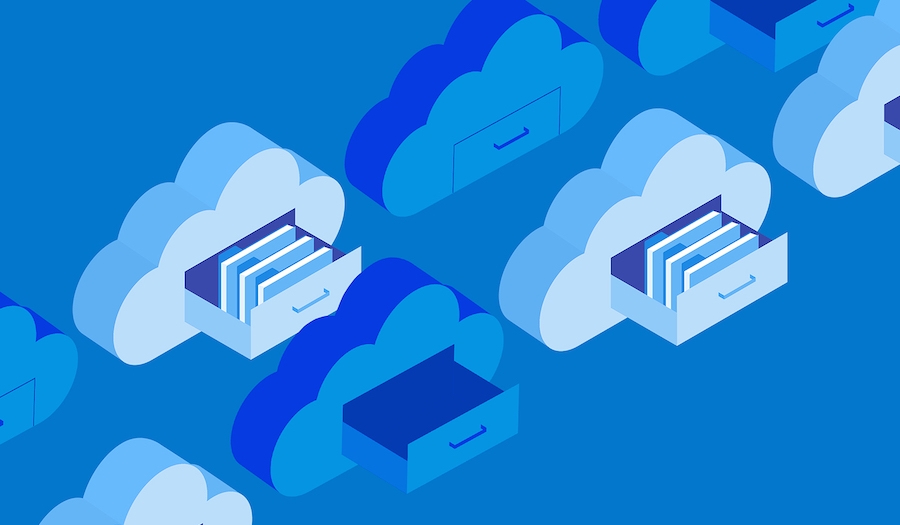 CIO takeaways:
Learn from the experience of optimizing on-premise storage in considering how to store data in the cloud
Identify "hot," "warm," and "cold" data-storage tiers to align accessibility and security needs with appropriate cost
Calculate true data demand for business teams and employees; remember to turn off unused cloud resources
Cloud data services make a seductive promise to CIOs and CISOs: All your enterprise data is available any time from anywhere, and you can search, run queries, and perform sophisticated analytics without the headaches and costs of maintaining your own data infrastructure.
Pulling that off, however, depends on how and where you store your data. To make the right calls, CIOs must consider a number of factors tied to a company's business needs, application demands, and resources.
As more companies accelerate their investment in the cloud — today, roughly half of all corporate data is stored there — many are under pressure to develop a clear framework and strategy for making those decisions.
Here are a few recommendations that can help guide the process.
1. Consider the right PACE for core applications
There is no one-size-fits-all strategy for cloud-based data storage, says Greg Schulz, founder of Server StorageIO, a storage consulting firm. Fortunately, the basic principles CIOs rely on for on-premises data storage also apply to the cloud.
"All apps have something called PACE — performance, availability, capacity, and economics," says Schulz. "You have to look at them all in balance."
For example, some applications don't require high performance or availability, but need lots of capacity at a good price. But if you're too focused on the economics of cloud storage, you could end up handicapping application performance. Your employees may be wondering why your ERP system is moving at a glacial speed, or customers are complaining that your ecommerce site is slow to load.
"People often think, 'Hey, this type of storage is cheaper, we should get more of that,'" Schulz says. "They may have crushed it by lowering their budget, but they caused all of their users to lose productivity."
2. Align storage type with data needs
To ensure that the data your organization needs is accessible when you need it, IT leaders need to first evaluate the performance needs of core business processes, says Renee Lahti, a principal advisor and distinguished fellow at Avasant. All major cloud providers and many third-party developers offer tools that allow CIOs to gauge the performance needs of their core workloads, notes Scott Sinclair, a senior analyst for Enterprise Strategy Group (ESG).
Some cloud applications, such as a product-inventory database for an ecommerce site, require costly, high-performance, high-availability (aka "hot") storage. Others, such as customer purchase records, can be kept in slower, less expensive, and less accessible "warm" storage. Information that's accessed infrequently can be archived in inexpensive "cold" storage.
"If your financial reports are due in two days, you'd better have access to all the data it takes to close the books," says Lahti. On the other hand, she adds, if analysts are pulling historical data to produce a forecasting model, "paying for near real-time availability is an unnecessary expense."
If the data is in constant use and performance is a priority, you want to keep it in hot storage as close as possible to the apps that rely on it, adds Schulz.
"There's also a strong argument for keeping a warm copy with another cloud vendor, and a cold copy of your data on-prem, just in case," he says. "Because if something bad can happen to your data, it probably will."
3. Take extra care of how sensitive data is sent to the cloud
From a hardware perspective, storing most types of data in the cloud is at least as secure as keeping it on-premises. Major public-cloud providers, for example, all meet the federal government's strict standard (called FIPS 140-2) for secure data storage.
Still, companies are responsible for managing the security of their data and applications — establishing authentication processes and access privileges — when sending them to the cloud. That's where many run into trouble. The list of enterprises that have suffered cloud data breaches due to human error is long.
"It's hard to come up with a priority that should be higher than data security and data sensitivity right now," Sinclair says. Organizations run into problems, he says, when they assume "they don't have to worry about security" on the assumption that cloud-platform providers have that covered.
Before deciding where and how to store their data, enterprises need to first evaluate its sensitivity. Does it contain personally identifiable information for customers or employees? Proprietary intellectual property? Financial, health, or other highly regulated data?
They also need to honestly evaluate their ability to protect it. Organizations concerned about this data being exposed on the public Internet should consider keeping it in a private cloud on-premises, at a colocation site, or with a private cloud provider.
4. Practice sound data governance
Many CIOs who celebrate saving millions in capital spending on storage infrastructure can wake up later with a serious operating-cost hangover. The money they thought they'd saved can be wiped out with unexpected operating costs — often because business teams and employees sign up for cloud services and then fail to turn them off when no longer needed.
Moreover, Flexera's 2021 State of the Cloud Report estimates that enterprises waste 30% of their spending on cloud services. Poor data-storage discipline is often to blame, says Lahti. Employees download more data than they need, or they fail to realize that they're charged every time they access or manipulate the data.
"A mature data governance model is an entry requirement for cloud storage," Lahti says. "If you don't have that good hygiene with cloud storage, it will be more expensive."