Elastic believes in giving back, both by supporting the communities in which we live and work, and by recognizing that participating in these activities can inspire and enrich our lives in unexpected ways. That's why we offer our Elasticians volunteer time off (VTO) to foster a culture of caring.
The Helper Node blog series shines a light on the inspiring ways our Elasticians use their volunteer hours to help their community and the world at large. In this edition of the Helper Node series we meet Janica Lee who volunteered with Dig Deep to support clean water and sanitation in Kenya.
My name is Janica Lee, and I work on the SaaS Go-To-Market Strategy team. I'm based in the London office, and have just crossed my four-year anniversary with Elastic.
I was fortunate enough to go to a high school and university where there was a big culture of giving back — so volunteering is something that's been ingrained in me for a very long time. When the Volunteer Time Off (VTO) program was first introduced at Elastic, I made every effort to take part in the events organized by the office. I participated in events like the JP Morgan Corporate Challenge, Brixton Soup Kitchen, Thrive at Battersea Park, and the Salvation Army drives, and I was also a part of the Run4Schools initiative in South Africa last year.
In 2018, I decided that I wanted to do something more. So, I joined a group of Elasticians traveling to Guatemala to support Habitat for Humanity. The trip to Guatemala was an eye-opening experience. I was deeply inspired to get others more involved in VTO, which prompted me to take ownership of a trip. Something new.
For my volunteer effort I wanted to combine two things — the first-hand experience of having an impact on a community combined with a physical challenge that would turn individual volunteers into a team brought together by grit. That's how Dig Deep came into the picture.
My introduction to Dig Deep was quite serendipitous. I had initially planned a similar trip with an NGO called Childreach International. Unfortunately, they folded, meaning that the plans we had in place and fundraising we had done was gone. This was quite discouraging, but Childreach introduced me to Dig Deep. I was immediately intrigued by their approach to their work and their focus on impact — that what they do is not only sustainable, but also empowers the people who are part of it. Dig Deep focuses on clean water and sanitation in rural Kenya, using the "Three T's" as a guide:
Taps (think large rainwater tanks)
Toilets (think ventilated pit latrines preventing flies and controlling airflow)
Training (think hand washing and menstrual health management)
This ultimately increases attendance, boosts test scores, and enables children to lead better lives. The Elasticians who took on this challenge raised over $32k funding the "Three T's" at not just one, but two schools.
We were fortunate to have the opportunity to volunteer at one of these two schools, the Kihato Primary School. The children at Kihato walk 20 minutes to retrieve water from a river which is often contaminated, the pits they used for toilets are conducive to disease, and many have never learnt what washing their hands actually entails.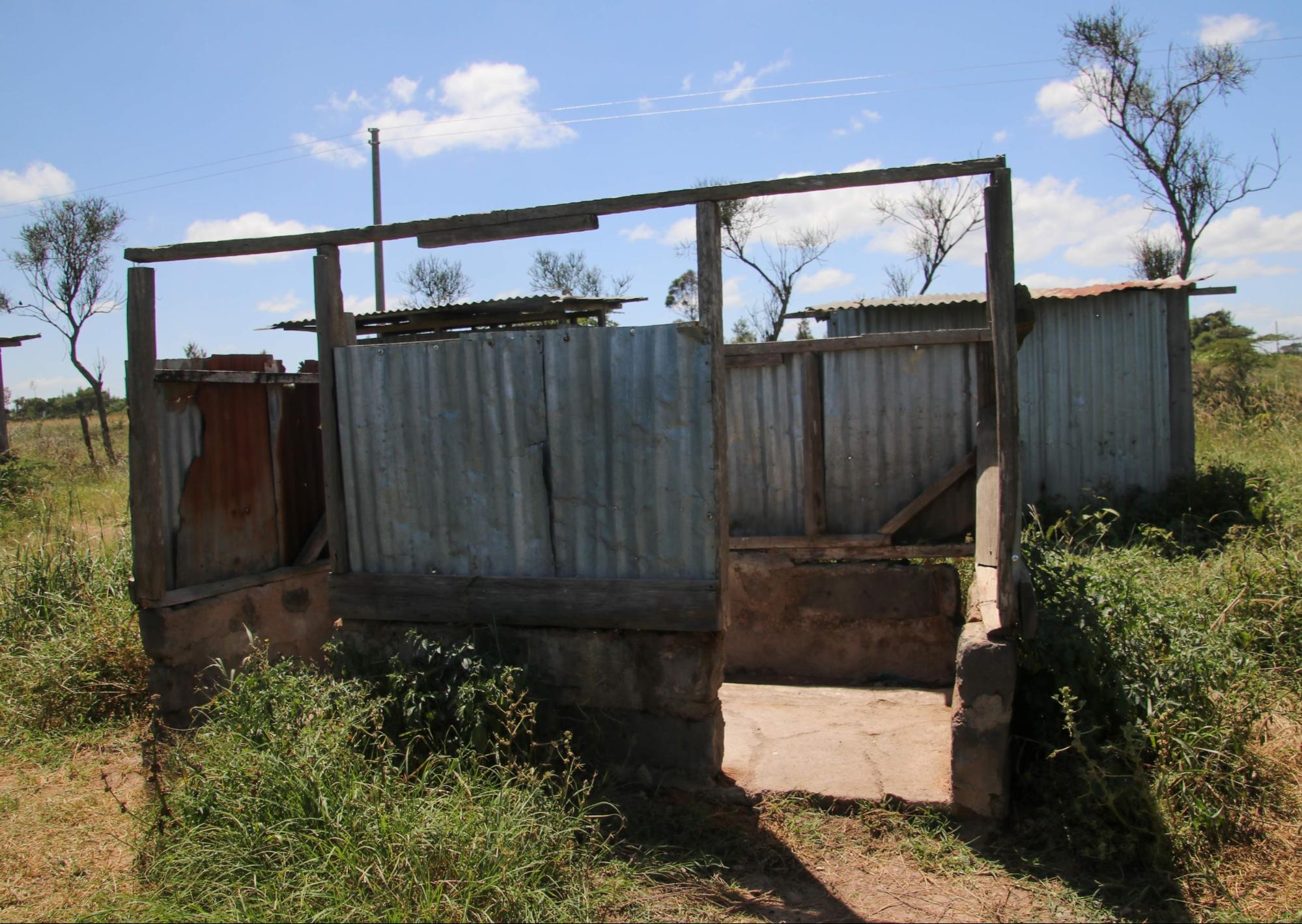 The old toilets the children currently use at Kihato Primary School.
We had two VTO days at the school. On the first day, after a team breakfast and a discussion of the day's agenda, we traveled to the school and the lodge where we'd stay. The children had known for months that visitors were coming, and that they'd raised the money to fund the toilets, taps, and training at their school. They welcomed us with singing, dancing, and thank you speeches as soon as we stepped off the bus. This was followed by a ground-breaking ceremony with the contractors and an official declaration that the works had begun.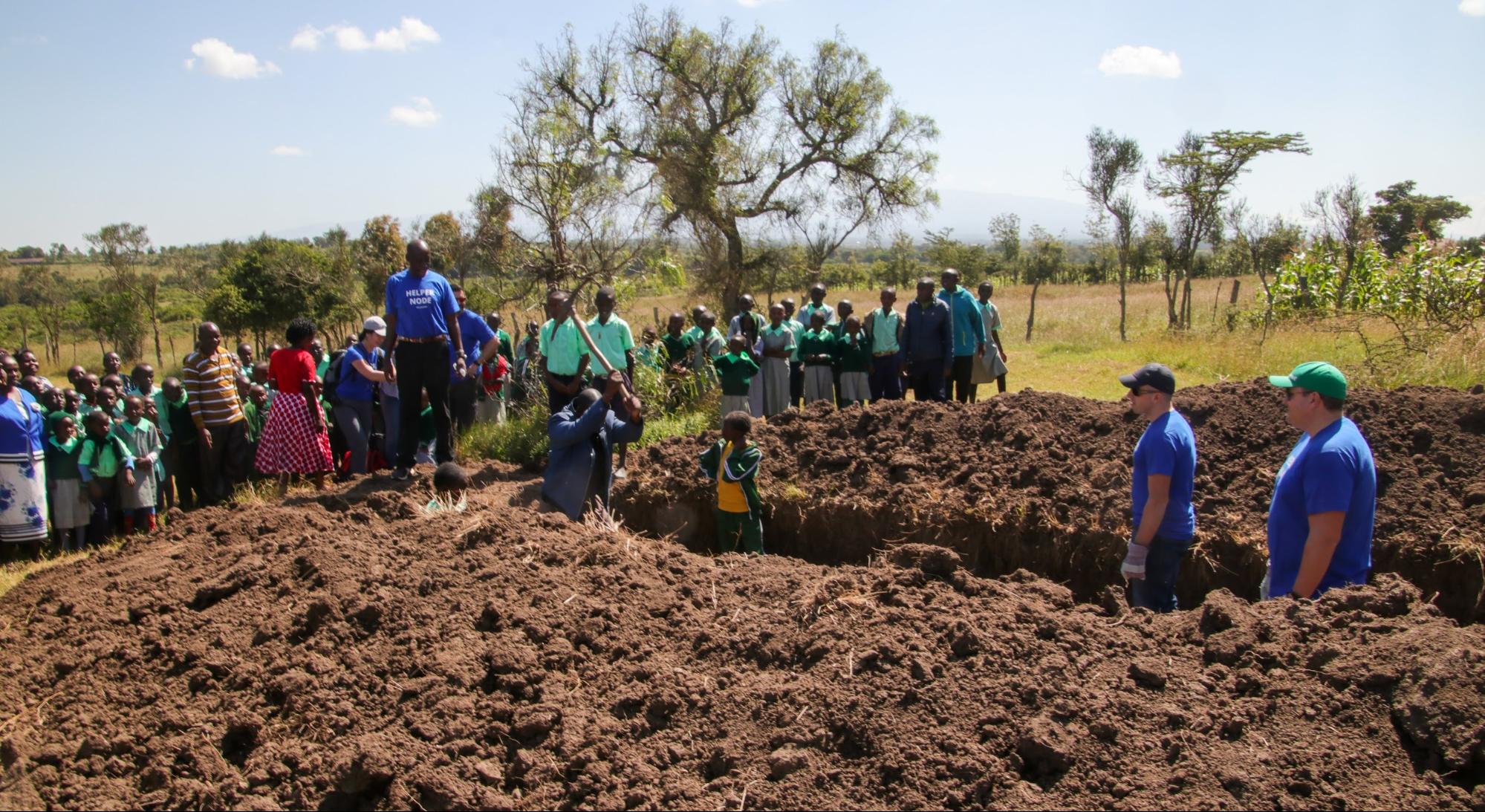 The official ground breaking ceremony to begin the construction of the toilets.
After introductions and all the thank you speeches, the kids demonstrated what they had learned from the hygienic training we sponsored. They showed us how they washed their hands with soap and how the in-ground latrines were used. Part of the training turned into a game called the "WASH games". The children had to kick a football "poop-ball" into a goal "toilet". If they got it in the kids cheered because that meant it went straight into the toilet and if they missed, the child would have to take some toilet paper to "clean-up" the mess. It was a fun way to encourage good behavior and ensure good maintenance of the toilets once they were complete. We had a great time joining into the games as well!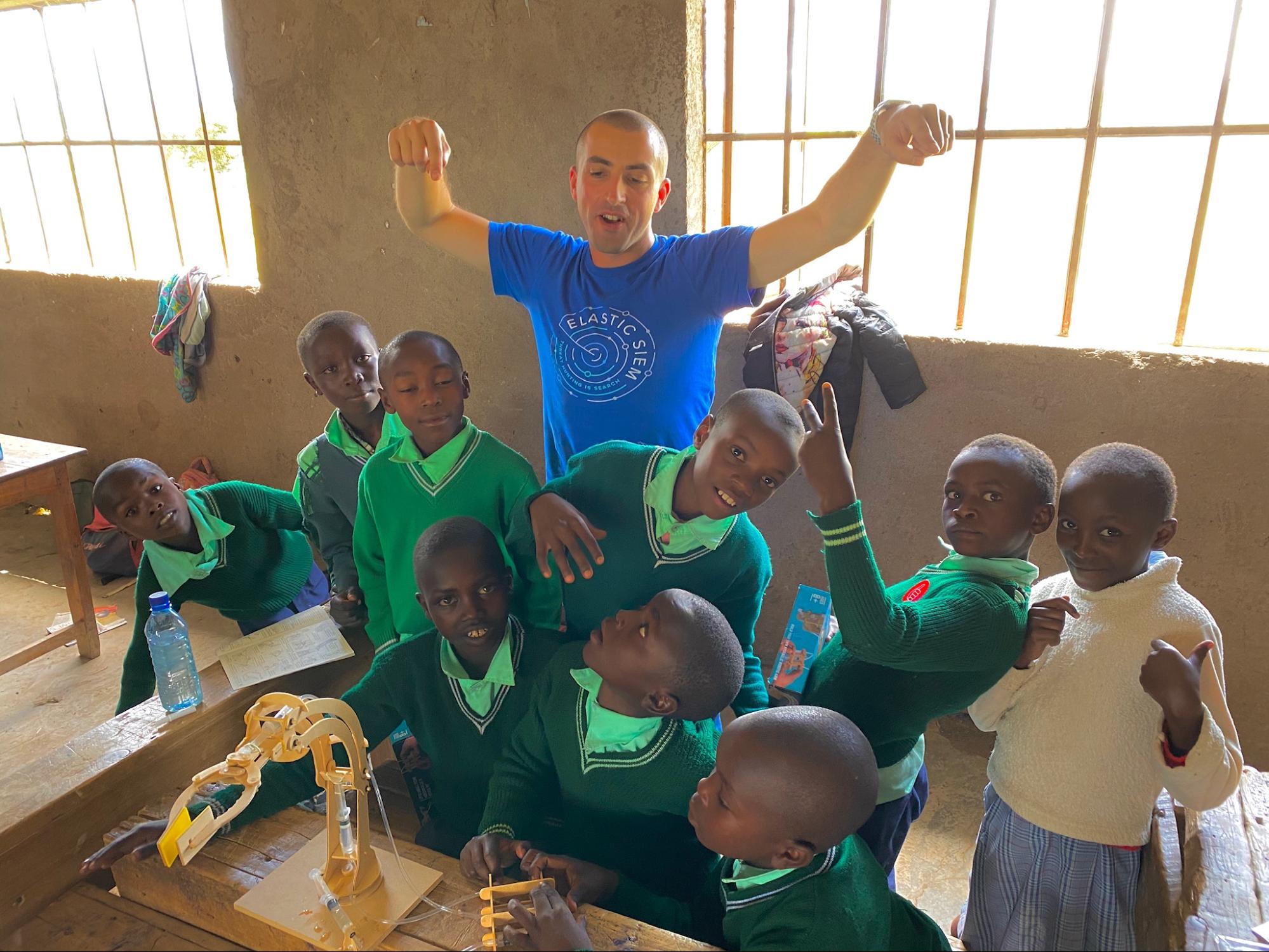 James Spiteri and the group of boys he worked with on the robotic arm.
On the second day — and since we're Elastic, after all — we focused on doing a STEM activity with all kids aged 8+.  We had brought over 12, hydraulic powered robotic arms that came with step-by-step instructions to assemble and operate. It was incredible to see the kids assemble the robot so quickly especially because it took us an entire evening to figure out the day prior! The kids were amazed when they finally saw their arms in action.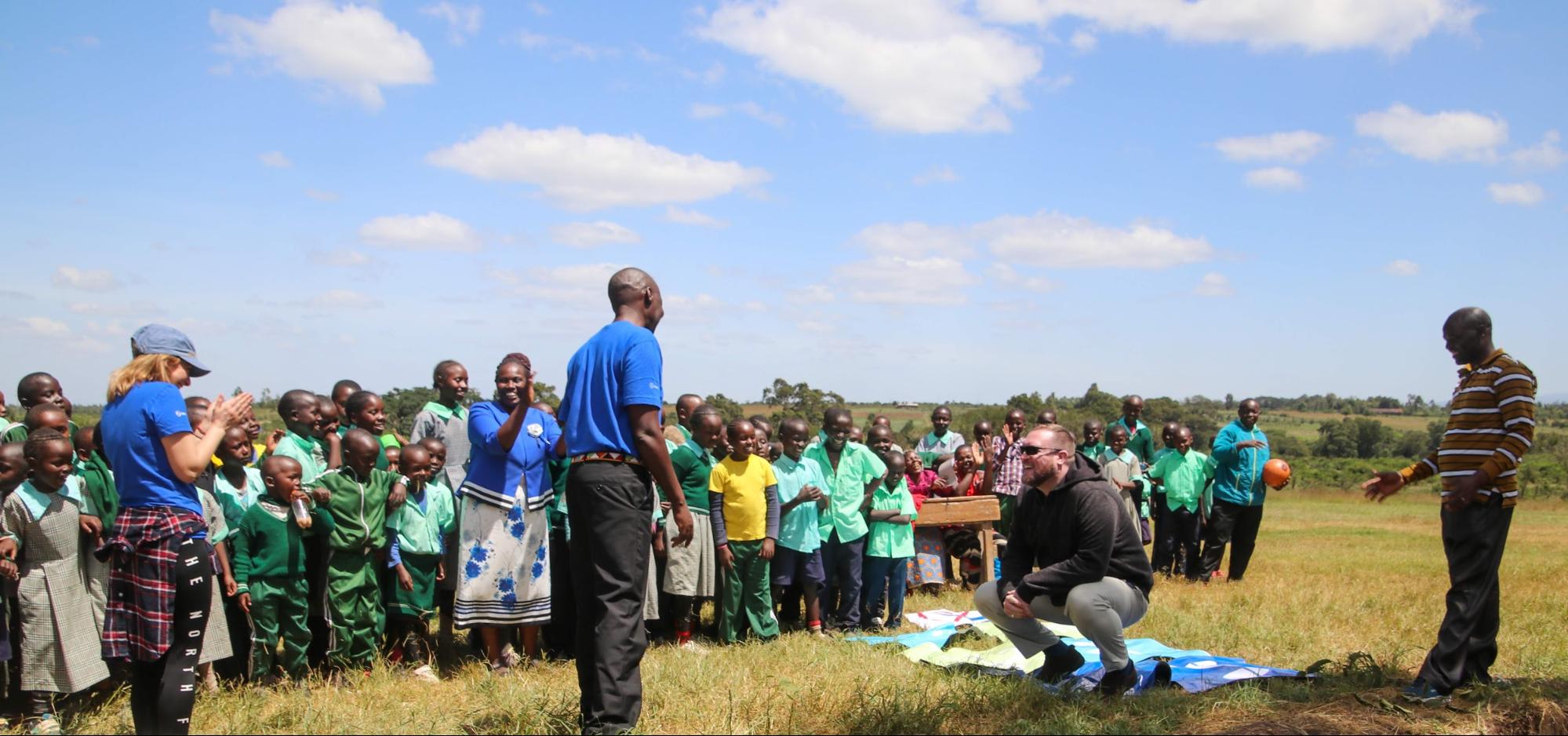 James Haughton, Director at Dig Deep, trying out the latrine training with the students.
To make sure the younger kids had a chance at an activity too we also planned an art activity that would brighten up their school yard. We asked each child to choose a rock, and with the paint and paint brushes we brought, they each painted a design on their rock.
The day ended with final goodbyes. The school's headmaster said some kind words about the impact we've had and when we looked back to the almost 200 students, there were a lot of tears. It was an emotional departure after all the bonding with the kids, but one that left us more motivated to summit Mount Kenya, our physical activity.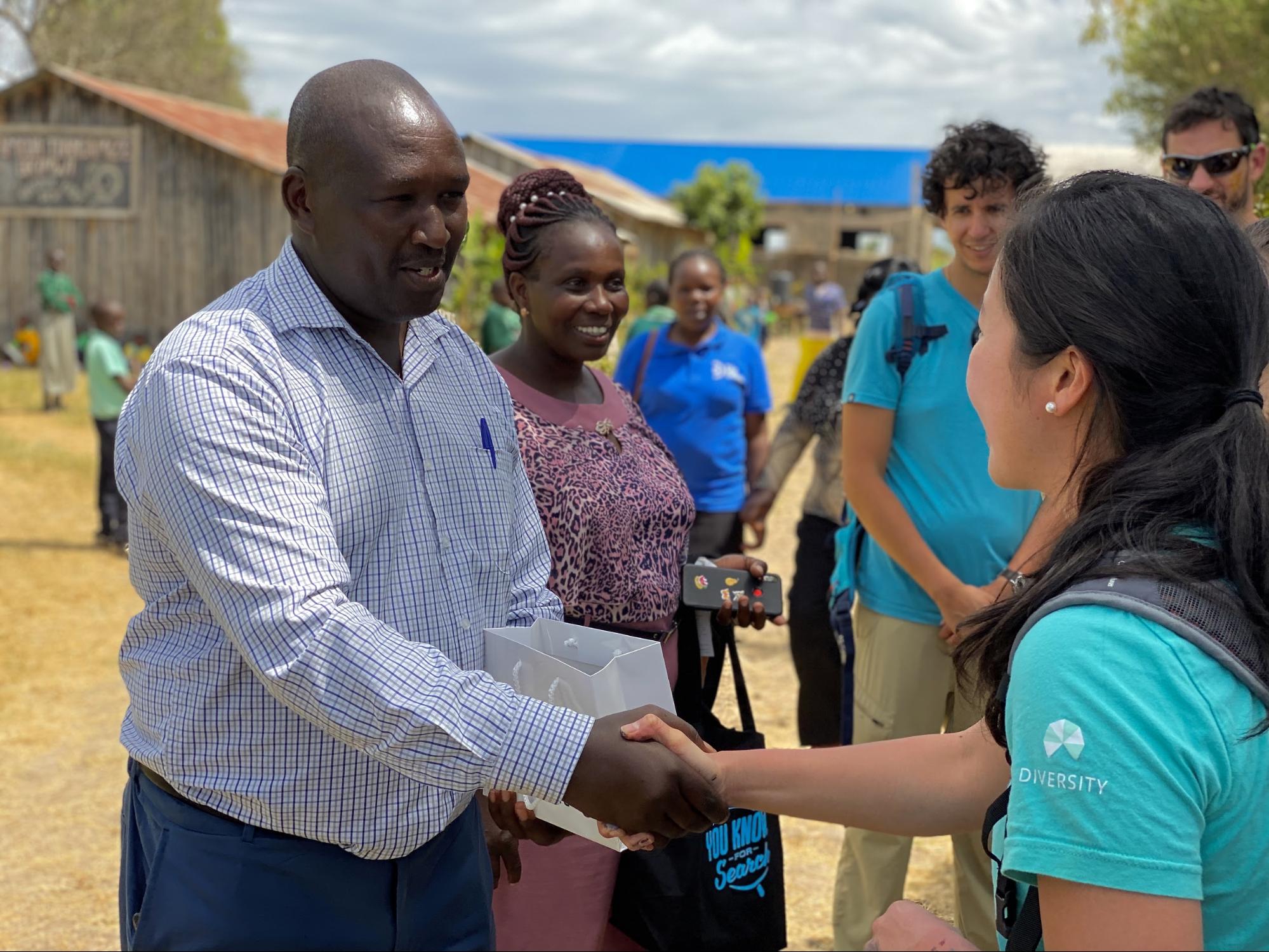 Headmaster Wahome thanking Elastic for their time and efforts at Kihato Primary School.
Really, summiting Mount Kenya felt much more of a mental challenge than a physical one. The walking was not incredibly difficult but battling through the lack of sleep, altitude sickness, and the early wake up times was difficult.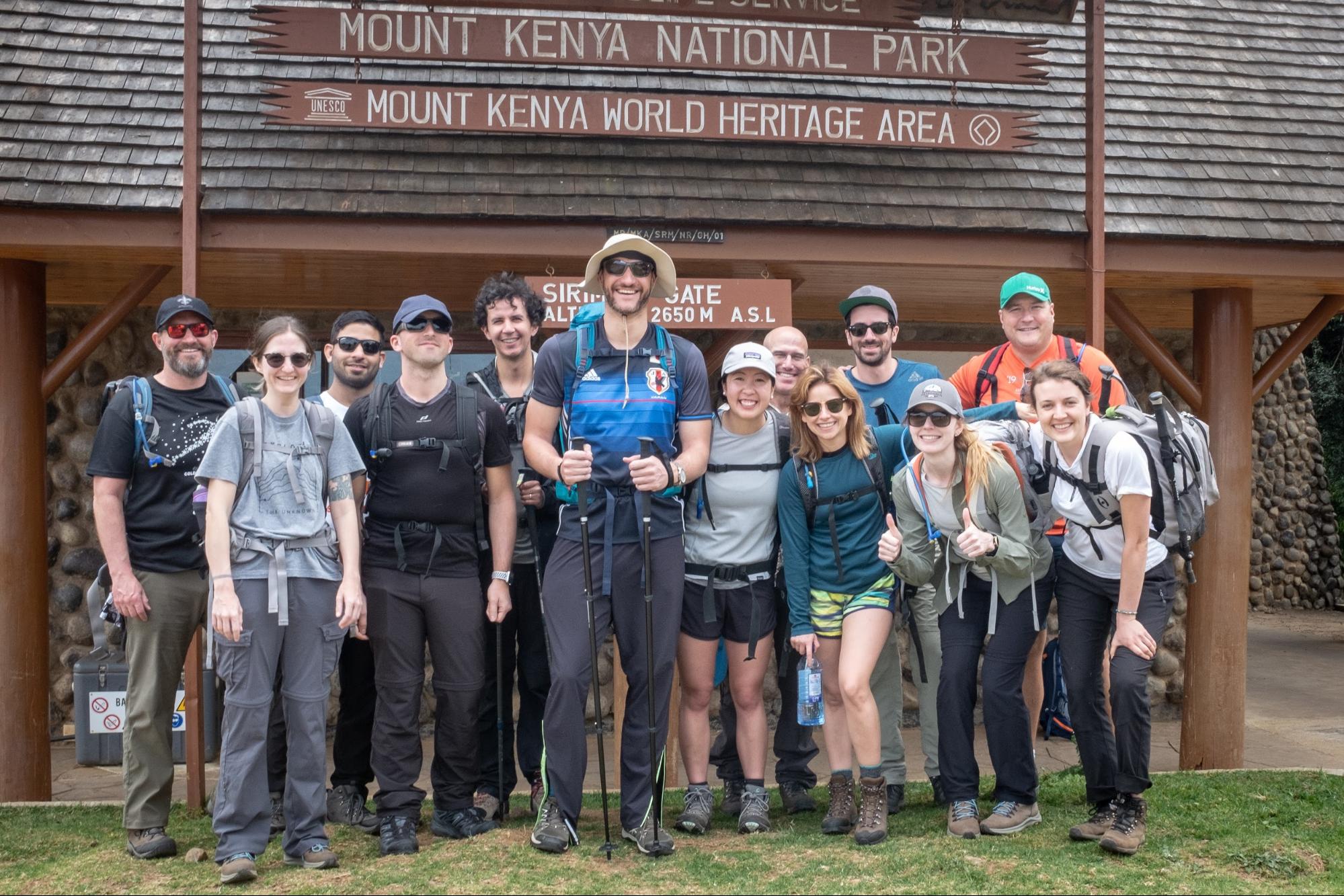 The Elastic team excited and energized on day one of the climb after two VTO days.
We spent four days on the climb. On day one we climbed from Sirimon Gate to Old Moses Camp (2600m to 3300m), which included a four hour walk to our first camp. We arrived with ample time to watch the sunset, have dinner and get settled into our bunks. Some started to feel the altitude here but for the most part folks were in good spirits and motivated. On day two we climbed to Shipton Camp (4200m). This was a nine hour walk and a significant jump in altitude. Most of the team struggled with headaches, nausea, and lightheadedness. Day three we acclimatized at 4600m by walking up and down to ensure we could safely reach the summit. On day four, after a 2 a.m. wake up, we geared up for a dark, cold but incredibly rewarding four-hour walk to the summit at 4985m. We knew the journey had been worthwhile as we watched the sunrise as a team and proudly held the Elastic flag above the clouds. It was a 10-hour walk back to the final camp where we celebrated. It was a week that left us emotionally charged, turned our colleagues into close friends, and one that gave us a new perspective on reality.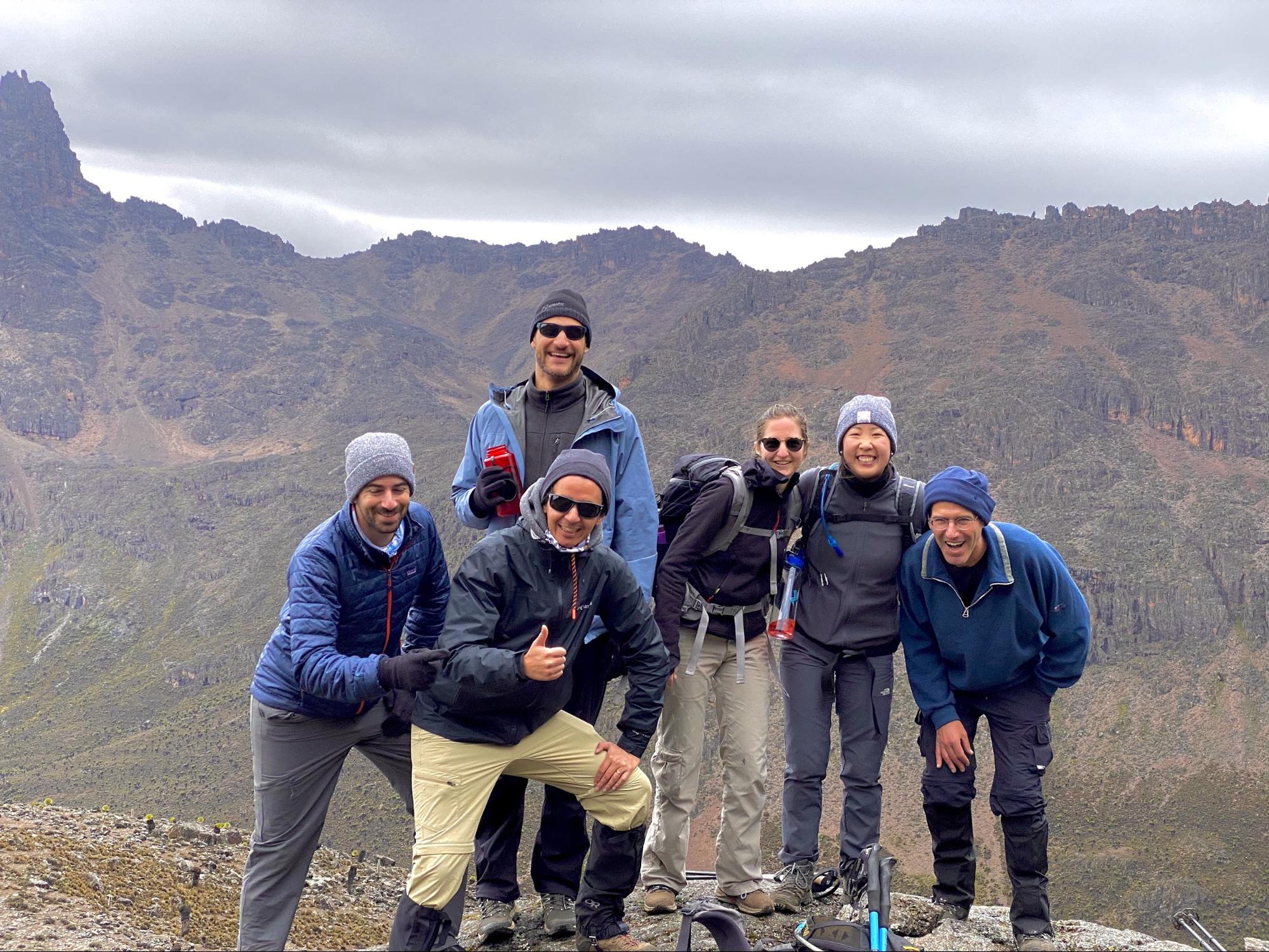 From left, Lio Palacin (France), Camilo Sierra (USA), Matias Cascellares (Spain), Caroline Horn (USA), Janica Lee (UK), Gilad Gal (Israel) on acclimatization day at 4600m.
It's sometimes difficult to put a pause on work, family responsibilities, and other commitments in life to partake in a trip like this. I think, in some circumstances, making the leap comes down to prioritizing and challenging your thought process. "Why not go?". "Will these responsibilities I'm using as an excuse even matter five years from now?" These are questions I like to ask myself. For me, I often find that the answer is "no", that I'm simply prioritizing other things over volunteering. I know that the impact we had on Kihato Primary School will matter 5, 10, 20 years from now but the missed meetings, the delayed projects, days spent away from my friends, and the dollars I spent to get there will not. The memories and lessons from this experience are some I will never forget. One thing always remains consistent for me — doing good, feels good.
Interested in joining a company with a Source Code to live by? We're hiring. Check out our teams and find your fit! Want to read more about life at Elastic? Read more on our blog!