We are thrilled that Elastic has been recognized as a Leader and a Fast Mover in the 2021 GigaOm Radar Report for Cloud Observability.
GigaOm Radar reports offer a forward-looking view of the market and are designed to help IT decision makers evaluate solutions with an eye to the future. Their analysts consider not just where the solutions are today, but also how the market is evolving and where the solutions are headed relative to that trend. In this inaugural Radar Report for Cloud Observability, GigaOm gave Elastic top scores on several evaluation metrics, including Total Cost of Ownership, Performance, Scalability, and Adaptability. Elastic was also the only solution of the 14 evaluated that ranked high on telemetry breadth offered.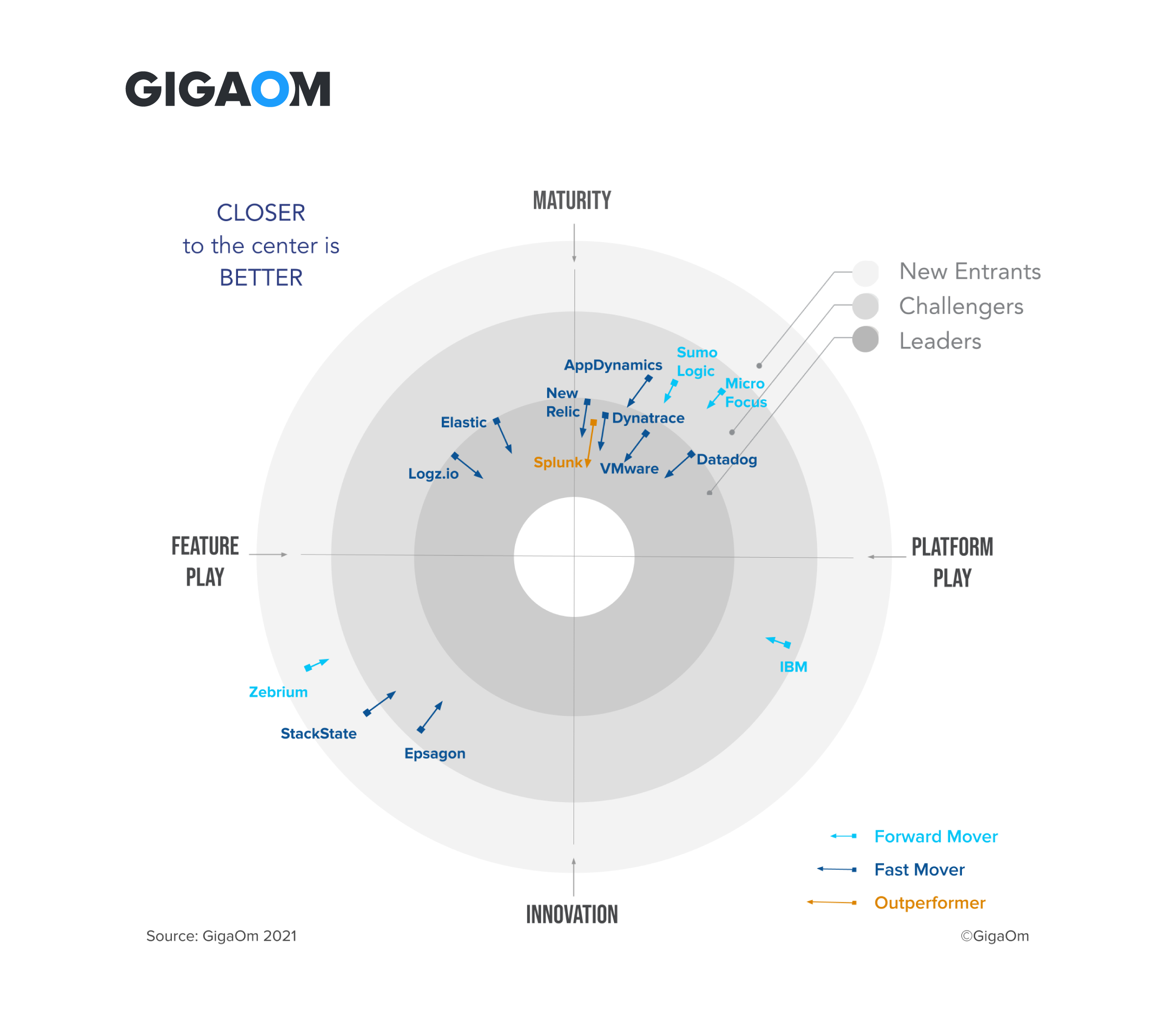 Elastic was highlighted as a "strong open telemetry-based full observability solution that helps enterprises observe the full stack (including APM, infrastructure, services, and the network)." The report also recognized the strength of the deployment flexibility offered by the Elastic Observability solution, especially for monitoring hybrid and multicloud environments, and emphasized the compelling nature of being able to "place data next to the application and doing federated searches across clusters and clouds."
Being recognized as a Leader in the emerging observability space validates the tremendous progress we have made in building a turnkey, unified observability solution — on top of a powerful and flexible Elastic Stack foundation. We would also like to use this opportunity to give a shout out to our vibrant community of users and customers, who are a continual source of feedback and ideas and play a big role in our product roadmap and strategy.
Observability is an emerging practice, but one that is critical to business success in our modern, digital-first environments. The need for an observability mindset has only been heightened by the recent pandemic, which forced organizations to accelerate their digital transformation initiatives. The GigaOm Key Criteria Report for Cloud Observability noted that when done correctly, observability tooling has the potential to increase systems reliability 100-fold and reduce mean time to resolution by 50% to 90%. We believe that Elastic Observability is uniquely positioned to help organizations achieve these goals.
Download the report
Download your complimentary copy to learn how to evaluate the observability market and discover why Elastic was recognized as a Leader and a Fast Mover in this emerging market.
Or even better, spin up a free trial on Elastic Cloud and experience the value and power for yourself.