Black History Month in the United Kingdom (UK) was first celebrated in 1987. Until then, Black History Month was only celebrated in the United States.
It was Ghanaian Akyaaba Addai-Sebo, coordinator of special projects for the Greater London Council (GLC), who organized the inaugural Black History Month event in the UK. He was inspired to organize the event after being approached by one of his constituents with a problem: the previous evening, her son, named after political activist Marcus Garvey, asked why he couldn't be white instead of black.
Akyaaba was taken aback. Familiar with Black History Month in the United States, Akyaaba felt that something similar had to be done in the UK to help Black youth to better understand their history and heritage. So, Akyaaba coordinated the first Black History Month celebration with the GLC to highlight the economic, cultural, and political contributions of the Black community to life in the UK. You can read more about his thoughts on the first celebration in this riveting interview.
To celebrate Black History Month in the UK we talked to two of our Elasticians, Martha Chumo Wurm and Bernard Isibor, about what Black History Month in the UK means to them, how it differs from other celebrations around the world, and their thoughts on how heritage unites us all.
Martha Chumo Wurm, Commercial Account Executive, UK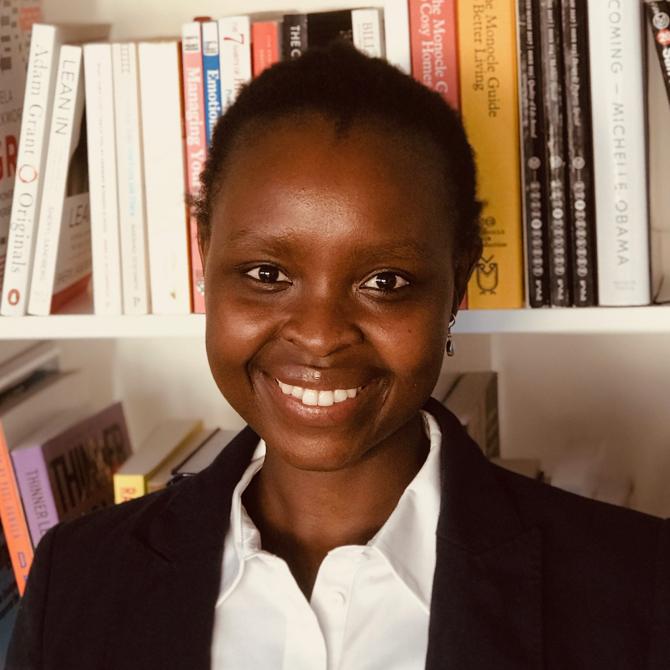 When did you join Elastic?
I joined June of last year. It's been a really great time so far. I was lucky enough to be at the top of sales development last year, covering markets in the Middle East and Africa from Saudia Arabia, UAE, South Africa, and a bit of francophone Africa. As of November, I'll be transitioning to become a commercial account executive.
What got you into tech, and your role here?
After high school in Kenya I was going to go to medical school, get a proper job, and settle down. However, at the time, there were a bunch of doctor strikes — mainly doctors from the government. I didn't really want to be another one of those people looking for work from the government, so I taught myself programming and got a few jobs as a developer. In December 2012 I got an internship that introduced me to the wild west of open source. There was a mentoring program at the company I was interning at, the goal being to get more women programming. While in that program, one of my mentors recommended that I go to a hacking school in New York to improve my skills. But being a young, single, black woman I didn't get the visa. So instead I ended up using crowdfunding to set up a coding school in Kenya. That's really how my career started. I ran the school for almost three years, running classes in Nairobi and Juba in South Sudan, all of this in the middle of the civil war. I tried to find money to make these classes work, but in 2015 I had to go back to the drawing board since the project wasn't sustainable.
I ended up shutting down the school to go back to school myself in the US. While in the program I spent a semester in Berlin, which is really where my journey with Elastic started. In Berlin I met a solutions architect from Elastic, and we fell madly in love and ended up getting married. We moved to the Bay Area together. He's since left the company, but when I graduated last June he encouraged me to apply for a job here.
That's quite the career journey …
When I first started in sales I was surprised how much I liked it, and how good at it I was. In hindsight, I can see some signs from when I was a kid that I would do well in sales. In Africa, we had a head boy and head girl at school. You have to be voted into that position, so you have to do a campaign to try and convince 1000 girls to vote for you. For that, you really need to be able to make friends and be able to convince them to get on your side. You need to sell yourself and your brand. I always ended up a head girl … I guess that's my introduction to sales in a nutshell. I like understanding customer's needs and helping people solve their problems — and being right at the center of the latest technologies with Elastic feels like a natural fit.
What drew you to the United Kingdom?
I met the team in London. There was another Black Sales Development Representative in the London office, and Jared Hall, who interviewed me and ended up being my mentor, was Black and British. There was a lot of diversity on the team and it seemed like the team to join.
Can you tell us a bit more about Jared's mentorship?
It goes beyond Jared really. Samantha Wessels from South Africa has been critical in mentoring me, providing resources, and giving feedback. Samantha, being a woman in tech and also African — there are so many times that we talk about that background we share. I'm not sure Elastic leadership realizes what they've built here in EMEA, but I'm glad it happened. I feel so lucky to be in this position.
Being Kenyan, and having lived in the US and the UK, you've experienced Black History Month on both sides of the pond. How do the two countries differ in terms of race?
In the US, I felt a bit traumatized. For the first time in my life, I really realized I was Black. That might sound very strange but I come from a country where everyone around me is Black. Everyone in politics is Black. There are very few white people in Kenya. I'd never experienced racism or felt that my race played a role in the way I was treated in the way the Black community in America does. In San Francisco I slowly began to notice things. I was in university with mostly white students, and I didn't know how to handle this subtle aggression all the time.
Here in the UK, I've become much more aware of the issues. When I moved to the UK I chose to live in East London, where there is a high proportion of Black people, especially from Africa. This was a very intentional choice — I wanted to be part of a community where I can celebrate my heritage. I would like to be a mentor in this way. I want people to feel encouraged to reach out to me directly, build a relationship, and feel comfortable knowing someone out there, like them, is achieving the things they also want to achieve.
Bernard Isibor, Senior IT Support Technician, UK

When did you join Elastic?
I've been with Elastic a little over five years — I joined in August 2015 as a sysadmin. At the time we were a team of two in ITOps.
You've been here for a while!
Yeah, it's been a wild ride from just under 200 people to the number we're at now.
What's your favorite memory of Elastic so far?
When I first joined Elastic, I had to travel to Mountain View, California for training/induction. One week was dedicated to X-School, where we learned about the company and products, and the second week was for me to meet the team and also learn how my role in ITOps fits in with the rest of the larger IT team. At the time, Edward and I were the only members of the ITOps team. While I was in California I got to see my first baseball game, the crowd and atmosphere at the stadium was amazing. There's been so many firsts for me with Elastic, so if you ask for memories I've got loads.
Where do you live in the UK?
I live in Royal Tunbridge Wells, which is in Kent. It's about 40 minutes away from London. I commute into the office when I feel I have to go in. Thanks to Elastic, I don't have to be at the office at a set time every morning, say at eight sharp or anything like that, unless of course there is a scheduled meeting. There's lots of flexibility and you are trusted to plan your work schedule.
Did you always know that you wanted to work with computers?
Not really, I used to play video games a lot, I think my entryway was wondering how I could create this stuff myself, I never really did create any games but it did get me interested in computers. When I was younger I lived in Nigeria. I used to read comic books, but comics were not as easy to come by. You might get volume one but never find volume two or three of a series. Or you'd find volume two and ten but nothing else. So I started drawing comics to fill in the blanks, and I would sell them at school to kids who wondered what happened next! Anyway, I thought I'd end up working in animation so I got hold of software to get started. I later started learning to program and in my spare time I would design websites as a hobby, then got a job doing that, and later bounced around to different aspects of IT infrastructure, programming, and web development. That's what led me into what I do today.
Moving from Nigeria to the UK, what does Black History Month in the UK mean to you?
I've been very fortunate not to be on the receiving end of any overt racism, where I would suffer psychologically.
For me, I like to think of the good aspects of Black History Month. Having spent my childhood in Nigeria, I'm more inclined to celebrate those parts of my heritage but also acknowledge its darker past and future struggle. For a while I was living in Notting Hill where the carnival happens, which is a celebration of British West Indian and Black British community. It's amazing to go out for walks and see the cultural mix there — from Jamaica and Trinidad to Nigeria and Ghana.
Do you find yourself relating more to Nigerian culture than British culture?
I try to find a balance and relate to both though not sure to what measure. My kids have not been to Nigeria so we tell them stories of their heritage when the opportunity presents itself. Naturally they relate more to the British culture so it's up to me to fill in the blanks to their Nigrian heritage. I like to hold onto my Nigerian culture as much as I can.
Is representation important at Elastic?
I think this ties back to the importance of Black History Month in the UK. I've worked in places before, and lived in different places, where I am the only person that looks like me. Psychologically, being the only black person, it can get you into thinking oh, I'm probably not welcome here or the chances of succeeding here might be limited. If there are a few people in leadership positions around the company who look like me and are advocates for diversity within and outside the company — that's what attracts people, knowing they belong and can aspire to one day lead or be successful in their chosen vocation. I suppose it highlights the difference between being different and feeling uncomfortable about it, and being different and being accepted as who you are.
Interested in joining Elastic? We're hiring. Check out our teams and find the right career for you! Want to read more about life at Elastic? Read more on our blog!