We're a distributed company by design. One aspect of making distributed work successful is maintaining a sense of community. Zoom meetings are a great way to get work done, but some Elasticians feel the need to check into an office on occasion to get the social buzz that a face-to-face interaction can provide. That's why Elastic has maintained physical offices and workplaces, 40 at last count, in regions around the world.
In addition to maintaining our physical offices, the Elastic Workplace team holds two in-person internal events a year in the spirit of building comradery outside the daily to-do list. These events are held in the summer and winter as a localized gathering — for example, folks in Virginia might get together at the Arlington office, while Elasticians in northern California gather in Mountain View. Activities might include go-karting, a happy hour, or taking a day trip to a baseball game — anything but work.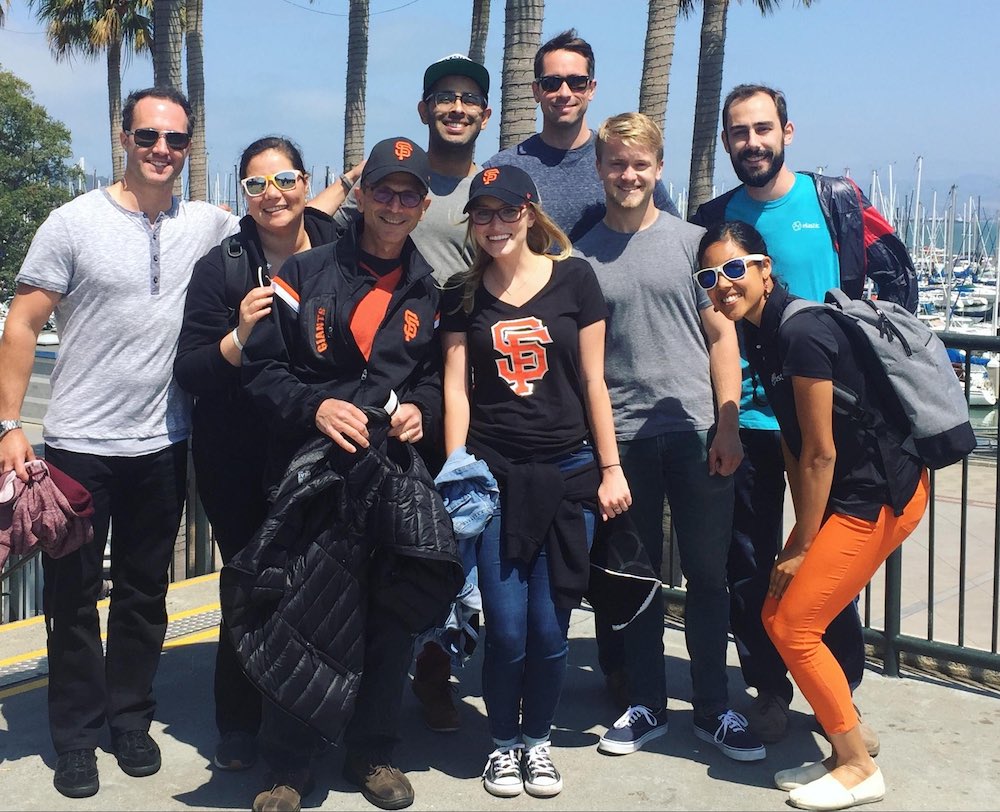 Elasticians at a past outing to a San Francisco Giants game.
These events were a great way to meet people in the local area and interact with folks outside of immediate teams. While some of our offices are open in Europe and the Asia Pacific region where there are low or well-maintained case numbers, COVID-19 is unpredictable to say the least. Naturally, the pandemic has changed the way the Workplace team approached their events this year. Trying to plan something in-person, that would work across regions, was impossible.
It would have been easy for the Workplace team to cancel.
Instead, they got creative.
Elastic Summer Camp is born
The Workplace team knew they had to do something that would accommodate several time zones and interests. Summer Camp, as the virtual event was eventually called, was designed as a way to gather around the virtual campfire. Drawing on the spirit of in-person events, but without the geographical restrictions, Summer Camp would give Elasticians a chance to bond around activities unrelated to work.
Because of everyone's busy schedules, the first hurdle for the team was making Elasticians feel comfortable carving out the time for a bit of fun. Summer Camp was not going to be a mandatory event, so getting buy-in from Elastic leadership to help drive participation was essential. Shay Banon, Elastic CEO, and Leah Sutton, VP of Human Resources, were immediately on board. Having their support encouraged Elasticians to let loose and have fun during working hours.
A schedule inspired by our Elasticians
With approval secured, the Workplace team scheduled four days of events beginning August 24 and culminating with a Shut-it-Down Day on August 28. (Shut-it-Down Days are company-wide days off provided to all Elasticians during the crisis for the dual purposes of rest and taking care of necessary tasks.)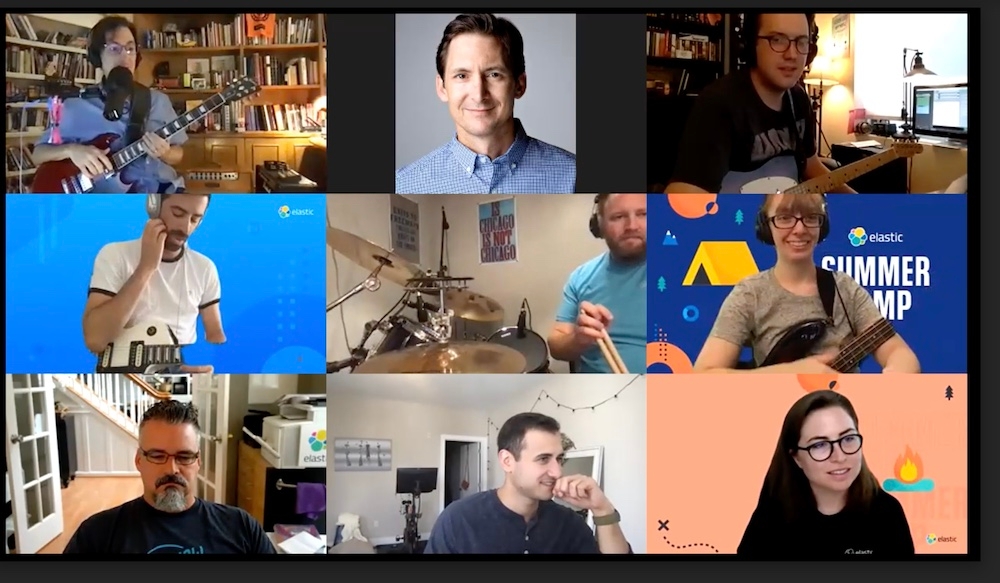 The Elastic Jam in action.
Finding entertaining sessions was the next step. The most important thing for the team was ensuring that the sessions were inspired by our Elasticians. Luckily, the Workplace team had resources already available from our virtual Global All Hands (GAH) event. They chose the most interesting non-work related sessions from GAH for Summer Camp (such as the guided meditation and the dance classes), and filled in the gaps with additional sessions drawn from existing Slack channels built around different Elastician hobbies.
The plant propagation class exposed a green thumb or two.
All of the sessions were chosen for their family-friendly flair so that families could do the activities at home with their little ones. These sessions were a great way for Elasticians to interact with each other, meet fellow parents, and have the whole family participate in the fun — just another example of our Source Code in practice.
Each day had a highlighted session with asynchronous (recorded) material. The first day of Summer Camp was built around health and wellness, with yoga and dance classes scheduled for different regions around the world. Day two was built around a musical jam, inspired by a GAH session presented by our resident musicians. Day three included a card-based magic show with a masterclass on the form for those that wanted to learn the basics and a houseplant care and propagation class for all the new plant parents. On the final day of Summer Camp Elasticians gathered around the virtual campfire for a mixology class, a bite to eat, and general chitter chatter.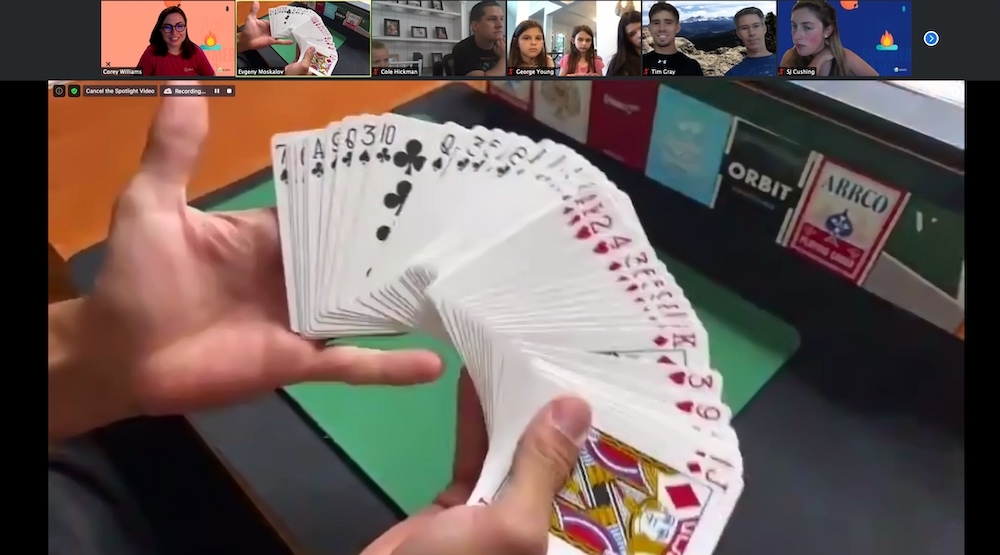 Magic happens at Summer Camp.
Asynchronous schedules
Even with leadership buy-in, and our Source Code encouraging space and time to break out of the daily monotony, scheduling funtime around releases and milestones can be difficult. So the Workplace team made sure everything was recorded so that Elasticians who could not attend Summer Camp in person could do the activities in their own time.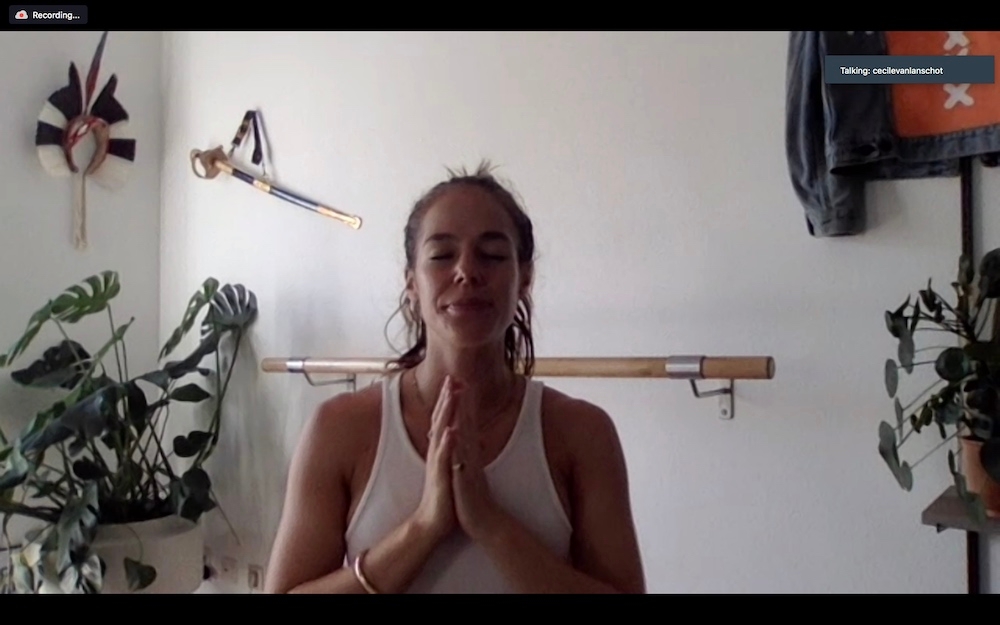 Mindful yoga gave Elasticians a chance to work out the knots.
There were also interactive activities that Elasticians could participate in whether they attended Summer Camp or not. Over 60 Elasticians submitted their favorite tunes to the Elastic Summer Jams playlist. These songs come from all over the world, spanning genres, decades, and languages, but they all share one thing: Elasticians think they go hard. Elasticians also helped create a collaborative cookout and cocktail recipe book where they could share their favorite seasonal foods and beverages.
Takeaways
Overall response to the event was great. Over 295 Elasticians tuned in to live events, with over 424 Elasticians taking advantage of the asynchronous material. Still, there's always room for growth. From the feedback we received, we know that the sessions should be more interactive, instead of static presentations. One comment suggested putting a call out for more internal presenters, like we did for GAH. Also, one attendee asked whether we could create events for particular offices or regions so that local Elasticians could mingle like at physical events. We're looking at how to do all this for the winter event — but hopefully we'll be able to get back to in-person meetups soon enough.
Removing the restrictions of a physical event allowed the Workplace team to do something quick, with agility, and on the cheap. It's difficult to plan yet another event over Zoom, but making Summer Camp optional, allowing for fun and play during the work day, and providing a space for community left those who participated, according to one comment, appreciating the nice breaks from the workday.
Here's looking forward to our winter event!
Interested in joining Elastic? We're hiring. Check out our teams and find the right career for you! Want to read more about life at Elastic? Read more on our blog!