Life @ Elastic celebrates the various ways Elasticians create community, lead by example, and embody our Source Code in everything they do. In this Spotlight we talk to Daniel Palay about his efforts to celebrate other Elasticians and create a global community around our products.
Can you tell us a bit about yourself and your role?
My name is Daniel Palay and I have been at Elastic for six years and one month. I was employee number 72! Currently I'm Senior Manager of Customer Advocacy and I run the customer advocacy functions for the Americas and APAC regions. I'm based in San Jose, California, and have a desk in the Elastic Mountain View office.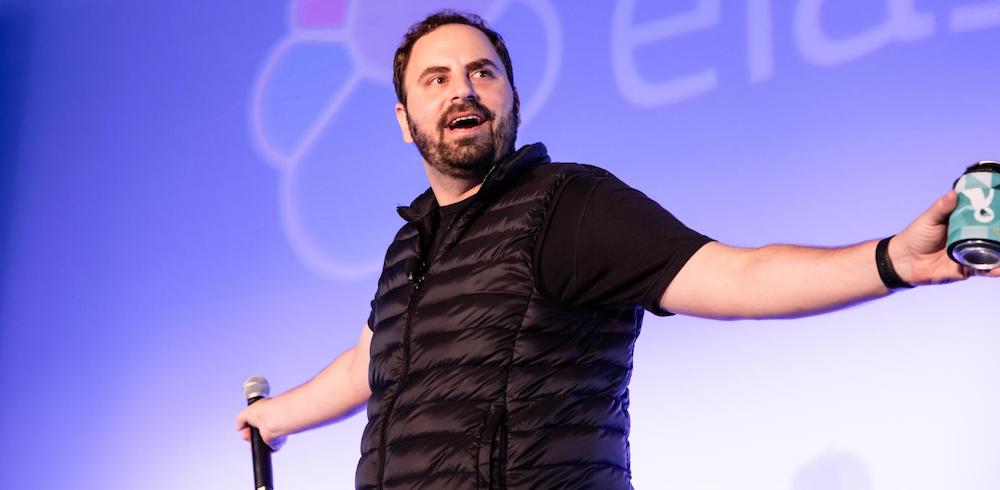 Daniel Palay talking at an event.
Can you describe what your role was like when you started at Elastic and how it has developed into your current role?
I was hired as a marketing coordinator with a specialization in social media. I was tasked with running social media and basically handling any other things that slipped through the cracks. Some of those tasks included staffing booths at events or sending stickers and various other things to our community organizers. About three months into the role, our marketing leader came to me and said, "Daniel, we just got asked to centralize all of our customer stories into one place. Go!" That was in July of 2014. Since then we've built out our customer advocacy efforts into a full-time function and multinational team.
Can you describe what the Customer Advocacy program is and why it's important?
Customer Advocacy captures the stories and the essence of what our customers are doing with our software and helps them become better advocates — not only internally to their own organization but also to help them sell themselves outwardly. Having customers advocate on your behalf, especially when it comes to decision making processes and the efficacy of your products, helps other potential customers see that your solutions work. Advocates say "I put my trust in this company and they've come through for me," and that settles a whole lot of concerns that a company, who might be on the fence about adopting our products, may have. It's our job to cultivate those advocates in whatever way we possibly can.
What motivates you to get out of bed and sign onto your computer?
I think my role not only has the unique ability to affect the outcome of pipeline or the business outcome for our company, but it also has the ability to boost morale for folks internally. When we're able to capture the stories about how our customers are using our software to fight child sex exploitation, for example, or how NASA is using Elasticsearch to further investigations into whether there is water on Mars — that gets Elasticians excited, and makes them feel proud of what the company is doing. This is especially important if your day-to-day work doesn't see these end results. You know, when you're trying to meet your KPIs or your personal goals, sometimes you can't always see the end product. What is it doing to make the world better? What is it doing to make other people's lives better? That's what we're here to show you.
You've sort of become a ringleader, at least in the Mountain View office, and now in the west, of our virtual happy hours. How did that come about?
These gatherings started with the inception of Wine Wednesday. There was a group of us at the Mountain View office who liked wine. Well, there were two of us, and we wanted to share and learn from each other. So we each brought a bottle of wine from our collection to the office and sat in the kitchen drinking. It's an open office, so while we were trying out that wine we both looked at each other and said perhaps we should invite other people so as to not have executives walk by all of us and be like, why are these two people just sort of sitting here on their own, drinking wine?
I sent out an invite to say, hey, we're doing this Wine Wednesday thing. It was an opportunity for all of us to talk and engage and learn about our colleagues as more than just their email or job roles. From my point of view, I saw it as a way to treat each other as humans first and Elasticians second, because to get to know your colleague as something more than their KPIs or responsibilities means we'll be more invested in moving this ship in the same direction together. The success of this led us into organizing other events that didn't exactly require drinking (to be more inclusive), like creating a softball team and going to live theater events around the Bay Area.
When COVID-19 forced all of us who usually work at Mountain View to work from home, I decided to extend what used to be our wine gatherings into a virtual happy hour that everyone could attend. It's been really successful and brought together a whole lot of new people.
You are known at the company for doing a shoutout for everyone's birthday over Slack. How and why did that tradition start?
I started the birthday and anniversary shoutouts on March 4 of 2018. The reason why I started it goes back to why we started Wine Wednesdays — how do we include and celebrate more people? But there's a bit more of a backstory here.
When I was ten my Mom was diagnosed with a malignant brain tumor. She passed away when I was 17. In fact, it was May 13, 2003. So just recently I reached a milestone — I have officially lived longer without my mom than I did with her alive.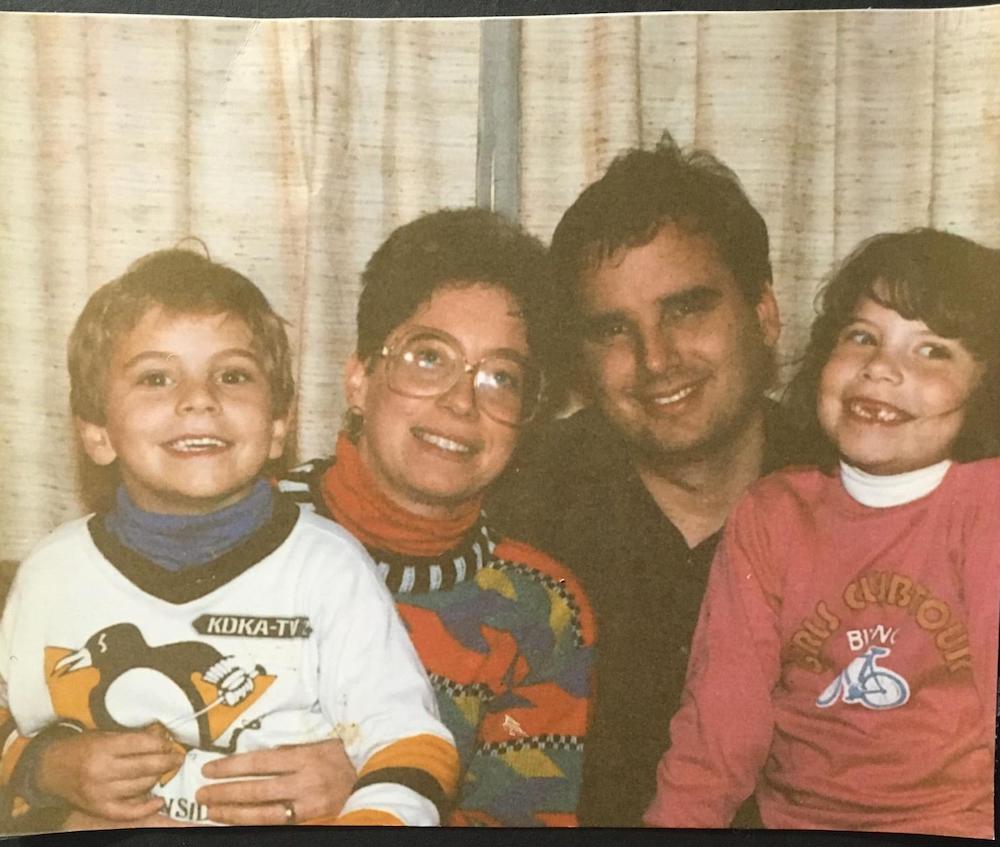 Daniel with his family.
Her early death is why I find myself drawn to celebrating folks as much as possible. I know what it's like to not be able to celebrate with the people you want/love, so if there is even the slightest thing I can do to fill that gap, I will do it. And maybe there are others out there that have that gap in some instance every day (especially now with us all alone or somewhat alone). And if we, as a collective, can provide some uplift and some recognition of humanity, then I'm here for that.
I'm wondering if you've seen an impact in building these communities — not just on the individual level, but from the company as a whole?
I didn't have this huge ambition, that this is going to become a thing that other people are going to join in on. It was just a way of celebrating the humans among us. If it has added to the overall camaraderie, if it has added to the pride people have working here — well, if I ever leave Elastic and this is left? That's a legacy I can be proud of.
If you're interested in joining a company with a Source Code to live by, we're hiring. Check out our teams and find your fit! Want to read more about life at Elastic? Read more on our blog!