In our Leadership @ Elastic blog series, we highlight the innovative thinking behind the action at Elastic — from making distributed work, work, to better enabling the next phase of our progress through consistency, forward-thinking, and collaboration. In this edition, we hear from Hendrik Haas, regional vice president of central Europe enterprise sales.
What do you like to do in your spare time?
I like to spend a lot of time with my wife and two kids. My daughter is 16, and my son is 19.
I also love sports. I'm a cyclist and jogger, and I like skiing in the wintertime. I also love driving classic cars on the weekends.
Did you always want to be in sales?
I realized sales was the perfect job for me while I was in university studying business administration and engineering. During my studies, I did some practical internships. One was a six-month engagement in a sales division for a larger software company, assisting the sales manager and sales team. I knew then that this was what I wanted to do.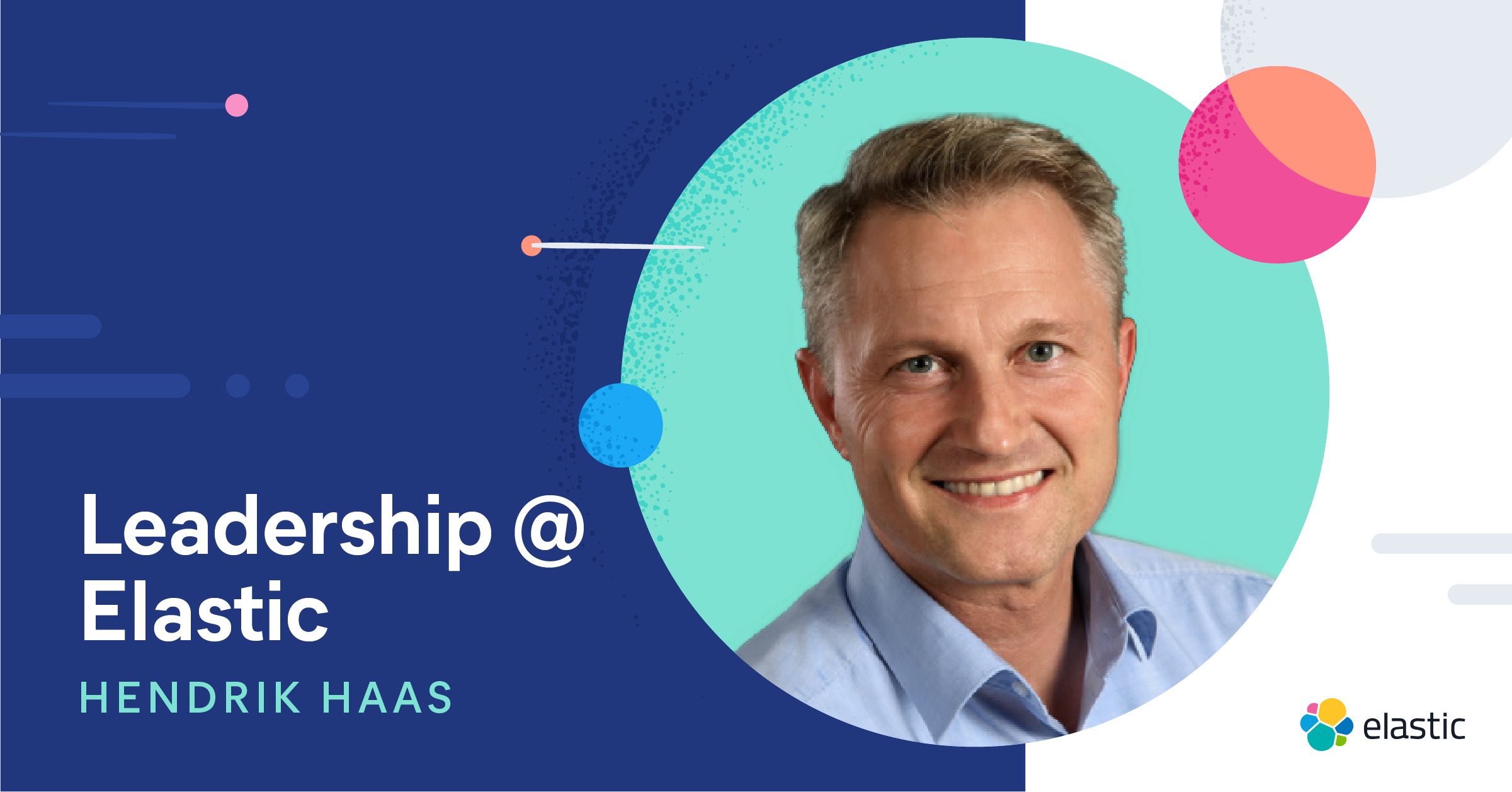 What do you think is the best thing about Elastic?
I think there are two things: the extraordinary culture and the great products that we have. I think the combination of the two is unique. Sometimes you have one without the other. To have both is awesome.
Is there something special about the Elastic sales culture?
Our sales culture has the Elastic Source Code at its foundation, which makes it unique. People can be who they are at Elastic. Elastic is the first company I've worked for that explicitly lives this approach in a sales environment.
Our sales people are extremely ambitious. When you combine ambition with the flexibility we have, and the confidence and trust the company instills in us, we can be creative and effective in accomplishing our goals.
Additionally, the Elastic sales culture is unique because teams collaborate much more effectively across the business than at other companies I've worked for — we learn quickly by sharing successes, best practices, and all the things that work well.
In what ways are you helping equip your team with the skills they need to be successful?
We educate our teams on the business specifics of various vertical markets like retail, manufacturing, and finance and how our solutions positively impact such verticals' business results. We also encourage our sales executives to take part in executive-level events, to see what is important at that level. That way, our conversations with customer management can focus much more on business value.
In sales, we need to be on top of all the new business advantages that new features offer. We are constantly adapting our messaging and developing new customer approaches to ensure our customers are getting the best value out of our products. I encourage my team to explore and give positive feedback and share their experiences internally. Sharing best practices and knowledge is an essential element of our learning culture.
What are you most excited to share with potential candidates about joining Elastic?
We have great software and a huge addressable market. We will continue to grow as our customers learn more about our products and services and how they can leverage Elastic to get even more business value from us with more use cases. There is just huge potential for growth there. This is an ideal time for ambitious sales people to join!
I want to again emphasize the culture here. Candidates will get the first glimpse of our culture through their initial interviews with our HR and recruiting team, as well as with the great colleagues they'll have an opportunity to speak to during the interview process. Everyone is so humble, ambitious. It's impossible not to want to work with such an enthusiastic team.
How do you manage a team distributed among so many countries?
I'm mainly responsible for managing the teams in German-speaking countries like Germany and Austria. Still, it's a distributed team, and I'm managing people in various locations outside these two countries.
We work collaboratively so that every person can do their best work with their individual needs for freedom, coaching, etc. When team members need support, they know I'm always there to coach them. We communicate very well internally, be it by video, phone, instant messaging, or whatever is appropriate. It is important to me to be very approachable. Everyone on the team is very ambitious and bright — and thanks to our culture, they deliver exciting results.
What are you most excited about in the coming year?
I am looking forward to working with a great team of sales executives! Our team has grown a lot since I joined in 2019. I have roughly doubled the size of the team. This growth is excellent, and the demand in the market just keeps increasing. Elastic is recognized as a provider of great software and a great employer.
One of the most exciting things we do is win new customers. I am excited about the growth and new logos we will add to our already extensive client base. Even with the large Fortune 500 accounts that we have, there's always a new division or department to win and new use cases that help our customers extract more value out of Elastic products.
Interested in joining Elastic? We're hiring. Check out our teams and find the right career for you! Want to read more about life at Elastic? Read more on our blog!