Elastic believes in giving back, both by supporting the communities in which we live and work, and recognizing that participating in these activities can inspire and enrich our lives in unexpected ways. That's why we offer our Elasticians volunteer time off (VTO) to foster a culture of caring.
The Helper Node blog series shines a light on the inspiring ways our Elasticians use their volunteer hours to help their community and the world at large. In this edition of the Helper Node series we meet Samantha Wessels, who volunteers her time with South African NGO Rock of Hope.
Can you tell us a little bit about yourself, what do you do at Elastic?
I joined Elastic over two years ago, in 2018. I've been the VP of Sales for EMEA since then. I previously worked at Data Dimensions for 15 years in various capacities.
Samantha presenting at the Elastic Global All Hands event in May, 2019.
What is the organization you have chosen to support?
I volunteered with a small charity in Magalieskruin, Pretoria called Rock of Hope. They're an orphanage run by a husband and wife team. Just two people, Mientjie and Wouter. Very small. Mientjie is a teacher at a school, and Wouter is currently unemployed due to COVID-19. They work with local hospitals and social services to take in and place children who do not have a family into new homes. Over the last six years they've had 158 children under their care. The majority of those children have been adopted. They've even adopted a few children themselves. They currently have 12 children under their care. They really look after these children. They love and nurture and give affection. It's quite an amazing thing to see.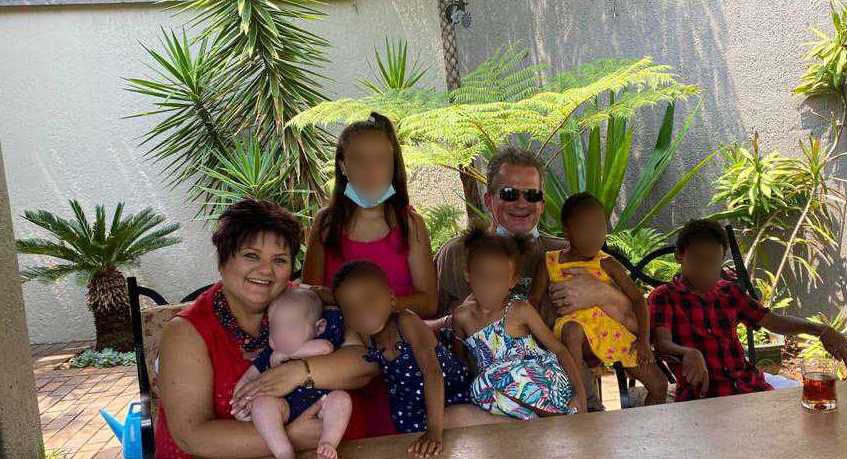 Mientjie and Wouter, the founders of Rock of Hope, with some of their children.
Can you tell us how you became involved with this organization?
I came to Rock of Hope because some good friends of mine asked if I wanted to get involved. My friends sit on the board of the orphanage, so I knew that if I were to raise funds and volunteer everything would be well managed. Children have always been close to my heart, especially children in need, so I was eager to volunteer my time.
What does your day look like when volunteering?
My family and I flew down to South Africa to visit and volunteer at the orphanage. My family and I packed extra suitcases and brought 80kg of clothes with us to donate. The children were really excited to receive them. While visiting the orphanage we sat and played with the children, and helped tidy up throughout the day. The majority of our time was really just spending time with the children and offering moral support to the social workers and the staff who work in the orphanage. It was all about lending a helping hand.
In addition to those clothes and the assistance on site, we were able to raise £15,000 through Elastic on Giving Tuesday in December 2020 to give to the orphanage. Elastic matches Elastician donations throughout the year, and this really augmented the already generous donations given for our fundraiser. The money was used on a variety of things. Rock of Hope really needed a van, kind of like a minibus, for transportation of the kids, and they were able to buy a new one with some of the money we helped raise. They also purchased some solar panels to lower energy expenses, and used some of the money for nappies, medical bills for the children, and other essentials. Rock of Hope is so small. Being financially independent of any large organization, and always battling to get any kind of funding from the government, they rely heavily on these kinds of donations.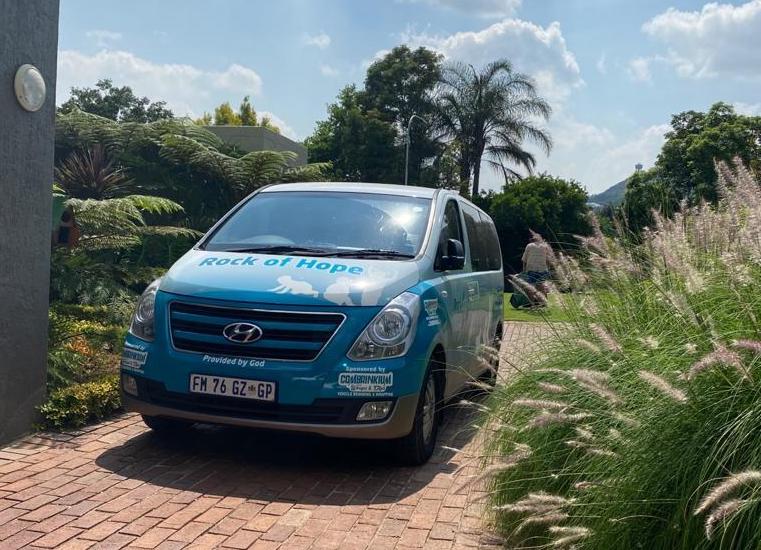 The pictured van was purchased with the help of matching donations from Elasticians.
What's your one take away from this experience?
I feel like at Elastic we're so blessed to have an income and to have job security and stability and to work with such great people. Being in that position, I truly believe it's important to keep in mind that the more you give, the more you receive. Even just sitting and playing with the children makes such a difference — giving them some stimulation and a little bit of love. The reward is when you see the faces on the children, and what relief the little bit of extra help brings to the couple who run the orphanage.
Being in a leadership position at Elastic, how did you get your team involved?
I told some of my team members about the initiative and they were very eager to contribute donations to the cause. Some of them even asked their families. I know one or two people's children gave their own pocket money to help out! Once the donations were made I made sure to share photographs and videos of the kids receiving their clothes, as well as some pics of the van and the solar panels. It's important for people to see that their contribution is real. Parting with £300 or £50, whatever the donation, you want to make a difference and seeing it makes you feel a part of something bigger.
Any last thoughts?
This initiative really proves that if you have a little bit to give, you can really make a big difference in someone's life. It can bring so much joy.
Interested in joining Elastic? We're hiring. Check out our teams and find the right career for you! Want to read more about life at Elastic? Read more on our blog!