We were in the middle of planning our annual global all-hands (we call it "GAH") when the COVID-19 pandemic really started to escalate, and we realized gathering in a physical location as we'd planned would not be possible.
Naturally, we were crestfallen. As a globally distributed company, we place a lot of value in getting face time with our colleagues. While it comes at the cost of travel time, jet lag, family care, and an inbox build-up to marvel at, that element of just "being there" provides a hard-to-replace energy, focus, and connection.
In a time of uncertainty, we felt that gathering together was more important than ever to build human connections and rally behind our plan for the new fiscal year. And if we couldn't do it in person, we would take this as an opportunity to create something special and impactful in virtual space with an Elastic approach.
But the question remained: what would our virtual Elastic GAH look like?
Creating a GAHthering space at home
As the name entails, the first mission of GAH was to bring everyone together. Elastic is distributed by intention and design. We're all over the globe and used to operating virtually, so executing GAH in this format was a natural evolution of how we've built and operated our teams.
But we didn't want GAH to be a series of back-to-back calls that ran from morning till night. No matter how valuable the content might be, Zoom fatigue is real, and we wanted Elasticians to feel engaged each day.
To address this, we decided to break things up. Instead of a one-week event, we split it into a two-week jamboree: the first week was dedicated to our sales kickoff (SKO) and the second dedicated to our engineering all hands (EAH). This shift meant that instead of having full eight-hour days, we could set up half-days with four hours of content.
We believe applying new learnings almost immediately is a powerful way to retain new information. The half-day approach allowed for that. For example, an Elastician could take new product messaging from a session in the morning and apply it to a meeting or an email conversation in the afternoon. Regardless of when an Elastician tuned into the sessions, there was still a time in their to put what they learned into practice.
We also had to account for scheduling across time zones — a daily exercise for any Elastician. We took care to record everything (another common practice), but we also held special sessions twice a day. For example, "ask me anything" sessions with Elastic Founder and CEO Shay Banon were scheduled at both West Coast US- and APAC-friendly times to accommodate our colleagues around the world. Even then, if someone missed a session or wanted to revisit it, everything was stored and accessible in a central repository.
You're now tuned into GAH TV
We also wanted to add a little bit of fun to GAH, and a chance for our Elasticians to connect on things not entirely work related. This was absolutely necessary for giving our virtual event the same feel as a physical one, where opportunities for mingling and idle chit chat are scheduled and encouraged.
And so the concept of "GAH TV" was born. GAH TV was a series of "programs" run by Elasticians on a variety of topics. We made an open call to the entire company for TV show pitches. Some programs were closely related to Elastic, such as an introduction to Workplace Search, streamlining workflows, and an email best practices clinic.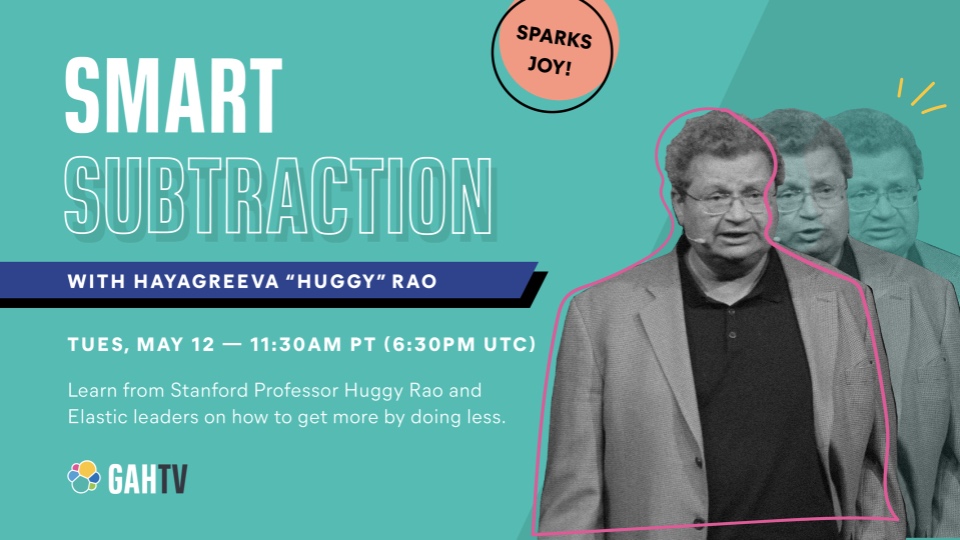 Lessons on streamlining workflows from "Huggy" Rao's playbook, delivered by the Learning and Development team.
But also important were those GAH TV programs on non-Elastic topics such as a half-hour guided meditation session, an Elastic pets meet-and-greet, and a musical jam session. These sessions gave us an opportunity to make a mental switch between GAH content and the rest of the work day. It also brought us closer as a group. Didn't know Deb was a wine connoisseur? Had no idea that Daniel taught creative writing? Well, now you do.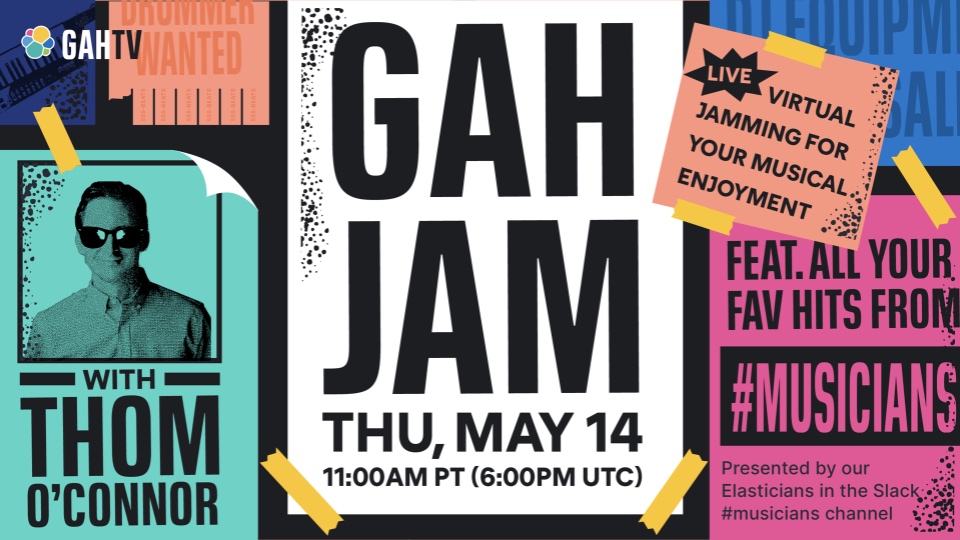 A poster for our GAH Jam session. Don't ask how long it took to figure out how to sync everyone to a beat on Zoom.
GAH TV also gave Elasticians' family members a chance to get involved. Family-friendly sessions, marked in the GAH TV Guide with an asterisk, brought kids and partners out of the background to enjoy a dance break, a drawing session, or an hour of poetry. Even the Banon family got involved with a cooking show hosted by Shay's wife Tal and daughter Ruth. We also created coloring book activities for the kids to scribble on. It was a great way for Elasticians to share the company culture with the ones they love.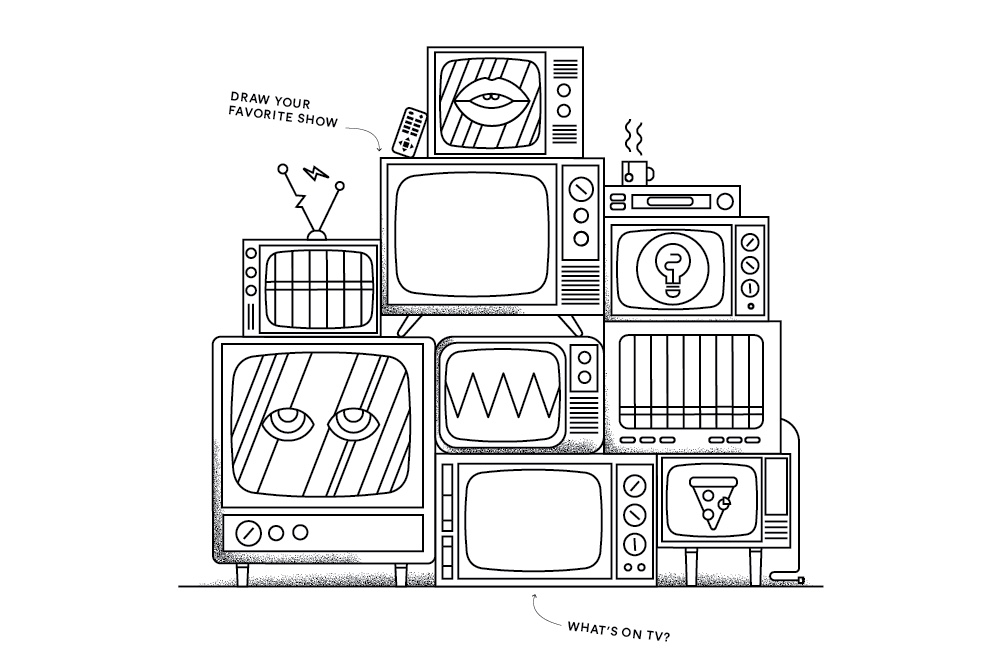 An example of our coloring book for all our junior (and some senior) Elasticians.
Virtual happy hours also gave Elasticians time to connect outside of work time. These virtual happy hours were a time to cut loose and get to know each other a bit better — just like we would have at a hotel bar or a tea shop at a physical event.
Breaking it down
So what did we discover by holding GAH virtually this year?
Post-event survey results revealed that most Elasticians found value in the provided sessions. We held 44 sessions and breakouts across all teams which amounted to over 170 hours of content. GAH TV "aired" more than 32 shows with 40 different presenters and hosts.
Still, we found there is room to improve. For example, how can we increase participation in GAH TV programming? Can we adopt a different approach for scheduling across time zones or surfacing relevant sessions? We also heard that Elasticians felt that the level of discussions was not as in-depth as they typically experience an in-person event. This isn't entirely surprising given the nature of virtual presentations today — crosstalk is difficult, and open chat forums can be more challenging to manage at scale. Still, feedback like this is an important part of the process and we'll take it forward with us.
Though we're distributed by design, executing on a company-wide event like GAH 2020 in the time of COVID-19 required us to think differently about how we bring people together.. How do we continue to make our events engaging, inclusive, and accessible in impactful ways? What learnings can we apply from this experience to more events like GAH in the future?
In the end, we believe that the work we pulled together for GAH 2020 has evergreen applications for future events. It has certainly been an experience that we will carry with us going forward.
If you're interested in joining a company with a Source Code to live by, we're hiring. Check out our teams and find the right career for you! Want to read more about life at Elastic? Read more on our blog!