Embracing equity, crafting your career path, and other lessons from women at Elastic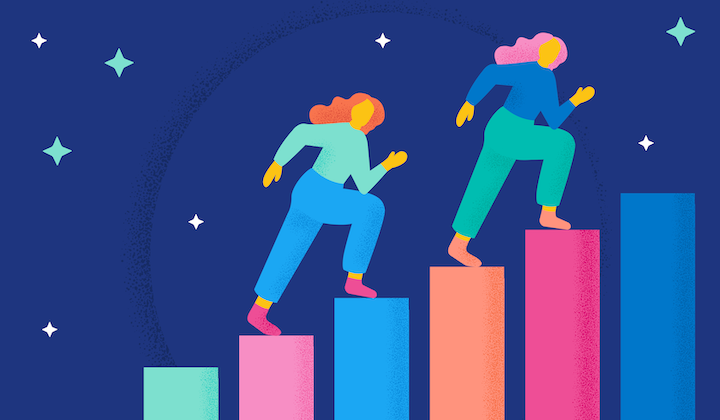 This year's International Women's Day theme is #EmbraceEquity—something we take quite seriously at Elastic. Our commitment to fair pay forms the basis of our compensation philosophy and informs our pay decisions -- around the globe, 365 days a year! We believe in this so strongly that we don't stop with our own internal assessment; we partner with an external consultant to conduct fair pay analysis on a regular basis. In addition, we provide all parents --regardless of gender-- the same amount of paid parental leave within the first year of a child's birth or adoption.
We also have an employee resource group dedicated to women whose mission is to help women develop their careers and ERGs encourage you to come as you are: Meet Women of Elastic leadership skills within Elastic. 
As part of our efforts to increase equity, we share the stories of Elasticians who identify as women. Over the past two years, we've talked to women in multiple countries who hold roles in various industries, at differing levels, and of all ages, about topics they're passionate about.

In honor of International Women's Day, let's revisit some of the powerful and inspiring stories:
Representation Matters 
Bianca Laurendine, Senior Marketing Manager for Elastic Cloud, shares how diverse candidates can break into tech and why you shouldn't be afraid to be yourself. 
Tanisha L. Turner, Senior QA Engineer, works in cybersecurity, a field where Black women are highly underrepresented. She wants to break the bias and encourage more women to join the field. 
Leaders and Mentors 
Karen Penn, Head of DEI and Elastic Cares, talks about what led her to work in DEI and shares her global, distributed approach to DEI at Elastic.
Lisa Jones-Huff, Senior Director, Solutions Architecture, has more than 20 years of experience in security solutions. She shares her story, what makes a good manager, and why mentorship is so important for women. 
As YOU Are
Corey Williams, Workplace Experience Lead, talks about Elastic's accepting culture and how she was able to truly be herself at work. 
Crafting Career Paths 
Alexis Roberson shares how she pivoted from an English degree to a Computer Science one in college and where she's taken her tech career after graduation. 
Alexis Young stresses the importance of pivoting when it makes sense for you and your career. She did so after working in accounting for many years and shares her journey to becoming an HR leader.
Finding Balance for Working Parents
Raya Fratkina, Director of Engineering, is a mom of three and has helped her children navigate mental health struggles while keeping her job at Elastic. She has tips for other parents going through something similar. 

This Women's History Month and beyond we celebrate women, tell their stories, and encourage them to bring their whole selves to work. Join us.