Elastic's Courtney Wilburn on the 3 ways leaders can inspire their teams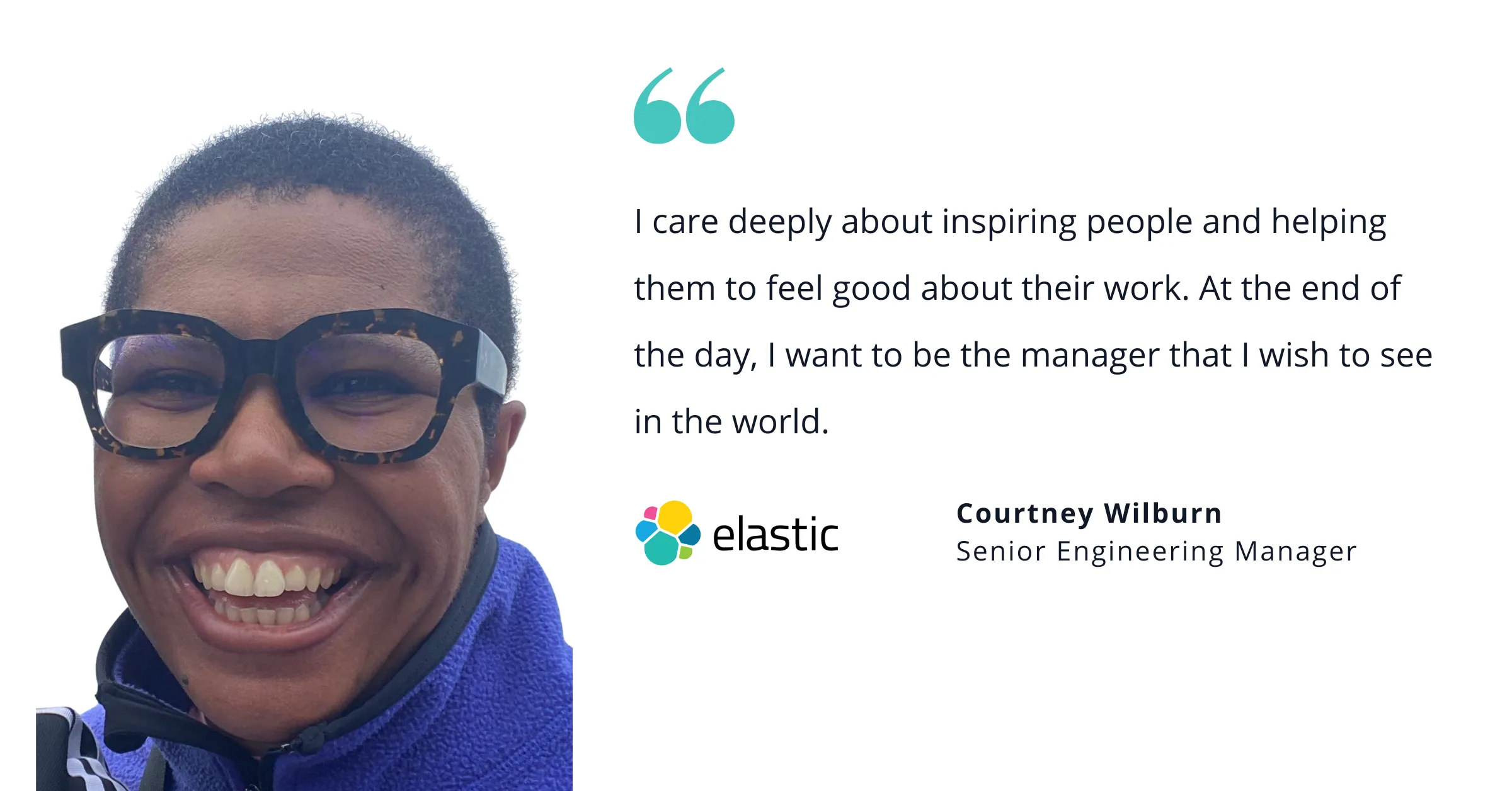 Courtney Wilburn's colleagues recognized her management potential early in her career.

"I tried engineering leadership in my early 20s and wasn't ready for it then. I was thrust into it really young because I had the skills and was seen as a natural leader. But, it wasn't the right time," she shares.

Instead, Courtney invested in honing her programming skills to become a stronger individual contributor, recognizing that she still had room to grow before taking the next step in her career.

After focusing on skill development, Courtney found her way back into engineering management with a newfound appreciation for the responsibilities of leadership. Now a senior engineering manager at Elastic, she pulls from her learnings as a young professional to boost team morale, encourage honesty, and lead with empathy — the foundations of her management philosophy.

We sat down with Courtney to hear more about how she leads a fully-distributed team of engineers, along with her top three tips for how others can inspire their teams.
Finding her way back to leadership
When Courtney was ready to shift gears and re-enter the world of leadership, she was drawn to the challenge of working in a fully distributed environment.

"I was working a hybrid job with The New York Times, but everyone was based in the United States. I thought it would be a unique challenge to lead a team of people around the world," Courtney shared.

Elastic caught her attention for both the technical domain complexity and the remote element of the technology organization.

"You have to be considerate of people's time in a different way with a distributed team all working toward the same goal. I knew this added challenge would humble me and help me to grow," Courtney shares. She accepted the role of engineering manager and began to develop her own leadership strategy with new eyes.
The importance of boosting morale
One foundation of Courtney's management philosophy involves maintaining high morale, including ensuring her team members feel passionate about what they're producing and understand the importance of their work.

"Even if we don't hit our initial goals, I want my team to recognize their contributions," she says. "For example, if someone is working for a product team and they're releasing a piece of software that ends up not having all of the functionality they originally aimed for, but it does what the customer needs it to do, that's okay for now. I want my team to feel satisfied."

Courtney also aims to boost morale by building confidence. When reflecting on her own journey as an individual contributor, she remembers what it felt like to have someone take a chance on her and trust her abilities.

"That definitely inspired me," she says. "I know how good that feels, so I want to make sure that my teams feel that same level of support and encouragement."
Opening the floor to honesty
Courtney also fosters a culture of honesty and transparency on her team, starting with staying candid about the ins and outs of working in engineering.

"I tell my team that there will be some unglamorous parts of this, right? But understand that the final product will be so cool. We're building something that's filling a gap in a meaningful way," she says.

Courtney also opens the floor to honesty from her team members by encouraging them to share feedback and concerns.

"I recognize that every single member of my team has been 'failed' by someone at some point in their life," she says. "I want to foster an environment where if I am failing someone, they feel comfortable talking to me about that."

Courtney will then respond with empathy. By relating to her team members, she creates an environment where people don't steer away from vulnerability.

"I want people to feel comfortable talking to each other, sharing where they might be falling short, and asking for help," she says. "We're all here to work together, despite being fully distributed."
3 ways to inspire your team
Whether you're new to management or an established leader, Courtney leaves you with three tried-and-true strategies for inspiring your team:
Show up and be supportive: Inspiring your team necessitates constant support through all types of situations. "Whether you're explicitly asking how you can support your team or standing by when help may be needed, you can boost the overall morale of the team," Courtney shares.

Be yourself: Courtney understands that team members can recognize inauthenticity. "When they know you're being phony, they're not going to want to show up and do the work because you're not being authentic with them," she explains.

Lead by example: From work-life balance to boundary setting, Courtney believes that managers need to model the behavior they want to see on their team. "If you don't have high morale or feel good about your work, your team is not going to either," she shares. Show your team members that you trust them, you believe in them, and you want them to succeed.
"I care deeply about inspiring people and helping them to feel good about their work," Courtney says. "At the end of the day, I want to be the manager that I wish to see in the world."

Interested in working alongside leaders like Courtney? Check out the open roles at Elastic here!
This blog post was originally published on the Power to Fly website.