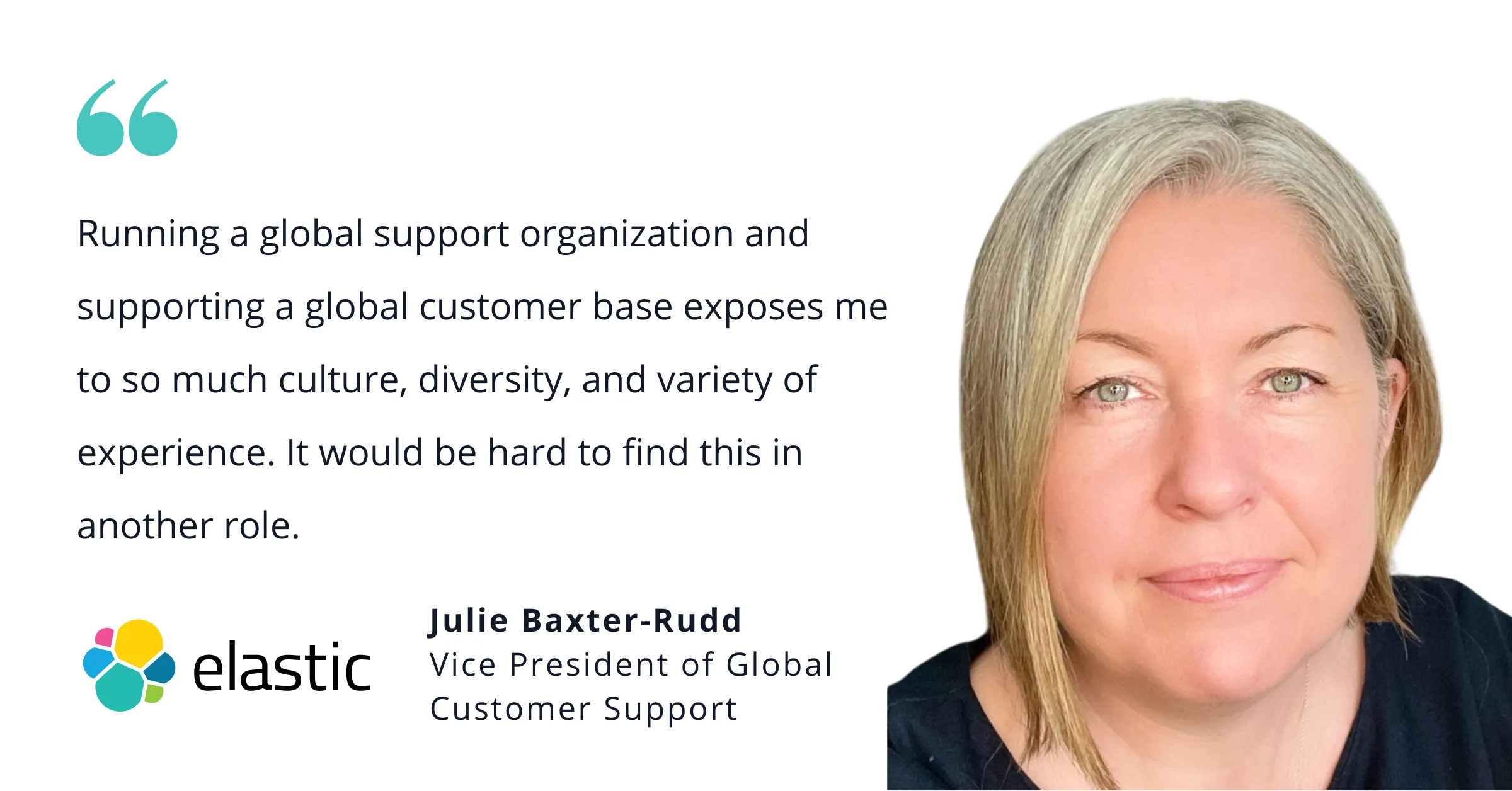 Elastic's Vice President of Global Customer Support, Julie Baxter-Rudd, got her start in technical support over two decades ago.

"I was super lucky to find support early on," she says with a smile. "It is a people business, from the customers we serve to the teams that help deliver the service. I love people, in all their glorious forms."

It's the people that led Julie to Elastic, and her face lights up when she starts talking about her team. "Running a global support organization and supporting a global customer base exposes me to so much culture, diversity, and variety of experience. It would be hard to find this in another role," she says.

You could say that Julie is right where she needs to be, and her wealth of experience in technical support has given her valuable insights on how to excel in the field. We caught up with Julie to hear how she's built a thriving career in technical support along with her top tips for how you can do the same.

Climbing the ladder with curiosity and support
Julie's first role out of college was as a support engineer intern with CA Technologies. Over 22 years, she worked her way up the company's ladder, holding positions across support planning, business analytics, support delivery, support center leadership, and escalation management.

"CA had a huge portfolio of products, so while 22 years seems like a long time, my job changed regularly. I was never bored, and I was always learning," she says.

She points to her curiosity as a leading driver of her growth. "During my career, I have always looked for ways to improve things, identifying opportunities and volunteering to go figure out how we plug the gap — or talking about the gap so much that I was given the job to fix," Julie adds.

This curiosity afforded her various opportunities to move up and around. And since those shifts weren't always seamless, Julie highlights the importance of leaning on her team.

"I can't recommend enough to surround yourself with people who have your back, who allow you to make mistakes, learn, and grow," she says. "I have been lucky to work with some incredible and supportive people, but in truth, it's a choice. If that environment was not there, I would have been miserable and moved on."

After a three-year stint at OpenText, Julie made another career-defining choice. She joined Elastic as vice president of global customer support, knowing that the team mentality that had fueled her career growth up to this moment would continue at Elastic.

"I could tell from the start that the sense of team here is very strong. Things can be tough, software is never perfect, and customers can be creative in the problems they create, but this team is human in their approach. Not only do they take care of our customers, but they absolutely take care of each other," Julie says.

Empowering others to excel at Elastic
As a vice president, Julie now focuses on helping her teams find success — paying forward the support that enabled her own career.

She mentions Elastic's career map, which allows the Support team to see where they could potentially move around within Elastic. "It looks like the London underground," she laughs. In tandem, Elastic's "Job Framework" helps team members to understand what each level within Support is accountable for and the relevant skills needed to reach a promotion.

"Each support engineer is encouraged to build out an 'Individual Development Plan' and define what skills they want to develop over the next six to twelve months. The managers are there to help them do this and provide resources where needed," Julie shares.

"The technology industry is fast-paced, and Elastic is evolving at a similar speed. I encourage my team to have a growth mindset, leveraging opportunities to grow and develop their skills."

4 tips to grow your career in technical support
"Elastic Support is a busy, hardworking team who care deeply for their customers and each other. It's a fun place to be and never boring," Julie shares, emphasizing how Elastic's Source Code is a living, breathing thing. "I just try to provide them with the resources they need and then get out of their way and watch the magic happen. It's a thing of beauty!"

So, what exactly are "the resources they need"? We asked Julie to share her top four tips for growing a career in technical support. Here's what she said:

Don't forget about change management.

 

Julie opens up about a road bump she hit early in her support career. Her first large project failed because she was solely focused on producing the best solution — and didn't consider its adoption. "I knew I could not make the same mistake twice, so I went deep into change management," she shares. "Now, I baseline any team I have with a day-long change management workshop to ensure we focus not only on project management but the adoption of the project and change as well."
Embrace a growth mindset.

 

"Things change, and staying still means we fall behind. Every day is a school day," Julie says.
Be the port in the storm.

 

In support, software doesn't always behave as expected and emotions can run high when things go wrong. Julie encourages you to take a deep breath and stay calm. She says, "If you can treat something with a sense of urgency while leaving the panic at the door, your customers will love you for it."
Find the right gig.

 

Julie is a big supporter of developing self-awareness and understanding the type of work that energizes you. "We're at work for a long time, and when you are stuck doing work you don't enjoy with people who don't necessarily appreciate you, then it's time to leave," she shares. "I had to make that decision a couple of times in my career, and while it is scary and super uncomfortable, you need to take the leap. That said, when you find the right job and the right team, work feels less like work and more like a career and vocation."

Want to work alongside leaders like Julie on Elastic's Support team?
Check out Elastic's open opportunities here.
This blog post was originally published on the
Power to Fly
website.