Use social sentiment to understand your customers
Real-time search allows you to measure sentiment change immediately
Analyze metadata for richer, more complete customer insights
Tap into millions of real-time data points to make actionable decisions
Create a real-time decision making platform
Understand social data from Twitter, Facebook, blogs, and forums
Networked Insights quickly scaled from indexing six months of live data to thirteen months
Use Elasticsearch to easily search Apache Hadoop data
When it comes to social data there are many tools out there that help marketers measure the effectiveness of their campaigns, but there is only one solution – that with the help of Elasticsearch – is changing the way marketers make data-driven decisions. That solution is Networked Insights, a 7-year old Chicago-based company that has been leveraging real-time consumer data to transform the way major brands like Samsung, MillerCoors, Revlon, and Procter & Gamble solve their marketing problems. Networked Insights accomplishes this through collecting consumer data from all across the social web – from forums like Reddit to blogs like Wordpress and blog commenting platforms, to other social media networks like Twitter, Facebook, and Tumblr. Using the millions of data points that come in daily from these data sources, Networked Insights is able to segment the data into key target audiences that in turn provide actionable insights for marketers. The result is smarter marketing decisions.
If we had to reindex all of our data it would take us three months in other technologies. It took us a day and a half in Elasticsearch.
– Brad Burke, CTO, Networked Insights
Networked Insights discovered Elasticsearch more than two years ago when they were looking for a technology that could jointly search and index data in real-time. Their previous solution required scheduled downtimes that slowed or prevented searches from occurring. More importantly, additional critical resources were always required to re-index all the data and made scaling with their ever-growing data a major business problem. Elasticsearch was chosen to replace their previous solution because of it being the only real-time search engine available. As a result, Networked Insights was able to not only scale with their growing data, but also increase their window of live searchable data from six months to thirteen. Real-time access to that volume of historical data is unparalleled to any other analytics provider.
In addition to improving the speed and scale of their marketing decisions platform, SocialSense, Networked Insights was able to leverage Elasticsearch to facet a richer real-time dataset using the implicit and explicit data embedded within social data. The richer explicit data allows SocialSense users to search and segment audiences based upon metadata like geo-location, preferred mobile device, or demographics. The access to more implicit data enables Networked Insights to classify all of their data it fetches from across the social web into searchable data like purchase intent, audience interest affinities (through tracking thousands of celebrities, brands, TV shows, etc.), and sentiment.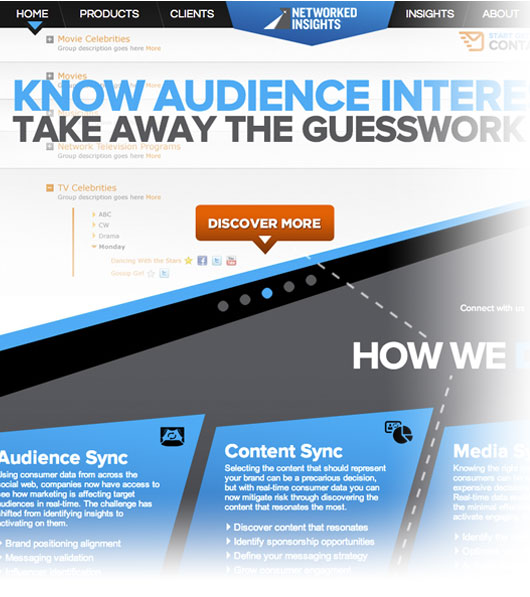 These enhanced capabilities are leveraged on a daily basis for all of Networked Insights' clients to inform a wide-range of marketing decisions, but below are three examples of common business problems Elasticsearch's search and analytics engine has empowered:
Brand Positioning & Competitive Intelligence: Elasticsearch platform's ability to facet and search big data in real-time across multiple social media channels has provided rich audience insights to brands when they are re-evaluating their brand positioning or conducting breakthrough competitive analysis across brands. As a result, Networked Insights has de-risked and accelerated many challenging repositioning for clients.
Product Launch: Elasticsearch's platform has helped enable Networked Insights to classify and segment target audiences in real-time based upon explicit and implicit consumer data. This has helped brands make strategic decisions on the timing and location of specific product releases, as well as what creative would resonate most with their target audiences'. As a result, Networked Insights has helped increase awareness and adoption of client's products and improved sales numbers beyond their original predictions.
Crisis Management: With Elasticsearch's ability to consume, index, and search massive quantities of data in real-time, Networked Insights has the ability to zero in on specific minute-by-minute conversations to empower brands to evaluate negative consumer reactions while in-flight to a product launch or specific advertisement. As a result, Networked Insights has successfully identified client crises before they have had an opportunity to escalate, and provided actionable insights into how brands should best react.