To all of our Elastic Education Alumni around the world, we want to take a moment to say thank you! We appreciate the opportunity to meet you, to teach you, and to listen to your insightful feedback. As Elasticsearch has grown in popularity and use around the globe, we've made a sincere effort to continue to expand our training reach, visit more cities, and improve the quality and breadth of our courses.
To date (and to the best of our ability to accurately count and visualize in a Kibana geohash grid), we've had thousands of students complete one of our nearly 1,000 in-person courses delivered around the world: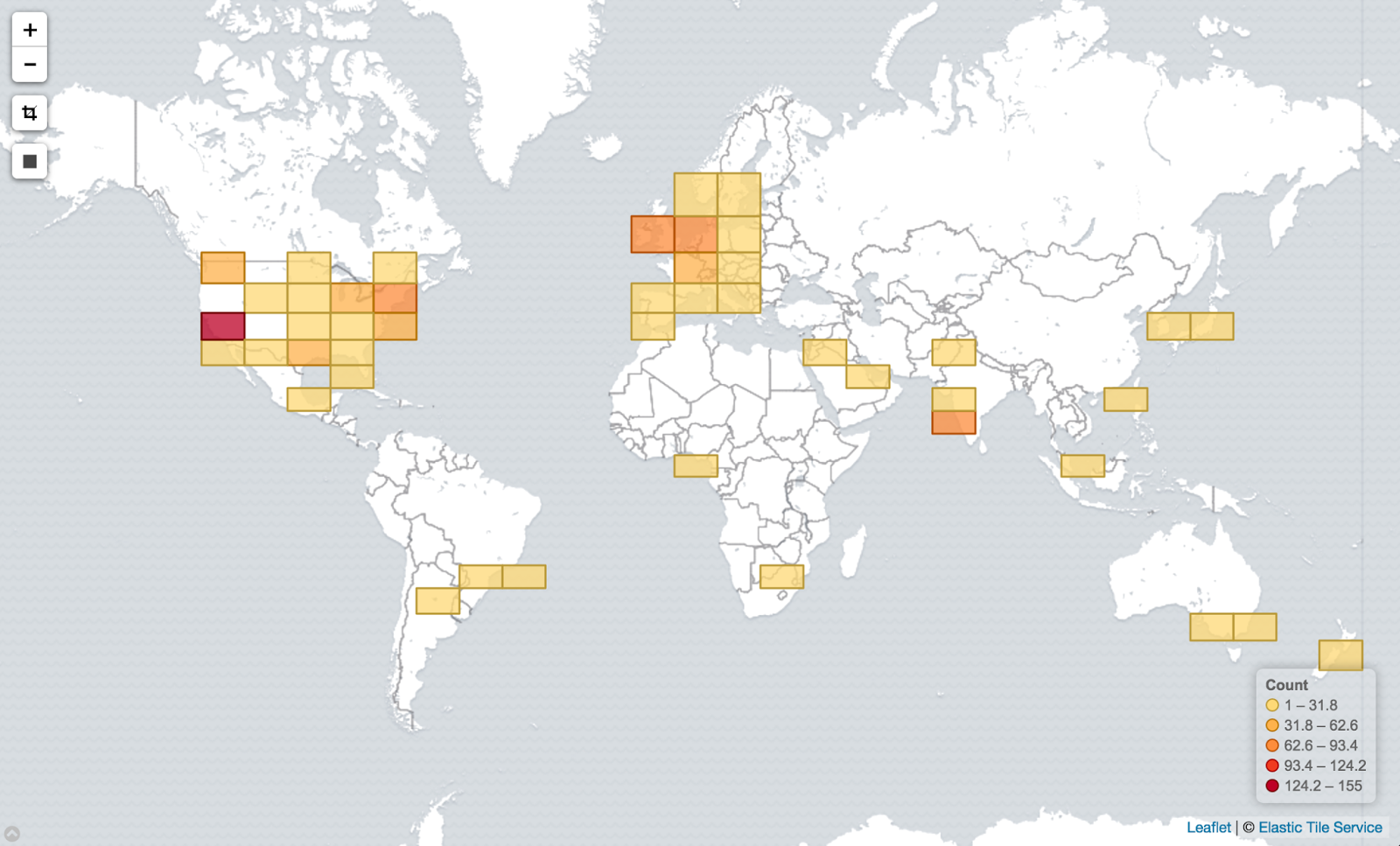 This Kibana-generated word cloud from our survey feedback says it all: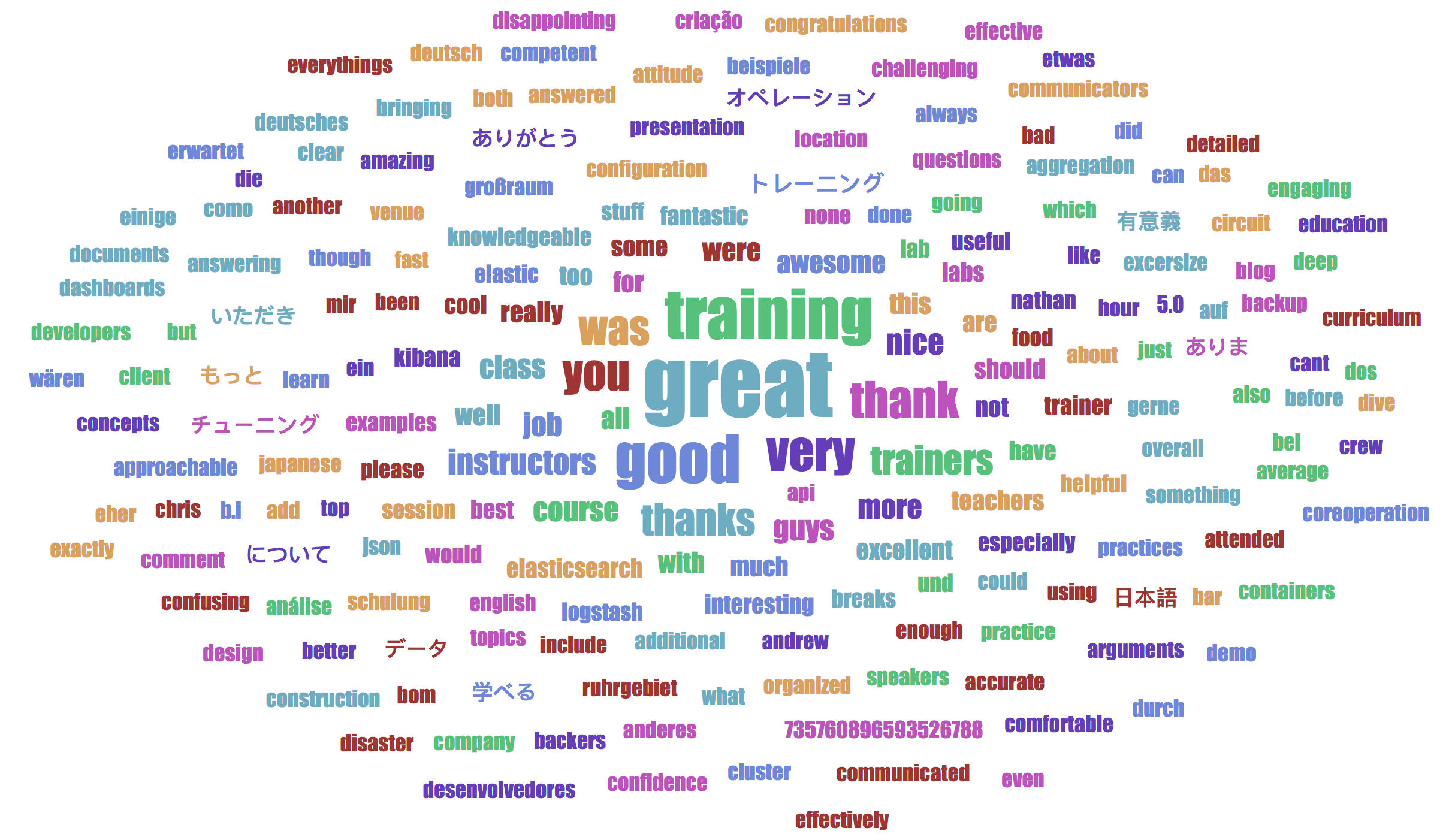 The Elastic Education team is excited to announce Virtual Classroom Training. We recognize that taking time out of your busy lives to travel to our course locations and spending 8 hours each day can be difficult. Students have been asking us for real-time, instructor-led online training, and we're finally ready to deliver. We've spent the last few months researching methods and technology to bring the highest quality virtual training experience to you with the personal attention you've come to expect from our in-person courses. With our virtual classroom training, you'll have console access to a fully-functional training VM while also being able to see, hear, chat with and talk to your teacher privately and class publicly, live in real time. We're genuinely thrilled and you're going to love this experience!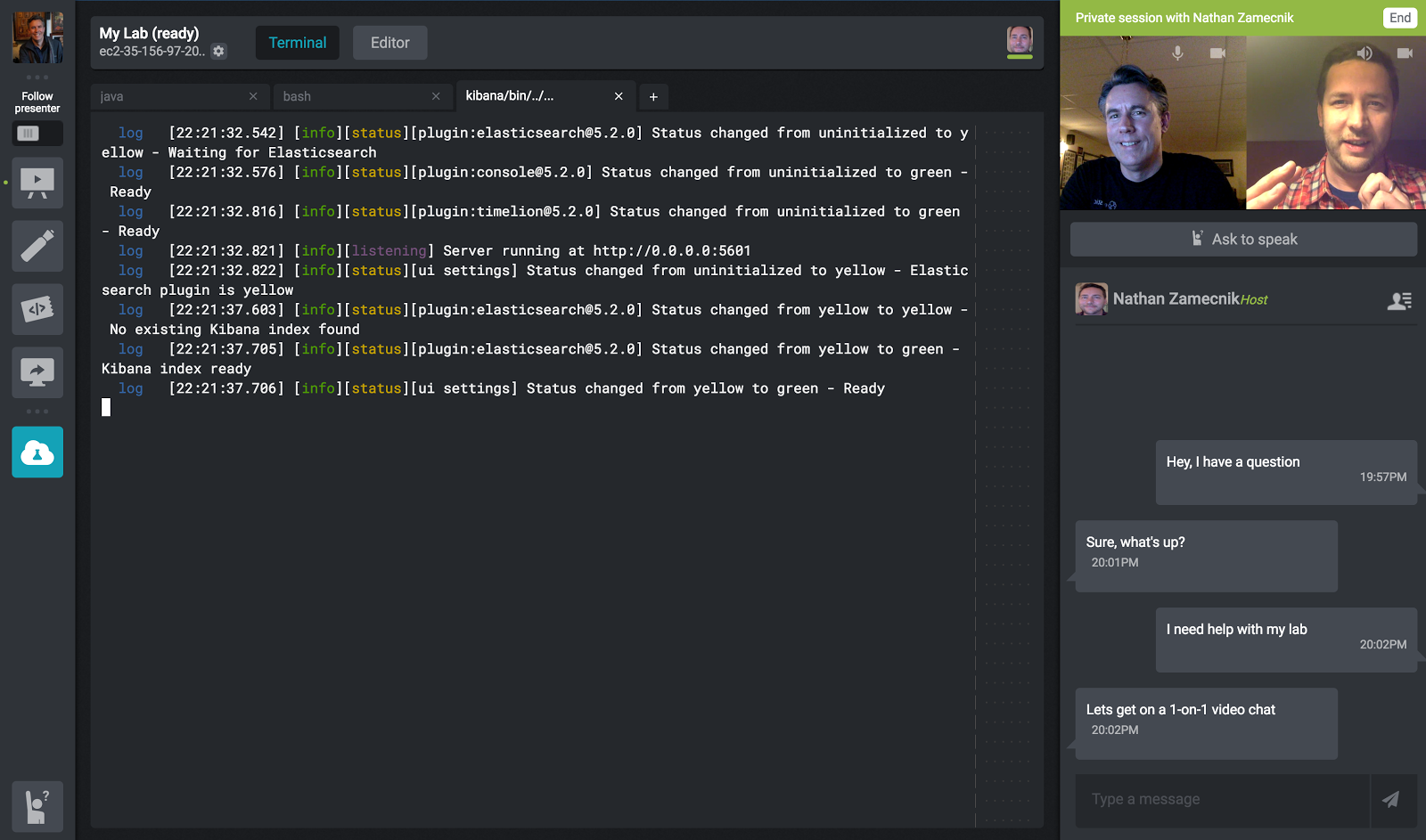 The first delivery will be our Core Elasticsearch: Developer course delivered in a virtual classroom on Feb 21-24, with more courses coming soon. Virtual classroom training will offer our same in-person courses in a manner where the students and instructors can be anywhere. The class is conducted live by the same expert Elastic engineers that deliver our in-person trainings. Students use their computer where only a modern browser is needed to watch slides, audio, and video presented by the instructor! The labs and hands-on parts are even conducted on remote servers, so no special software or requirements are needed on your computer. We are excited to bring share this new delivery format with you:

We've already launched two On-Demand trainings you can sign up for today — Elastic Stack: Logging and X-Pack: Security. We are already producing and plan to release many more On-Demand courses over the year including courses covering our X-Pack products, Client API Libraries and courses on other topics you've asked for such as Geo, Upgrading and Ingestion. Stay tuned and register at any time.
As a special thank you, please use this coupon code 6002-41B7-9CBB for an additional 20% off a public or online course of your choice, and come say hello.