Elastic believes in giving back, both by supporting the communities in which we live and work, and by recognizing that participating in these activities can inspire and enrich our lives in unexpected ways. That's why we offer our Elasticians volunteer time off (VTO) to foster a culture of caring.
The Helper Node blog series shines a light on the inspiring ways our Elasticians use their volunteer hours to help their community and the world at large. In this edition of the Helper Node series we meet the team of Elasticians volunteering their time with the Ronald McDonald House.
The sun glistened on a familiar painted smile of a beloved yellow and red clown.
This iconic statue happily sat on a bench to welcome our team of Elastic volunteers for a day of volunteering at the Ronald McDonald House Charities (RMHC) here in Palo Alto, CA.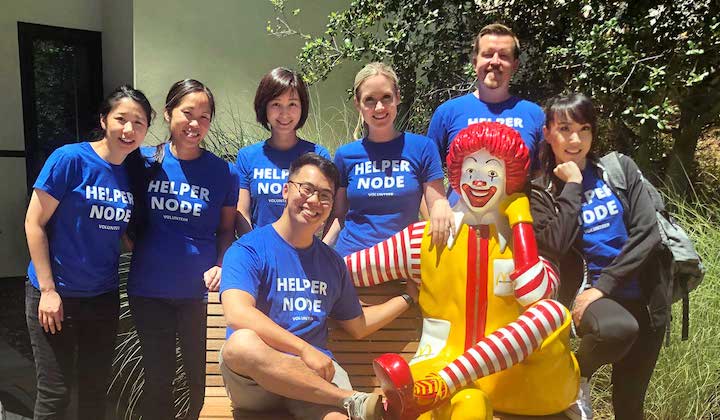 Elasticians with Ronald in Palo Alto.
With our busy schedules here at Elastic, we are not often able to carve out quality time with our fellow teammates outside of projects and work. While there's many exciting team-bonding activities out there — like scavenger hunts, rope courses, and go-karting excursions— there is something special about working together towards caring for your fellow neighbor and thinking about their needs.
Our team was looking for a way to bond, but we also wanted to do something good in the process. So, several Elasticians working from the Mountain View office — Caleb Wang, Christine Gan, Michael Woroniecki, Sara Sia, Sophie Jervis, Sylvie Shimizu, and Yichun Hsieh — contacted RMHC to volunteer our time preparing and cooking lunches for 120 families as part of the MegaBITES program.
Ronald McDonald House Charities is an incredible organization. They have branches all across the U.S. and abroad set up to aid families with very sick children. By alleviating the families' expenses of room and board while children are receiving medical treatments away from home, the RMHC provides quiet rooms to rest a weary head and serves warm, nourishing meals.
We arrived early at the Sandhill Road house to take a tour of the amazing facilities. We were impressed that RMHC provides thoughtful staples such as washers and dryers for laundry, as well as creative playrooms that any child (and perhaps even an adult) would enjoy.
After the short tour it was time to get down to business: chopping, stirring, and occasionally launching flying bits of veggies into the air. Two hours of prep-work flew by in a flash of the pan! Once the prep was done, mouth-watering aromas of grilled chicken, sautéed vegetables, tortillas, and corn salad filled the air of the kitchen — if you haven't guessed it by now, we made tacos!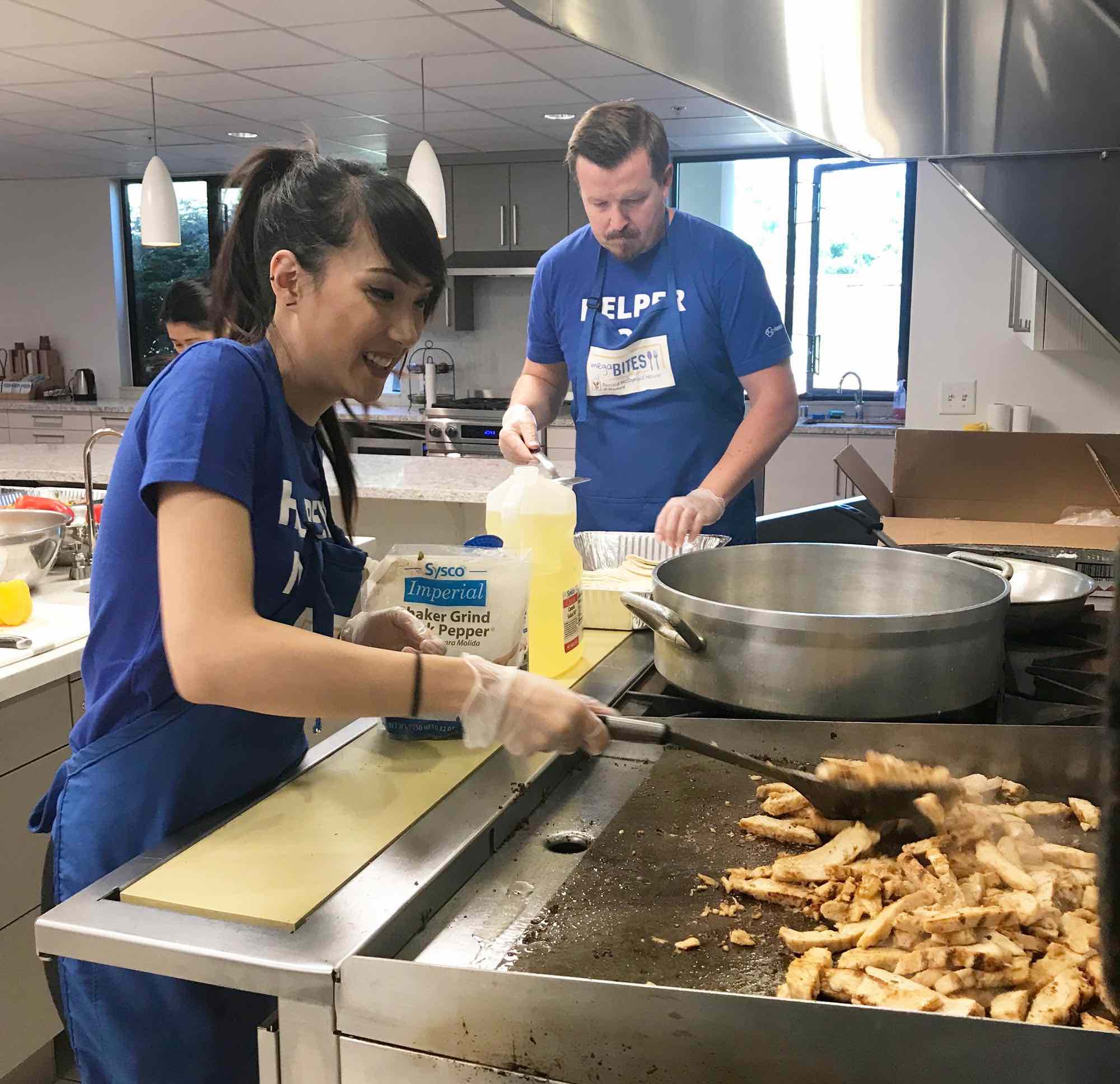 Cooking for the hungry families for MegaBITES.
At noon, a line of families started to form for the lunch we prepared. We were ready with our chafing dishes, our clear lunch-lady gloves, and serving tongs. It was time to feed the hungry masses. An hour later the chicken, vegetables, and ice-cream (of course) was gone. With all that hard work done, and having served so many families, we were left with a satisfying, mission-accomplished glow.
"This was my second time volunteering at Ronald McDonald House," says Yichun Hsieh. "I participated last year as part of an open volunteering call in the Mountain View office. It was hard to not to get involved again after seeing all those families in need of support during such difficult times. I appreciate the opportunity that Elastic gave us to be able to contribute back to the community through our Volunteer Time Off (VTO) program. It was great to volunteer with my own team this year. Volunteering brought us closer together. I am looking forward to the next one!"
After the day of service, I felt similarly to Yichun, and gave a lot of thought about the importance of Elastic Volunteer Time Off (VTO) program and how it allows us to take such fulfilling team outings. Not only do we have the opportunity to do good, which is already quite the reward, we're also able to create stronger team bonds by having the flexibility to work together outside of our traditional office setting. Working with a charity makes it easier to come back to my job with an understanding of each other's differences and personal struggles; and it makes it easier to understand how we react to the needs of others out in the real world.
Our team members who couldn't participate in volunteering gave back by donating to our team megaBITES fundraiser to buy the food we prepared that day. Together we were able to collect $732, which was over the $600 needed to buy the groceries for the center's lunch. Thank you to all the people at RMHC that helped coordinate this event.
This great lunch program only happens if there are volunteers that dedicate their time and resources to supplying the food and labor. So, go sign up!
Interested in joining a company with a Source Code to live by? We're hiring. Check out our teams and find your fit! Want to read more about life at Elastic? Read more on our blog!