Product release
What's new in Elastic Enterprise Search 7.15: Web crawler GA and personalized Workplace Search
Elastic Enterprise Search 7.15 introduces general availability for App Search's web crawler making it quick and effortless to spin up powerful, new search experiences for every use case.
We're also adding countless ways to personalize Workplace Search to meet the unique needs of your organization with the ability to add custom branding, schedule sync frequency, and configure automatic filter detection.
These updates help teams launch search faster and tailor the search experiences they create:
Take the headache out of data ingestion and make your website content instantly searchable with a sophisticated, easy-to-use web crawler
Apply your organization's branding across all your mission-critical productivity tools
Schedule sync frequency in line with infrastructure demands
Define custom filters specific to your business so your team can search naturally
Create search integrations where your teams spend the most time, and deliver results from any source from Google Drive to Slack, and everything in between.
Elastic Enterprise Search 7.15 is
available now on Elastic Cloud
— the only hosted Elasticsearch offering to include all of the new features in this latest release. You can also
download the Elastic Stack
and our cloud orchestration products, Elastic Cloud Enterprise and Elastic Cloud for Kubernetes, for a self-managed experience.
Set up new search experiences in no time with App Search's web crawler
With 7.15, Elastic Enterprise Search brings general availability to the native web crawler in App Search. One common hurdle customers face when setting up website and application search is data indexing. No more! With the web crawler, it's simple to ingest web content and get new search experiences up and running in no time. And we've added features like adding automatic crawling controls and content extraction tools that streamline implementation and free up technical teams. Now you can also analyze crawler logs with Kibana visualizations and Elastic observability tools — so you can use one platform for all of your search data.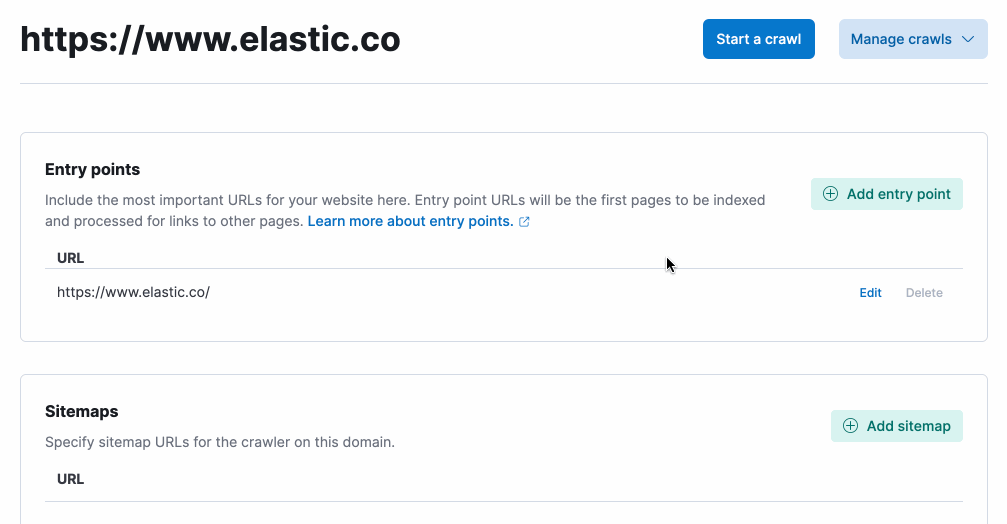 Here's everything new in the crawler including loads of performance and stability optimizations:
Robots.txt support: Follows the robots exclusion standard, so it knows what pages not to crawl
Sitemap support: Uses your website's XML blueprint to efficiently locate and crawl your most important content
Persistent crawling: Continues web crawling progress even in the instance of a failure or restart
Content extraction utilities: Lets you identify the exact content you want the web crawler to extract from each page it visits. Also covers:

Meta tag and data-attribute rules
Include/exclude rules in the document body

Domain validation: Checks that a domain is valid and can be reached without indexing restrictions to prevent issues with starting a crawl
Deduplication control: Ensures that only the best version of each page appears in your search engine index
Automatic crawling controls: Allows you to define how frequently you want to perform automatic crawls
Process crawls: Allows you to remove documents on-demand from your index according to crawl rules
URL debugging API: A comprehensive way to troubleshoot problematic URLs, allowing you to understand what the web crawler encounters when it visits a given page
Make your mark on Workplace Search
Personalize internal search with your very own branding assets so you can have a consistent look and feel across all of your organization's essential applications. Make unified search your own and give it instant credibility with the team when you add your organization's branding without having to build a custom interface. All it takes is a simple .png upload.
Your timetable, your data, your way with Workplace Search
Now you can also schedule Workplace Search sync frequency according to your organization's needs. When you use Workplace Search's enhanced sync configurability, you can ensure that computing resources are on par with infrastructure demands. What's more, you can get real-time results when syncs correspond to your org's data refresh patterns. No one will miss the team's latest and greatest content when it's instantly indexed. Customers on Elastic's Platinum tier also get added convenience with the ability to schedule syncs by content source and by using the scheduling API.
Get instant recognition with configurable automatic filter detection in Workplace Search
Natural language queries are at the heart of making search experiences intuitive and effective. But how do you also capture the terms and phrases essential to an organization's communal intelligence? You need configurable filters, of course. Let your team search naturally and find information faster with filters defined for your organization. Take these examples:
Pull requests from last week
Product team notes updated by me
Monthly board presentations in Google Drive
Deliver relevant results to everyone on the team when you create custom filters using natural language queries that get automatically recognized. No need for anyone to pick up a complex query language just to find your latest presentation deck.
Present common search experiences in Workplace Search
Workplace Search offers the convenience of a fully featured desktop and mobile search experience, but also provides all the necessary tools and endpoints for designing and developing bespoke search integrations embedded within high-traffic applications like intranets and workflow applications. Several improvements to the Search API endpoints allow for a more consistent experience across data sources. Slack and Gmail are now available for custom search experience development along with SharePoint Online, Google Drive and more than a dozen more native data integrations. No matter what information is most relevant to your team, you can design an immersive experience without constraints.
Try it out
Existing Elastic Cloud customers can access many of these features directly from the Elastic Cloud console. If you're new to Elastic Cloud, take a look at our Quick Start guides (bite-sized training videos to get you started quickly, including the Web crawler Quick Start) or our free fundamentals training courses (including the App Search Web Crawler fundamentals course). You can always get started for free with a free 14-day trial of Elastic Enterprise Search. Or download the self-managed version of the Elastic Stack for free.
Read about these capabilities and more in the release notes, and other Elastic Stack highlights in the Elastic 7.15 announcement post.
The release and timing of any features or functionality described in this post remain at Elastic's sole discretion. Any features or functionality not currently available may not be delivered on time or at all.