Support and grow advertising revenues with targeted ads
DISH Media can consolidate audience information and insights to attract and retain advertisers.
Reduces issue detection and resolution time to improve customer experiences
Anomalies across millions of systems and customer devices are spotted much more quickly, accelerating root cause analysis and remediation from hours to near real time.
Improved developer productivity
Eliminated manual analysis and toil that previously took hours; dashboards and data are now available in a single pane of glass across the org for quick analysis
Deploys Elastic Observability to help improve developer productivity, attract advertisers, and increase revenue
Connecting TVs to the internet revolutionized viewing options for audiences, but it also transformed advertising. Instead of buying traditional fixed slots that play to every viewer or subscriber, advertisers can now serve custom audiences with highly targeted campaigns. To make the most of this addressable advertising model, satellite and media streaming services must invest in technology that measures viewing habits, demographics, and other information that supports sales.
DISH Media, a subsidiary of DISH Network, a leading U.S. satellite and set-top box broadcaster, is no exception. It has more than 7.5 million subscribers to provide advertisers with the intelligence to maximize exposure to desired audiences which includes 25 million devices generating $1 billion/year in revenue. Its systems are the responsibility of John Haskell, Head of Engineering at DISH Media, who manages a team of engineers that develop and maintain the technologies that measure performance throughout the advertising revenue business. In addition to audience and advertising data, the team monitors IT assets from business-critical information systems to consumer devices such as set top boxes, streaming sticks, and video game consoles.
DISH Media had several legacy monitoring tools along with in-house scripts to get alerts, and review this data from across the organization comprising millions of end points. Multiple teams of developers were also assigned to manually correlate data, generate reports, and respond to technical issues. Despite all these efforts, the team often found itself operating reactively instead of proactively.
The significant effort required to gather and organize data from so many tools meant that we were often tied up with addressing issues instead of focusing on innovation that helps grow the business.
– John Haskell, Head of Engineering, Dish Media
Replacing tool fragmentation with a single pane of glass
Haskell and his team researched the market for an observability solution with the potential to replace multiple legacy systems with a single 'pane of glass' view into business and operational data. It also needed to support DISH Media's hosting configuration, which had moved during the Covid-19 pandemic from on-premises to a hybrid model that includes private cloud and AWS. Haskell's team at DISH is responsible for supporting over $1 billion of revenue annually and processes over 120,000 ad playouts daily. As a result, delays and outages along with lack of visibility are extremely costly to the business.
Elastic Observability was an early contender as DISH Media was already using a community version of the software in some parts of the company. "When we considered all the options, it became clear that the enterprise version of Elastic Observability on Elastic Cloud would enable us to replace the majority of our legacy monitoring tools with a single observability solution we were looking for," says Haskell.
DISH Media's ad revenue business ingests and processes 10 billion records a day from 25 million device endpoints including operational, business, and security data into Elastic.
With Elastic, we now have a unified view of data that we can correlate to detect patterns and anomalies. In the past, root cause analysis and remediation could take weeks. Now it takes hours.
– John Haskell, Head of Engineering, DISH Media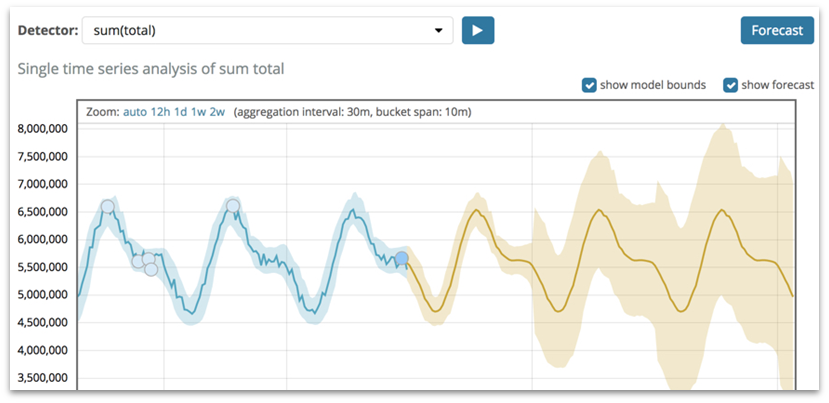 Helping to seal a multimillion-dollar ad contract
Besides addressing 'big picture' issues, DISH Media can drill down into the performance of customer devices and other endpoints. "If the hard drive on a set top box is returning negative performance data, a call center agent can contact the customer and arrange for a replacement to be sent out," says Haskell.
The same levels of control and speed apply when reporting to leadership. "If we're on a call and an executive asks us a question or needs a different view of the data, we can make changes or add a filter to the Elastic Observability dashboard on the fly. The updated information is displayed on the screen within seconds."
This can also help close deals with advertisers. In one negotiation, the sales team was able to build a report and answer the client's query within the hour, helping to close a multimillion-dollar contract.
Using machine learning to detect outliers and anomalies
DISH Media is taking full advantage of machine learning capabilities within Elastic Observability. Engineers can apply out of the box ML algorithms on all telemetry and custom business data.
This enables them to more quickly identify outliers or anomalies and address them. For instance, when Hurricane Ian hit Florida in 2022, DISH Media used Elastic Observability to detect that the signal strength of set top boxes in the area were decreasing rapidly. The engineering team switched to a satellite connection ensuring that 80% of affected customers had a normal signal range during the storm.
Getting more value from cloud budgets
Elastic is also helping DISH Media to get more value from its IT budget. In the past when customer demand spiked for a new service, a common solution was to expand capacity by ramping up the AWS cloud infrastructure. Elastic Observability now enables the company to identify and measure spare capacity to help reduce unnecessary costs.
Elastic also streamlines and accelerates the engineering team's CI/CD (continuous integration, continuous deployment) process. By adding Elastic Observability to its CI/CD pipeline, DISH Media can add metrics, tests, and baselines to the development environment enabling it to fix problems before moving to testing and production. "Elastic Observability has saved us a lot of pain," says Haskell. "The risk of rollbacks has been eliminated, which reduces the burden on the engineering team."
Protection against cyberthreats
Although not part of the original project an added bonus DISH Media discovered Elastic Security to help safeguard systems from internal breaches and external threats such as zero-day attacks. This came with no additional implementation cost because of the Elastic single agent. Machine learning plays a key role here too, enabling the engineering team to identify and rectify anomalous behavior before it impacts the business. In the case of the Log4j zero-day attack, they were able to search the entire platform and quickly apply patches where needed.
With Elastic Security, we can take baselines of our system, and anytime a new service or process shows up on a machine, we instantly know about it.
– John Haskell, Head of Engineering, Dish Media
Critically, Elastic Security enables DISH Media to apply changes to the cloud as well as on premises. "It gives everybody peace of mind knowing that Elastic has got our back whenever a threat is detected," says Haskell.
A comprehensive solution for observability
The organization uses Elastic Observability for storage and indexing of telemetry data, Logstash for data transformation, and Elastic's unified agent for data collection. Elastic's flexible and powerful dashboarding capability is used extensively for data visualization. With Elastic's centralized agent management, DISH Media is able to automatically manage and update Elastic agents and their policies at scale.
Haskell highlights the role of Elastic as a technology partner that supports the business as viewing habits evolve and data volumes expand. Before Elastic DISH Media was only reviewing 10% of the available data — after Elastic Observability all data points are now visible, helping DISH Media accelerate decision making.
"Elastic Observability offers a comprehensive answer to the challenges facing engineering teams in large organizations. Multiple data views from all over the enterprise can be consolidated into a single view that is accessible to all areas of this business," says Haskell.

This has had a transformational effect on the way that DISH Media behaves and communicates. Operational, engineering, and business teams now have a deeper understanding of their activities and how they impact one another.
Different areas of the company now have the data insights they need to engage and interact with each other in ways that boost agility, efficiency, and innovation. We're a faster and smarter business with Elastic.
– John Haskell, Head of Engineering, DISH Media